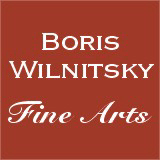 If you have a question about this item,
please contact us at: office@wilnitsky.net
# 42268
Johann Adamek "Philipp Sigmund Baron Wolfskeel v. Reichenberg" important miniature on ivory!!, ca.1800
Price: 2500 EUR
(please note additional 13% tax applies for transactions concluded within the European Union)
THE SELLER WILL COVER SHIPPING WITH REGULAR MAIL FOR THIS ITEM!

The lowest timeframe of this portrait's execution falls on 1798: in that year, the turn-down collar was replaced in the Austrian army by a relatively high upright one. On the other hand, the sitter's hairstyle suggests that he was depicted around 1800 (as we will see below, by 1800 he was thirty-eight, i.e in the-age fully matching the sitter's visual age in this portrait).

According to the authentic old legend on the frame's backing, we are dealing here with portrait of celebrated (note the sitter's Knight Cross of Maria-Theresian Order - the highest Austrian military award) officer - Philipp Sigmund Freiherr (Baron) Wolfskeel von Reichenberg. The latter was born in 1762 and died in 1838 in Pressburg (today - Bratislava, Slovakia). He is depicted in this portrait still as a "Rittmeister" (captain), wearing an officer's uniform of his Austrian Dragoon Regiment "Leveneur" ("kaisergelb" (Imperial yellow) collar with yellow buttons).

Philipp Sigmund Freiherr Wolfskeel von Reichenberg was a descendant of an ancient noble family in Franconia (region in modern Bavaria) with family seat at Castle Reichenberg (see our image nr.15). He was born at that castle in 1762 as a younger brother of future Austrian Lieutenant Field Marshal, Christian, Freiherr (Baron) Wolfskeel von Reichenberg. At the age of 18, he joined (as a cadet) the 14th ("Leveneur") Dragoon Regiment of the Austrian Imperial army. In 1784, he was promoted to "Unterlieutenant" (2nd lieutenant); in 1788 - to "Oberlieutenant" (1st lieutenant). In the same (1788) year, he was relocated within his regiment to the Turkish War. In that period, Wolfskeel was partaking in twenty-eight different combats. He especially distinguished himself in the Battle of Martinesti (September 22, 1789; his regiment was then ascribed into the Russian Corps of General Suvorov). On the day of the battle, Wolfskeel (by then, he was already in rank of a Rittmeister (cavalry captain)) with his squadron penetrated the left flank of the Turks who were stronger by tenfold, without suffering any casualties. By doing so, he gave the rest of Austrian cavalry a chance to remobilize the combat defenses shattered by enemy's attacks. Suvorov was observing this courageous attack and later personally thanked Wolfskeel.
For distinguishing himself at the battlefield, Wolfskeel was in 1790 awarded the Knight Cross of Maria-Theresian Order. Kaiser (Emperor) Leopold II personally pinned it to Wolfskeel's chest.
In the ten years that followed, Wolfskeel participated in various battles: among others, in those taking place in Italy in the late 1790s. In that period, he was repeatedly wounded; after the Treaty of Luneville (February 9, 1801), he left the field army, was promoted into the rank of major and appointed a "Platzmajor" (adjutant of garrison commandant; see our image nr.14) in Croatian city Esseg (Osijek). He remained in that function until April 27, 1824: on that date, he went into retirement and was simultaneously promoted to "Oberstleutenant" (lieutenant colonel).
Philipp Sigmund Freiherr Wolfskeel von Reichenberg died in Pressburg on February 26, 1838. Our images nr.11-12 offer his extensive biography.

Clearly signed "Adamek", this portrait is an early work of well-known Austrian miniaturist Johann Adamek.
Johann (Jan) Adamek (1774 Altebenatek, Bohemia - 1840 Vienna) was pupil of the Vienna Academy from 1800. His first exhibition was in Troppay in 1814 and from 1831 he showed his works in Viennese exhibitions. Adamek's works can now be seen in various Austrian, Czech and other museums internationally.
CLICK HERE FOR OTHER WORKS OF THIS ARTIST IN OUR POSSESSION

Provenance: private collection, Germany

mifeb26ap18
Condition: fairly good; minimal join between 9:30 and 11:00 o'clock
Creation Year: ca 1800
Measurements:UNFRAMED:5,8x4,7cm/2,3x1,9in FRAMED: 10,5x8,2cm/4,1x3,2in
Object Type:Framed miniature
Style: Portrait Miniatures
Technique: watercolor on ivory (oval)
Inscription:signed (covered by frame): "Adamek"; verso: old legend
Creator: Johann (Jan) Adamek
Creator Dates: 1774 Altbenatek-1840 Vienna
Nationality:Austrian
We will cover shipping with regular registered mail (delivery between 7-14 days) for this item.

OBS: Austrian mail refunds cases of loss or damage with maximum EUR 500.


Fully insured 2-3 days DHL service available upon request and subject to extra charges: office@wilnitsky.net
Click here for images free of watermark!
Click on images or on

to see larger pictures!