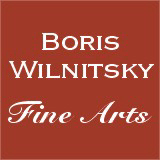 If you have a question about this item,
please contact us at: office@wilnitsky.net
# 42164
"Carl Alexander of Lorraine, Grand Master of Teutonic Order", Swiss (?) enamel miniature, 1770/75
Price: 2000 EUR
(please note additional 13% tax applies for transactions concluded within the European Union)
THE SELLER WILL COVER SHIPPING WITH REGULAR MAIL FOR THIS ITEM!

Offered here is a very good quality miniature portrait painted by (presumably) Swiss enamelist. The portrait shows Carl Alexander, Duke of Lorraine, who - as it is known - was from 1761 and until his death (1780) - the Grand Master of Teutonic Order.

Carl Alexander Duke of Lorraine (in German: Lothringen) was born on the 12th of December 1712 in LunÚville, and died on the 4th of July 1780 in Tervuren. From 1761 he was a Grand Master of Teutonic Order (in German: Deutscher Orden). Already as a four-year-old, in 1716, he was ascribed into the Austrian Army, and, in 1740, obtained a rank of Austrian Field-Marshal. We consider the approximate date of this miniature's making to be sometime between 1761 (the sitter becomes a Grand Master of Teutonic Order) and 1765.

Our images nr.6-10 show several other portraits of him as the Grand Master of Teutonic Order.
Provenance: private collection, Vienna

mifeb2018
Condition: good; in 19th-century frame
Creation Year: 1770/75
Measurements:UNFRAMED:5,4x4,5cm/2,1x1,8in FRAMED: 10,5x9,5cm/4,1x3,7in
Object Type:Framed enamel painting
Style: Portrait Miniatures
Technique: enamel on copper
Inscription:-
Creator: Swiss School
Creator Dates: -
Nationality:Swiss
We will cover shipping with regular registered mail (delivery between 7-14 days) for this item.

OBS: Austrian mail refunds cases of loss or damage with maximum EUR 500.


Fully insured 2-3 days DHL service available upon request and subject to extra charges: office@wilnitsky.net
Click here for images free of watermark!
Click on images or on

to see larger pictures!