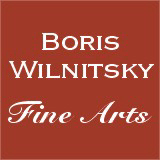 If you have a question about this item,
please contact us at: office@wilnitsky.net
# 42152
Adalbert Suchy (ca.1783-1849) "Leopold, Prince of Salerno", important miniature on ivory!!, 1814
Price: 5900 EUR
(please note additional Austrian VAT (Value Added Tax) applies for transactions concluded within the European Union)
THE SELLER WILL COVER SHIPPING WITH REGULAR MAIL FOR THIS ITEM!

Clearly signed and dated 1814, this superior quality, large miniature on ivory is a work of well-known Viennese artist, Adalbert (Albert) Suchy. On verso (backing paper), one reads the following:
"Don Ferdinando Colonna /Principe di Stigliano /1814 /Alb. Suchy pinxit".
Written sometime in the 19th century, this legend is erroneous, for the sitter's factual name was Leopold, Prince of Salerno, son of Ferdinand IV, King of Naples (from 1816 - Ferdinand I, King of the Two Sicilies).

The young Prince Leopold (in 1814, he was twenty four; for his biography, CLICK HERE) was from the autumn of 1814 until May 4, 1815, one of the most important attendees of the Congress of Vienna (CLICK HERE) and the only Bourbon staying in the city during that period.

His 1814-1815 stay in the Austrian capital was mentioned in various memoirs of spectators and participants of the congress (see our images nr.11-12).
Adalbert Suchy (ca. 1783 Klattau, Bohemia - 1849 Vienna) was a son of a carpenter. In 1802 he became a student of the Academy of Vienna, where he studied under Schmutzer, and where he exhibited between 1820 and 1840. Suchy chiefly painted miniatures and portraits in watercolor, yet, sometimes, he also did pastels and portraits in oils. He soon acquired success and painted a considerable number of personages of the court and aristorcracy, amongst them the Emperors of Austria Franz I and Ferdinand, as well as members of their families. Several of Suchy's works are in the Historisches Museum der Stadt Wien (Wien-Museum). In the past, Suchy's miniatures belonged to the many important Viennese and Czech collections.
CLICK HERE FOR OTHER WORKS OF THIS ARTIST IN OUR POSSESSION

Provenance: private collection, Germany

mifeb14ap18
Condition: fairly good; restored vertical crack at right margin
Creation Year: 1814
Measurements:UNFRAMED:12,8x9,8cm/5,0x3,9in FRAMED: 27,3x19,5cm/10,7x7,7in
Object Type:Framed miniature
Style: Portrait Miniatures
Technique: watercolor on ivory, laid on paper; matted and framed
Inscription:signed and dated: "Albert Suchy" /pinxit. (1)814.
Creator: Adalbert Suchy
Creator Dates: 1783 Klattau / Bohemia-1849 Vienna
Nationality:Czech / Austrian
We will cover shipping with regular registered mail (delivery between 7-14 days) for this item.

OBS: Austrian mail refunds cases of loss or damage with maximum EUR 500.


Fully insured 2-3 days DHL service available upon request and subject to extra charges: office@wilnitsky.net
Click here for images free of watermark!
Click on images or on

to see larger pictures!