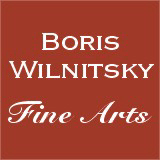 If you have a question about this item,
please contact us at: office@wilnitsky.net
# 42133
Mme Emeriau, nee Le Maistre (1772-1855) "Artist's husband, Admiral Emeriau", rare miniature!, ca.1809
Price: 3900 EUR
(please note additional 13% tax applies for transactions concluded within the European Union)
THE SELLER WILL COVER SHIPPING WITH REGULAR MAIL FOR THIS ITEM!

This superior quality miniature on ivory previously belonged to the famous Bernard-Franck Collection (see our image nr.22). On verso, it bears a handwritten inscription by Bernard Franck himself (in it, the collector provides the name of the depicted Napoleonic officer - "Amiral (Admiral) comte Emeriau" (famed admiral of the Napoleonic Epoch, Maurice (not "Maxime", as suggested in Wikipedia article!) Julien Emeriau de Beauverger; for extensive biography and other known portraits of this man (all fully confirming his identity), see our images nr.12-16.

Maurice-Julien Emeriau de Beauverger was born on October 20, 1762 in Carhaix, department Finstere, and died on February 2, 1845 in Toulon. He joined the French Royal Navy in 1776, just before the outbreak of the American War of Independence, taking service on the fluyt "Sylphe". He took part in the Battle of Ushant on the "Intrépide" in 1778. He was then transferred on the "Diadème", in Admiral d'Estaing's fleet, taking part in the Battle of Grenada, where he was wounded, and in the Siege of Savannah, where one of his eyes was wounded. Later, Emeriau served under Lamotte-Picquet during the Battle of Martinique. After rising to "lieutenant de frigate", he took part in the campaigns of Admiral de Grasse, serving aboard a number of ships. He took part in the Battle of St. Kitts and in the Battle of the Saintes, where he was twice wounded.
After the Treaty of Paris, Emeriau sailed with the commerce. In 1786, Emeriau returned to the Navy as a sub-lieutenant. He sailed to the Caraibs on the "Chameau" and "Mulet", and then on the 74-gun "Patriote" and the frigate "Fine", until 1791.
On 1 January 1792, Emeriau was promoted to lieutenant. The next year, he received command of the corvette "Cerf". He notably ferried a convoy of refugees to New England after a fire devastated Cap Français.
From 1793, Emeriau captained the "Embuscade", taking part in, under Pierre Jean Van Stabel, the escort of the grain convoy that was the background for the "Glorious First of June". In December 1794, Emeriau was promoted to captain, receiving command of the "Conquérant", and later of the "Timoléon", both in the Mediterranean fleet under Admiral Pierre Martin. He took part in the various battles fought by the fleet, notably the Battle of Cape Noli and the Battle of Hyères Islands.
In 1796, Emeriau took part in the Expédition d'Irlande, captaining the "Jemmapes". I
In 1798, Emeriau served in Brueys' fleet, as commodor on the "Spartiate". He led the French squadron that captured Malta.
He took part in the Battle of the Nile, where "Spartiate" was the third ship in the French line. She dueled with Nelson's "Vanguard" and "Audacious" from 19:00. At 21:00, Emeriau, twice wounded and facing three opponents, orders the colours struck.
In July 1802, Emeriau was promoted to "contre-amiral", commanding a division with his flag on the 80-gun "Indomptable". He took part in the French repression of the Haitian Revolution.
In 1803, he was transferred to command part of the flotilla in Ostend, before returning to Lorient to command a division, with his flag on "Jemmapes".
In late 1803, Emeriau was promoted to "préfet maritime" in Toulon. Shortly thereafter, on December 11, 1803, he was awarded the Chevalier Cross of (newly established by Napoleon) Order of the Legion of Honor. He was awarded the Officer Cross of the same order on January 14 of the next (1804) year. Similarly in 1804, on June 14, he received the Commander Cross of Legion of Honor (in this portrait - first from left badge on his chest).
He remained in function of "préfet maritime" in Toulon until 1811, until he took command of the Mediterranean squadron. The fleet was however blockaded in its harbor by Lord Exmouth's fleet, and was unable to mount large-scale operations. On March 28, 1812, Emeriau was awarded the Grand Officer Cross of the Legion of Honor.
On March 7, 1813, Emeriau was promoted to "vice-amiral" and nominated inspector of the coasts of Liguria. On April 3, 1813, he was awarded the Grand Cross of the Napoleonic Order of the Reunion.
During the Hundred Days, Emeriau was made a Pair de France. However, he never had a chance to serve in this capacity. The Bourbon Restoration sent him into retirement, making him a Pair de France in 1831.
Emeriau was a Freemason, member of four lodges: the Mère Loge Écossaise, the lodge "Paix et Parfaite Union" in Toulon, "Amitié à l'Épreuve" and "Amis Fidèles de Saint Napoléon" in Marseille. He was a member of the "Society of the Cincinnati".
His name is engraved on the Southern pillar of the Arc de Triomphe (see our image nr.17)

This portrait was surely executed sometime after June 5, 1805 (the second badge on sitter's chest - the Napoleonic Italian Order of the Iron Crown - was established on that day) and before March 28, 1812 (the award ceremony of the Grand Officer Cross of the Legion of Honor; the mandatory breast star of this order (intended to be worn on right chest) is not present in this portrait).
Moreover, we are convinced that this miniature was made shortly before October 1809. Our confidence comes from a fact that we newly discovered (and that was previously overseen by specialists in French portrait miniatures). The truth is that "our" miniature is clearly signed "Le Maistre". This signature is a clear indication that the miniature was executed by a French miniaturist, thus far exclusively known by this name, and working (according to Mme Lemoine-Bouchard; see our image nr.18) in the early 19th century (Mme Lemoine-Bouchard mentions that Le Maistre was the author of the only known miniature (namely ours!) that was sold at famous sale of Bernard-Franck Collection at Parisian "Hotel Druot" on June 6-7, 1935).
No further information is available anywhere about artist Le Maistre.
However, a scrupulous reader will discover an important detail in the French biography of Admiral Emeriau: In October (other sources say in November) of 1809, in Toulon, contre-amiral Maurice Julien Emeriau married 37-year-old widow and mother of two boys (Prosper and Maurice), Mme Marie-Anne-Barbe-Victoire Le Frotter de la Garenne, nee …Le Maistre (!!). She was a daughter of Le Maistre d'Escombettes - a "commissaire ecrivain de la marine" who served in Toulon (i.e. he served under "préfet maritime" Emeriau). Her new husband adopted her sons and contributed to their future navy careers (see our images nr.20-21).
We are confident that (in her youth?) this lady trained with either J.-B. J. Augustin or J.-B. Isabey (the superior quality of this work speaks very much in favor of this hypothesis). Very likely, after the death of her first husband, she went back to signing her works with maiden name "Le Maistre" (French Wikipedia refers to her as "Lemaistre", yet one finds numerous other reference sources that call her "Le Maistre d'Escombettes" (for example, see our image nr.19).

Mme Marie-Anne-Barbe-Victoire Emeriau de Beauverger, nee Le Maistre was born on July 21, 1772 in Toulon and died in the same city on November 30, 1855, outliving her second husband by ten years.
Provenance:
1) Bernard-Franck Collection
2) Vente Bernard-Franck, Hotel Druot, Paris June 6-7, 1935, lot 76 (illustrated)
3) auction house "Ader", Hotel Druot, Paris, December 15, 2017, lot 74

mifeb08ap18
Condition: fairly good; artist's own join at right margin; in original frame
Creation Year: ca 1809
Measurements:UNFRAMED:8,7x7,1cm/3,4x2,8in FRAMED: 18,1x14,9cm/7,1x5,9in
Object Type:Framed miniature
Style: Portrait Miniatures
Technique: watercolor on ivory
Inscription:signed: "Le Maistre"; verso: old legend (collection labels)
Creator: Marie-Anne-Barbe-Victoire Emeriau, nee Le Maistre
Creator Dates: 1772 Toulon-1855 Toulon
Nationality:French
We will cover shipping with regular registered mail (delivery between 7-14 days) for this item.

OBS: Austrian mail refunds cases of loss or damage with maximum EUR 500.


Fully insured 2-3 days DHL service available upon request and subject to extra charges: office@wilnitsky.net
Click here for images free of watermark!
Click on images or on

to see larger pictures!