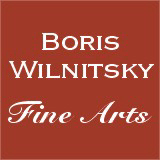 If you have a question about this item,
please contact us at: office@wilnitsky.net
# 42132
Wilhelm Hensel "Prince Wilhelm of Prussia (after lost painting by François Gerard)" 1817/19, DISCOVERY
Price: 15000 EUR
(please note additional 13% tax applies for transactions concluded within the European Union)
Offered here is a masterful copy after portrait of Prince Wilhelm (1783-1851) - the younger brother of King Friedrich Wilhelm III of Prussia; the portrait was originally painted by Baron François-Pascal-Simon Gerard. Our version was executed by Berlin Court portraitist, Wilhelm Hensel (see inscription on verso of canvas, as well as on stretcher respectively: "Prinz Wilhelm /…" and "Gemalt von Hofmaler Hensel aus Berlin" (painted by Court artist Hensel from Berlin).

The original portrait by Baron François-Pascal-Simon Gerard is known today only through its old black-and-white book illustration (see our image nr.11) and its other (altered) copy painted by Berlin miniaturist Heinrich Anton Daehling (in it, the Prince is shown with awards that he in fact received years later). Daehling's miniature - alike the original painting of Gerard - had been lost and is similarly only known through a print (an engraving - see image nr.12).

According to Thieme-Becker and other reference sources, the original painting by Gerard was until 1945 housed in Silesian (now Polish) summer residence of Prince Wilhelm and his family - Castle Fischbach (today, Polish community Karpniki). In summer 1945, the castle was marauded by Soviet soldiers; the further fate of Gerard's portrait of Prince Wilhelm thus remains unknown. In any case, Wilhelm Hensel's copy, which is on view here, provides enough insight into what the original painting was actually like.

The original portrait of Prince Wilhelm by Baron Gerard was painted by the artist in his Parisian studio. It is known that Prince Wilhelm paid a visit there in 1808 (according to records, he sojourned in French capital from January 3 to September 14, 1808; he was sent there by his brother, the King, in order to establish diplomatic talks with Napoleon II). Clearly, Prince's visit took place sometime in late summer of 1808, for he had left Paris (September 14) before Gerard completed his portrait (the artist exhibited this work at the annual exhibition of Salon de Paris that opened one month later, i.e. on October 14, 1808; see our image nr.13). There are further records, from which follows that six years later (1814), the same portrait was shown to Berlin general public at one of the city's art exhibitions (see our image nr.20).
In 1815, Baron Gerard painted another, full-length portrait of Prince Wilhelm. The latter received it only next year, in early 1816. The whereabouts of this (possibly large-scale) work is similarly unknown.

In Gerard's 1808 portrait painted in Paris, as well as in Hensel's copy of it, Prince Wilhelm is depicted in uniform of his "Brandenburg Dragoon Regiment "Prinz Wilhelm" (he became its "chief" (proprietor) on March 10, 1807; on September 7, 1808, the regiment attained the name "Brandenburg Dragoon Regiment No. 5" - see our image nr.21; the above information was kindly provided by our permanent advisor on Prussian military uniforms and author of numerous publications on the subject, Mr. Stanislav Lyulin).

Our images nr.14-17 offer Prince Wilhelm's extensive biography.

We remain however anxious to learn when Wilhelm Hensel executed the portrait, which is presented here.

One learns from the monography about Wilhelm Hensel (Cecile Lowenthal-Hensel and Jutta Arnold "Wilhelm Hensel /Maler und Porträtist", Berlin 2004) about two commissions that the artist received in 1817/19 from King Friedrich Wilhelm III; these commissions were to copy the latter's 1814 full-length portrait by François Gerard (clearly, Hensel was meant to copy the King's widely known portrait; today, it is displayed at the University of Oxford; see our image nr.22). The monography also mentions numerous copies of this particular work (performed by various Berlin artists). Years after visiting Gerard in his Parisian studio, every now and then, the King (he was generally not very keen on posing for portraits) when wishing to present someone with his picture, always ordered a copy of Gerard's full-length portrait. In any case, two of such copies (there were twenty seven in sum) were made in the late 1810s by Wilhelm Hensel (see our image nr.24).
The story's most interesting twist: the King's original portrait by Gerard was then in possession of "our" Prince Wilhelm! We are certain that it was in Prince Wilhelm's residence that Hensel copied the (original) portrait of Prince William by Gerard and - what is more - that it is the very painting, which is presented here!!!

We would also like to add that Wilhelm Hensel had in 1821 personally made a life portrait of Prince Wilhelm. In this portrait, the latter is shown as "Grand Mogul" with procession of "live pictures" at one of Berlin court's masquerade balls (the theme of the procession was meant to reflect on Thomas Moor's (then very popular) poem "Lalla Rookh" - a romance about an Indian princess (see our image nr.25).
Wilhelm Hensel was born on July 6, 1794 in town Trebbin (present-day German province Brandenburg) to a Protestant preacher. First, he attended the Royal School of Architecture, yet soon discovered his true passion - painting. In 1809, he began studying at Berlin Academy. In 1813 (at the beginning of anti-Napoleonic Liberation War), Hensel became one of the first volunteers to join the Prussian Army. He fought in the battles of Luetzen, Bautzen and Leipzig, and was wounded thrice.
He was two times (1814 and 1815) in Paris, in ranks of the Prussian army and, after the war ended, shortly remained in this city to study art.
Upon his return to Berlin, Hensel found himself in great demand, receiving important commissions and soon becoming a popular guest in the city's salons. Hensel painted or drew portraits almost exclusively, although he produced some drawings for almanacs, and produced artwork found in some of the halls of the Schauspielhaus - an important theater in Berlin. In 1825 he went, with the support of the king, to Italy, where he was employed in painting copies of some of Raphael's works.
In 1828, Hensel moved back to Berlin, where he became the Royal Court painter, and both a Professor and Member of the Academic Senate. Among his best-known works are "Christus in der Wüste" ("Christ in the Desert"), "Kaiser Wenzel", and over 1000 drawings of well-known people of the German romantic period.
His wife, Fanny Mendelssohn, was a sister of famous composer Felix Mendelssohn.
Wilhelm Hensel died in Berlin on November 26, 1861.
Provenance:
1) anonymous noble estate
2) auction house "Hermann Historica", Munich, 11th/15th November 2017, Lot 6145 (see our image nr.32)
3) auction house "Bassenge", Berlin, 31st May 2018, Lot 6090 (see our image nr.33)

mifeb07ap18
Condition: good
Creation Year: 1817/19
Measurements:UNFRAMED:65,3x53,5cm/25,7x21,1in FRAMED: 72,7x60,8cm/28,6x23,9in
Object Type:Framed oil painting
Style: 19th century paintings
Technique: oil on canvas
Inscription:signed and inscribed on verso
Creator: Wilhelm Hensel
Creator Dates: 1794 Trebbin-1861 Berlin
Nationality:German
SHIPPING COSTS UPON REQUEST:
office@wilnitsky.net
Click here for images free of watermark!
Click on images or on

to see larger pictures!