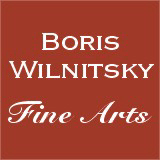 If you have a question about this item,
please contact us at: office@wilnitsky.net
# 42123
André-Léon Larue (Mansion) "Portrait of Karl II of Brunswick", important miniature!!, ca. 1830
Price: 5900 EUR
(please note additional 13% tax applies for transactions concluded within the European Union)
THE SELLER WILL COVER SHIPPING WITH REGULAR MAIL FOR THIS ITEM!

This work was executed in ca. 1830 in Paris, shortly before the sitter's last comeback to his duchy (see our image nr.10 for his biography; for biography of his famous father, CLICK HERE). It is a very important miniature portrait of (then still reigning; on September 6, 1830, he was downthrown by revolting mob) Duke Karl II of Brunswick (Karl II Wilhelm Ferdinand; 1804-1873; see also our images nr.14-16 for other portraits of his).
During his lifetime, Duke Karl was considered to be one of the most scandalous figures among European royalties. He was an avid chess player (his most famous game (the "Opera Game"; CLICK HERE) took place at the Paris Opera House in 1858 (he was defeated by American chess player Paul Morphy). The game itself was played in duke's theater box during the performance (!!).
Long before these events, he allegedly planned a flight presentation: the newspaper "Wiener Zeitung" (November 1829) reported that he was preparing to fly a balloon across the English Channel.
An extremely wealthy man, he was also the world's greatest collector of colored diamonds.
For very interesting information about him CLICK HERE.

Yet, the most significant story concerning Duke Karl II is the one of his (still well intact; see our image nr.13 and CLICK HERE) monumental tomb in Geneva. In his last will (it was written three years before his death), he bequeathed all his possessions to the city of Geneva, where he spent his final years. The will was drawn with a clause specifying as follows:
"We want that our body is placed in a mausoleum, above the ground, which will be erected by our executors, in Geneva, in a prominent position and worthy".
The total sum he left equaled 24 million franc. Two millions of it were spent for the monument; the rest was used for construction of Genevan municipal buildings such as the Grand Théatre, the Ecole d'horlogerie, the Ecole du Grütli, the University, etc.

The author of this high quality miniature (it is still mounted inside an original golden locket) was one of the leading Parisian miniaturists of that time, André-Léon Larue, called Mansion.
André-Léon Larue (called Mansion) was born in Nancy in 1785 and died in 1843 in Paris. He was pupil of his father Jacques Larue and of Isabey. For some time he worked for the factory of Sevres. He exhibited at the Paris Salon from 1808 to 1834. Several times he went to London and exhibited there at the Royal Academy in 1829 and 1831. In 1822 appeared his work "Lettres sur la miniature", in French and in English. Schidlof says: ...Mansion counts amongst the best French miniaturists of the 19th century... he attains the same standard as Aubry, Jacques and Saint. The Wallace collection (London) houses six miniature portraits of young ladies by Mansion, all - of large (sic!) dimensions, on ivory and signed. These miniatures, Schidlof writes, "already had at the time they were painted a considerable success".
Provenance:
1) Collection of Vienna industrial magnate Franz Josef Honig (1877-1930)
2) auction house "Albert Kende", Vienna, March 26, 1917, lot 24 (erroneously titled "Portrait of a young French prince" - see our image nr.17)
3) Collection Paul A. Scholz, Berlin
4) auction house "Lempertz", Cologne, 23rd March 1991, Lot 50 (erroneously titled "Portrait of an Austro-Hungarian aristocrat"- see our image nr.18)
5) auction house "Dorotheum", March 12, 1996, lot 440 (erroneously titled "Portrait of Carl Ludwig Friedrich von Baden" - see our image nr.19)
6) private collection, Vienna

Besides providing important information about the provenance of this piece our friend, world's best specialist in portrait miniatures Dr. Bodo Hofstetter told us that until mid 1990´s (was stolen), in collection of Musee de l'Horlogerie et de l'Emaillerie in Geneva there was much larger (9 x 9 cm) Mansion's own replica of this miniature

We are very grateful to Dr. Hofstetter for generous help

mijan31ap18
Condition: good
Creation Year: ca 1830
Measurements:UNFRAMED:3,3x3,3cm/1,3x1,3in FRAMED: 5,4x4,1cm/2,1x1,6in
Object Type:Framed miniature
Style: Portrait Miniatures
Technique: watercolor on ivory
Inscription:signed: mansion
Creator: André-Léon Larue (called Mansion)
Creator Dates: 1785 Nancy-1834 Paris
Nationality:French
We will cover shipping with regular registered mail (delivery between 7-14 days) for this item.

OBS: Austrian mail refunds cases of loss or damage with maximum EUR 500.


Fully insured 2-3 days DHL service available upon request and subject to extra charges: office@wilnitsky.net
Click here for images free of watermark!
Click on images or on

to see larger pictures!