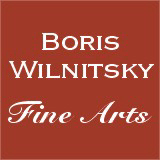 If you have a question about this item,
please contact us at: office@wilnitsky.net
# 42119
Claude Hoin-Attrib. "Portrait of Nicolas Antoine Sanson", high quality miniature!!, 1796
Price: 3900 EUR
(please note additional 13% tax applies for transactions concluded within the European Union)
THE SELLER WILL COVER SHIPPING WITH REGULAR MAIL FOR THIS ITEM!

Monogrammed "CH." and dated "1796", this miniature portrait of a high-ranking officer of French Revolutionary Army was found in one of the antique shops in Rome. It turned out to be a portrait of forty-year-old military engineer (and from 1797 - a general), Nicolas Antoine Sanson (1756-1824). Comparison with the only other known portrait of Sanson (see our image nr.7) fully confirms his identity (in this engraved portrait, he is about 10 years older, yet one indisputably recognizes the same man).
From April 1796 (sic!) until February 27, 1797, Sanson served in French Army of Italy. Later, he fought in Napoleonic Egyptian campaign, was a director of topographical service of Grand Armée, took part in the Battles of Ulm, Austerlitz, Iena, Eylau; he also served in (established by Napoleon) Kingdom of Westphalia, commanded engineers in the Army of Spain, and was in 1812 in Russia (there, on 8th November, he was taken prisoner by cossacks, was kept 18 months long in Tambov and returned to France in May 1814).
A recipient of numerous French and foreign orders, he was ennobled by Napoleon in 1808 and made a "Count of Empire".
His name is inscribed on one of the columns of the Arc de Triomphe in Paris (see our image nr.9).
After his death on October 29, 1824, he was buried at the Parisian "Pere-Lachaise" cemetery (see our image nr.10).

Every now and then, miniatures that are signed with the same monogram ("CH.") and similarly dated (1790s) appear at art auctions. We suppose alll of them are works of French portrait artsit of late 18th century, chiefly known as a pastelist but also working in technique of miniature painting on ivory - Claude Jean Baptiste Hoin. Comparison with his works (CLICK HERE for his extensive biography and other works) convincingly supports this attribution.
mijan2618
Condition: good; in original ormolu frame
Creation Year: 1796
Measurements:UNFRAMED:8,0x8,0cm/3,1x3,1in FRAMED: 10,9x10,9cm/4,3x4,3in
Object Type:Framed miniature
Style: Portrait Miniatures
Technique: watercolor on ivory
Inscription:monogrammed and dated: "CH. /1796"
Creator: Claude-Jean-Baptiste Hoin
Creator Dates: 1750 Dijon-1817 Dijon
Nationality:French
We will cover shipping with regular registered mail (delivery between 7-14 days) for this item.

OBS: Austrian mail refunds cases of loss or damage with maximum EUR 500.


Fully insured 2-3 days DHL service available upon request and subject to extra charges: office@wilnitsky.net
Click here for images free of watermark!
Click on images or on

to see larger pictures!