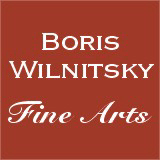 SALE!!! SAVE MONEY !! 1 EUR = 1 USD
# 42108
Laurent Dabos "Le Retour de la Grande Armée", rediscovered monumental painting!!, 1808
120000 EUR
FINAL DISCOUNT PRICE= 120000 USD
( for EUR price see date rate )
Please note: Shipping and insurance costs are not included in this promotion, ONLY ITEM PRICES!
(please note additional Austrian VAT tax applies for transactions concluded within the European Union)
The online pre-sale catalogue of auction house "Dapsens-Bauve et Bouvier" (located in small town Coulommiers (ca. 60km from Paris)) brought our attention to a monumental oil-on-canvas painting with genre scene from the Napoleonic epoch. The painting was assigned a title by the auction house' auctioneers - "Ecole de Boilly (suggesting it was painted by one of the pupils of great French artist of the turn of the 19th century, Louis-Leopold Boilly - B.W.) "Retour de la Grande Armée" (see our image nr.27). It shows the scene of return to own home of a relatively young colonel of "chasseurs á cheval de la garde imperiale" (mounted chasseurs of Napoleonic Imperial Guard (CLICK HERE)); his rank can be interpreted from corresponding galloons on cuffs of his pelisse.
He had just entered his home (it is not a villa or a castle, but (judging by its interior) a typical bourgeois domicile somewhere in a countryside) and is being warmly embraced by his young wife, his two little children and his elderly father, a retired officer. One sees also several people on the staircase connecting the ground and upper floors; they are obviously house servants. A stream of people is entering the house through the open door: they have clearly followed the colonel from the outside. Among them, a woman with white fichu and bonnet (she is carrying on her head the colonel's traveling bag and is surely another servant of the family), two village musicians and several other local inhabitants. The snow-covered tree branches outside and a burning indoor fireplace are reflecting on winter season.
Another very important detail - a leaflet attached to the outer side of the entrance door (see our image nr.12). Besides an indistinct coat-of-arms, it reads as follows: "RÉTOUR DE LA GRAND ARMÉE /9bre 1807" (English: "Comeback of the Great Army /November 1807").

In their description of the painting, the auctioneers of "Dapsens-Bauve et Bouvier" included a brief accompanying story about the comeback of Imperial Guards to Paris in November 1807 (the Guards returned to Paris after the end of the Prussian Campaign of 1806/07).
Emperor Napoleon authorized the following festivities on this occasion:
"On November 24 (1807 - B.W.) the National Guards wearing field uniforms will arrive to the suburb of Paris. The triumphant entry into the capital will take place on the next day. The Guards will enter the city in following order of priority: "chasseurs á cheval", the fusiliers, "chasseurs á pied", "grenadiers á pied", dragoons, "grenadiers á cheval".
The festive entry of the troops on November 25, 1807 (see our image nr.28) was commemorated by festivities that lasted for several weeks. They included banquets, parades, various receptions, balls and other celebrations. On December 19, 1807, the troops of the Imperial Guards left Paris.
It was only natural that some of the guards officers were allowed to add a brief, long-awaited home leave to see their families. Our colonel happened to be one of these men.

This relatively young man is surely a fictional character, for he is certainly not the (then active) commander of "chasseurs á cheval de la garde imperiale": in 1807, their commander was 39-year-old Claude-Etienne Guyot, who then had only one (!) child - four-year-old son Eugene. On January 18, 1808, Guyot was succeeded by 34-year-old Charles Lefebvre-Desnoettes, who was then still unmarried.
With our vast and long-standing knowledge of L. L. Boilly's stylistic methods, we have instantly rejected the idea of his authorship (or that of any of his pupils).

Yet, which of Boilly's contemporaries could have created this monumental painting of superior quality?

It is the painting's large size that persuaded us to look for it among those that were exhibited in France shortly after 1807. Naturally, as a first step we had used the standard source for this sort of research: the collection of catalogues of the famous Salon de Paris. And - to our great surprise - we discovered this painting in the very first catalogue of 1808!! Its section "Peintures" (paintings), under No.141, lists a work titled exactly as the aforementioned leaflet attached to the colonel house's door - "Le retour de la grande armée" (see our image nr.29).
The accompanying short description in Salon's catalogue fully corresponds to the scene in the painting: "Un colonel de chasseurs de guides de S.M. revient apres avoir vaincu l'ennemi, au pres de sa femme et de des enfant, etc. /Ce tableau appartient a l'auteur" (English: "Colonel of chasseurs of His Majesty Guides (mounted chasseurs of the National Guard bore a few years prior to that the name "Guides de la garde des consuls" (Companions of Consular Guards) - B.W.) upon his return after defeat of the enemy, welcomed by his wife and children, etc. /property of the artist").
Most importantly, the Salon catalogue also names the author of this painting - Parisian artist Laurent Dabos.
We have imediately turned to (available on the Web) information about this painter (see our images nr.30-32) and learned that our painting was always listed among several of his main "chef-de oeuvres" (masterpieces).


Laurent Dabos was born in 1761 or 1762 in Toulouse, France and died in 1815 in Paris. At first a pupil of Toulouse artist Gaubert Labeyrie he came to the Académie Royale de Peinture et de Sculpture in Paris in 1785 where his teacher was François-André Vincent. Shortly thereafter he interrupted his studies to return to Toulouse but came back to Paris again in 1788. Thieme-Becker says his oeuvre was "umfangreich, jedoch kaum bekannt" (English: "extensive but hardly known"). It is known that he painted official portraits, genre scenes, still-lives (often in the technique of "trompe d'oeil") as well as religious and historical scenes. Thieme-Becker and other biographers name above all his "Louis XVI écrivant son testament", our "La retour de la Grande Armée" (1808) and "Allégorie sur le mariage de Napoléon " (1810). Besides paintings he also made engravings, lithographs and even portrait miniatures. His main sponsor was French stateman (Second Consul) Jean-Jacques Régis de Cambacérès.
In spring of 1807 Dabos was one of the participants (24 painters) of a competition for a representation of a scene with Napoleon on the battlefield of Eylau in Prussia (see our web # 36225 ). Some time later Napoleon awarded his Chevalier Cross of Legion of Honor.
Works of Laurent Dabos are exhibited in Chateau de Versailles ("Portrait of Cardinal de Belloy" (1808)), in various French museums as well as abroad, i.e. the Neue Pinakothek in Munich (portraits of Napoleon and General Narbonne-Lara), National Portrait Gallery in London, etc..
Our images nr.33-45 show several other works of his. We would like to add that one of Dabos' paintings had in 2006 reached a remarkable price of USD $240,000 at Christie's London (see our image nr.33) - it was acquired by London National Portrait Gallery.

In the end of the auction house's ("Dapsens-Bauve et Bouvier") catalogue entry (once again, see our image nr.27), one is informed that this painting (initially presumed to be a work of anonymous artist of Boilly-School) was reproduced in color in "La Documentation Photographique N°5-240" - "L'Empire", issued by "Documentation Française du Secrétariat Général du Gouvernement" in 1963 (see our image nr.27). We believe that, though illustrated and published in respected source, in 1963 this painting was still un-attributed to any particular artist...

Provenance:
1) Estate of Mme Jeanne Poupon (member of family Grey-Poupon, manufacturers of famous Dijon mustard)
2) Auction house "Maitre F. Dapsens-Bauve et Maitre Valerie Bouvier", Coulommiers, September 9, 2017, lot 41

mijan25ap18
Condition: fairly good; unlined; in original frame
Creation Year: 1808
Measurements: UNFRAMED:132,0x162,0cm/52,0x63,8in FRAMED: 143,0x175,5cm/56,3x69,1in
Object Type: Framed oil painting
Style: 19th century paintings
Technique: oil on canvas
Inscription: -
Creator: Laurent Dabos
To see other works by this artist click on the name above!
Creator Dates: 1761/62 Toulouse-1835 Paris
Nationality: French
SHIPPING COSTS UPON REQUEST:
office@wilnitsky.net
Click here for images free of watermark!
Click on images or on

to see larger pictures!