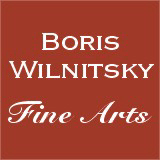 If you have a question about this item,
please contact us at: office@wilnitsky.net
# 42079
Pierre Rouvier (aft.1742-aft.1815) "Marquise de Marcieu", superb miniature on ivory!!, 1784/85
Price: 6900 EUR
(please note additional 13% tax applies for transactions concluded within the European Union)
THE SELLER WILL COVER SHIPPING WITH REGULAR MAIL FOR THIS ITEM!

On view here is a high quality miniature portrait of a young aristocratic lady posing next to her harpsichord, a music notation in her hand (her dress and hairstyle suggest mid of 1780s).
Our friend, world's best specialist in portrait miniatures Dr. Bodo Hofstetter whom we showed this piece informed us that much weaker in quality copy after this miniature was sold on 11 November 1981 at Sotheby's Zurich (see our image nr.12). The latter is signed and dated on verso: "peint en 1790 a Grenoble par De Muralt" and names the lady: "Made (sic) de Marcieux (sic) de Grenoble" (this miniature is now in an important private collection). Surely the legend is partially erroneous - the real name of the lady was Madame (sic) Marquise de Marcieu (sic), nee Adelaide-Charlotte de Broglie (1763-1847; see our image nr.14). She was a daughter of very wealthy aristocrat, officer and one of the foremost diplomats in the service of Louis XV (in 1752-56 French Ambassador in Poland) - Charles-Francois de Brogile, marquis de Ruffec (1719-1791; see our image nr.15). In 1783 she married captain of the "regiment du Roi-cavaleriei" (died as a marechal-de-camp) Nicolas-Gabriel Eme de Marcieu, 6th Marquis de Marcieu (Grenoble 1761 - 1830 Paris). They had nine children born between 1784-1802.

In 1792 Marquis and Marquise de Marcieu with their children and Adelaide-Charlotte's mother and sisters leaved, like thousands of other aristocrats, France and came to Germany, where husband joined royalist Army of Princes.They all returned to France in 1809.

It is very difficult to believe that this lady posed for De Muralt - he was a Swiss officer and amateur artist who obviouly copied our miniature a couple years later (the latter, as said above, was executed much earlier as 1790).

But who was the author of our piece?

Dr. Hofstetter believes it was well-known French miniaturist Pierre Rouvier, who from 1774 was active in that area (in 1774 he is mentioned in Grenoble, in 1784 he portrays in Lyon (108 km from Grenoble) Swiss banker familly - Baron de Fingerlin and latter's wife Ursula, nee Scherer (see our images nr.16-17)).



The French artist Pierre Rouvier was born after 1742 in Aix-en-Provence. In 1770 he enrolled into the Academy of Paris recommended by M.de Marigny and patronized by Dendre-Bardou. In 1779 and 1782 Rouvier exhibited at the Salon de la Correspondance. Schidlof says, he was "an excellent miniaturist, and although he is highly regarded by the amateur, is still not given the attention he deserves... His technique is a cross between Sicardi and Campana... In most cases the works of Rouvier are equal to those of Sicardi and almost always surpass in quality those of Campana".
The artist died after 1815.
See other works of Pierre Rouvier in our possession.

Provenance: private collection, Paris

We are very grateful to Dr. Hofstetter for his generous help

midec17
Condition: fairly good; restored (minor) loss of wafer substance at 12:00 o'clock
Creation Year: 1784/85
Measurements:UNFRAMED:10,1x7,3cm/4,0x2,9in FRAMED: 11,9x9,3cm/4,7x3,7in
Object Type:Framed miniature
Style: Portrait Miniatures
Technique: watercolor on ivory
Inscription:-
Creator: Pierre Rouvier
Creator Dates: aft. 1742 Aix-en-Prov.-after 1815
Nationality:French
We will cover shipping with regular registered mail (delivery between 7-14 days) for this item.

OBS: Austrian mail refunds cases of loss or damage with maximum EUR 500.


Fully insured 2-3 days DHL service available upon request and subject to extra charges: office@wilnitsky.net
Click here for images free of watermark!
Click on images or on

to see larger pictures!