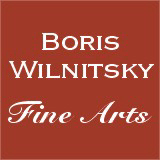 If you have a question about this item,
please contact us at: office@wilnitsky.net
# 42036
Mme Lizinka de Mirbel-Attrib. "Aimable Pélissier (Siege of Sevastopol)", rare miniature!, 1832
Price: 3200 EUR
(please note additional 13% tax applies for transactions concluded within the European Union)
THE SELLER WILL COVER SHIPPING WITH REGULAR MAIL FOR THIS ITEM!

On view here is a miniature portrait of 38-year-old major of General Staff of the French Army, Aimable Jean-Jacques Pélissier, (future 1st Duke de Malakoff, Commander of the French troops in Crimean War).
According to the authentic legend on verso, it was executed in 1832. Our comparison images nr.9-10 show that this portrait is with very high likelihood an original work of one of France's best portrait miniaturists of that period, Mme Aimee Zoe Lizinka de Mirbel.

After posing for this portrait, Aimable Jean-Jacques Pélissier (1794 Maromme - 1864 Algiers, Algeria; for his biography, see our image nr.7 and CLICK HERE) was assigned a long-year service tenure in Algeria. He was then sent to Crimean War, in which he took a leading part in many important operations.
On May 16, 1855, he succeeded Marshal Canrobert as commander-in-chief of the French forces before the Siege of Sevastopol. His command was marked by relentless pressure of the enemy and unalterable determination to conduct the campaign without interference from Paris. His perseverance was crowned with success in the storming of the Tower of Malakoff on September 8, which ended the Siege of Sevastopol, crowning the Anglo-French Crimean War against Russia with victory.
On September 12, he was promoted to marshal. On his return to Paris he was named senator, created Duke of Malakoff (July 22, 1856) and rewarded with a grant of 100,000 francs per annum.
Mme Aimee Zoe Lizinka de Mirbel, nee Rue, (1796 Cherbourg - 1849 Paris) was daughter of a naval commissar. Showing increasing talent for painting already at an early age, she entered the studio of Augustin. In 1819 her highly-placed friends arranged for her to paint the portrait of King Louis XVIII. Mirbel's debut was a complete success. Louis XVIII appointed her The Official Painter to the King. She exhibited this portrait at the Salon, along with portraits of eleven other important court nobles.
In 1824, with King's approval, she married the botanist Charles Francois Brisseau de Mirbel. From that point on she always appeared under her married name at the Salon. In 1827 she painted the portrait of Charles X, and in 1839 – that of Duke of Orleans.
Right up to the end of her career (she was a victim of the cholera epidemic of 1849) her fame did nothing but increase, and she may be considered as one of the most sought after and feted miniaturists of her period.
Amongst the pupils of Augustin, she was undoubtedly the artist who had the most personality. Almost all the miniaturists who worked in France around the mid-19th century were pupils of Mme de Mirbel.
Provenance: private collection, Paris

Additionally, see our web #20458

midec20ap17
Condition: good; in original frame
Creation Year: 1832
Measurements:UNFRAMED:9,3x7,7cm/3,7x3,0in FRAMED: 23,5x18,7cm/9,3x7,4in
Object Type:Framed miniature
Style: Portrait Miniatures
Technique: watercolor on ivory (oval)
Inscription:
Creator: Mme Aimee Zoe Lizinka de Mirbel
Creator Dates: 1789 Cherbourg-1849 Paris
Nationality:French
We will cover shipping with regular registered mail (delivery between 7-14 days) for this item.

OBS: Austrian mail refunds cases of loss or damage with maximum EUR 500.


Fully insured 2-3 days DHL service available upon request and subject to extra charges: office@wilnitsky.net
Click here for images free of watermark!
Click on images or on

to see larger pictures!