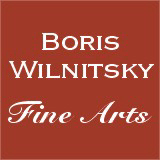 If you have a question about this item,
please contact us at: office@wilnitsky.net
# 42030
Leopold Fertbauer "Russian General Pavel Yakovlevich Rennenkampff", unique portrait!, 1833
Price: 14000 EUR
(please note additional 13% tax applies for transactions concluded within the European Union)
Executed by Austrian artist Leopold Fertbauer in 1833, in Vienna and found in October 2017 in German antique shop, it is an unique oil portrait of Rusian Major-General Baron Pavel Yakovlevich Rennenkampff.

Baron Pavel Yakovlevich (in actuality - Paul Andreas Edler von) Rennenkampff was born on March 9, 1790 at the Estate Helmet, Estlyanskaya Gubernia, Russian Empire (now Estonia) and died on December 8, 1857 in St. Petersburg (he was buried at Volkovskoye (Volkovo) Lutheran Cemetery).
He was a son of Estonian nobleman, Baron Jakob Georg Edler von Rennenkampff (1753-1794) and his wife Elisabeth Dorothea von Anrep (1758-1844), brother of Alexander (CLICK HERE) and Gustav Reinhold Georg (CLICK HERE).
In 1812, when he worked as a civil servant, Rennenkampf volunteered to join the Russian Army and became a "kolonnovozhatyi" (guide of a military column). In 1813, for distinguishing himself in the Battle of Bautzen, he was raised to "podporuchik" (2nd lieutenant). In 1814, he became a "stabs-captain" (a military rank between those of 1st lieutenant and captain).
In 1815, he was transferred to newly-founded General Staff of Guards. Next year (1816), he was attached to Russian Embassy (headed by A. P. Yermolov) that was installed in Persia. During that mission, he made acquaintance with the secretary of the Russian embassy in Teheran, poet and dramatist, Alexander Sergeevich Griboedov (their amicable relatioship (in particular their regular exchange of correspondence) lasted up until the latter's tragic death in February of 1829).
After the aforementioned mission in Persia, Rennenkampff remained in service of the Caucasian Corps. He arranged the itinerary to Persia for Yermolov's embassy staff and, in 1818, made a (nearly first-ever) barometric leveling of Caucasus between Mozdok and Tifflis.
In 1824, Baron Rennenkampff was promoted to colonel and appointed the quarter-master of the 1st Reserve Cavalry Corps and then quarter-master of the 4th Infantry Corps. In the same period, he visited Malorussia (Ukraine) and (according to Russian modern historians) was in regular contact with officers perpetrating the revolt in Chernigovski Regiment ("Decembrists").
Fortunately for him, Rennenkampf remained uninvolved in the subsequent criminal procedure, and was treated neither as witness, nor as convict.
In 1827, he rejoined the Caucasian Corps. In the Persian (1826-1828) and the ensuing Turkish campaigns, he was in the staff of commander-in-chief, Field Marshal Paskevich, and was assigned a number of different tasks.
During the Turkish Campaign, he repeatedly commanded special forces detachments. For distinguishing himself in the capture of Akhaltsikhe (now Georgia), he was awarded the "Golden Sabre with inscription "For Bravery"".
At the end of Persian Campaign (1828), he was appointed chief-inspector of the Committee on Russo-French Border Demarcation. Soon, in early 1829, as a reward for his diligent work, Rennenkampff was promoted to major-general.
The same period (early 1829) marked Rennenkampff's most important mission. After the assassination of Russian Ambassador and his friend Griboedov in Teheran, Persia installed (as a gesture of conciliation) its embassy in St. Petersburg; it was headed by the Crown Prince's son, 16-year-old Prince Khosrow-Mirza (CLICK HERE and HERE).
Rennenkampff was summoned by Paskevich to travel with Cossack detachment to the border, in order to meet and accompany the Persian Embassy to the Russian capital. During this several-week-long journey Rennenkampff sent daily communications to the capital (these reports have been thoroughly studied and documented in various Russian sources).
Likely, at the beginning of the journey, Rennenkampff met Russian poet, A. S. Pushkin. In "A Journey to Arzrum", Pushkin recounts: "Without waiting further, I began to walk and in about 500 meters from Ananur, at the road's turn, encountered Prince Khosrow-Mirza. His carts were at a standstill. He looked out of his carriage and greeted me with a nod. Several hours after we met, the prince's entourage was attacked by local highlanders. When he heard the whizz of bullets, Khosrow-Mirza jumped out of his carriage, hopped on the back of a horse and galloped off. His Russian travel companions appeared deeply impressed with his courage..."

For completing this mission, on August 6, 1829, Rennenkampff was officially included by Tsar Nikolai I into the latter's retinue (he was made a "General of the Retinue of His Imperial Majesty" and received corresponding embroidery on his collar - exactly as pictured in our portrait!).
In summer of 1830, Rennenkampff used ultimate measures and succeeded in suppressing the South Ossetian Uprising led by Bega Kochiev in Cheseltskoye Ravine.
In the beginning of the Polish Revolt of 1830, Rennenkampff happened to be on leave in Courland (Latvia) visiting his wife's relatives. During this time, he was appointed provisional commander of a minor detachment, which defended Polangen (now Palanga, Lithuania) from Polish insurrectionists.
When Count Paskevich was posted to serve in Poland, Rennenkampff joined him once again. He remained in Poland until 1842 (in 1839, he became Commander of the 1st Infantry Division) and then returned to Caucasus. There, he received the 19th Infantry Division under his command and - on April 13, 1843 - was promoted to lieutenant-general.
One and a half years later, something quite dramatic happened to him: he was suspended from division command and put on military trial for "premeditated falsification of reports of allegedly meritorious combatants by Village Birikey, many of whom were far from present at the scene". Subsequently, on January 9, 1846, he was reduced to the rank of a common soldier and dismissed from military service.
Nonetheless, with the onset of Hungarian Campaign of 1849, Tsar Nikolai I allowed him to return to the army in rank of an ensign (!) of General Staff with appointment into the 5th Infantry Corps.
Three years later, Rennenkampff again rose in rank to major-general.
In 1853, he made topographical surveys in Moskovskaya and Chernigovskaya governorates.
In the beginning of Crimean War (1853-1856), he returned into the field army. For distinguishing himself at the Danube crossing point, on November 19, 1854, he was (again) promoted into the rank of lieutenant-general. Thereafter, he partook in the Defense of Sevastopol. Three years later, he died in St.Petersburg.

In our portrait, 43-year-old Baron Pavel Yakovlevich Rennenkampff is depicted in uniform of a "svitskoi general" (general attached to Tsar's Retinue). Here, he is shown wearing the following military awards:

- breast star with Imperial Crown (on right chest) and
sash (over his left shoulder) of the Russian Order of St. Anna of the 1st class (presented to him on January 1, 1831)
- neck cross of the Russian Order of St. Vladimir of the 3rd class (1830?)
- neck cross of the Prussian Military Order "Pour le merite" (1814)
- breast star (on left chest) of the Persian Order of Lion and Sun (1828)
- five round medals ("For Patriotic War of 1812", "For Capture of Paris" (1826), "Dvoryanskaya" (1814), "For Persian War" (1828), "For Turkish War" (1829)) and finally
- the Chevalier Cross of the French Royal Order of Legion of Honor (1814).

The name of Rennenkampff's wife was Anna Maria von Vegesack. She was born in 1808 in Russian Baltic Province Courland (now Latvia) and died in 1881 (outliving her husband by 24 years) in Baden-Baden. Obviously, they were wed in 1828 or 1829 (their first child Nicolas Jakob Otto was born in 1830 (a slight hint into the true nature of Baron Rennenkampff's 1830 summer stay in Courland). He died at the age of eight. Baroness Rennenkampff's second son Johann Paul Alexander was born in 1836; he too died in childhood…

One shall point out that Rennenkampff , although posing for this portrait in Vienna, clearly wished to be depicted with the symbol of his beloved Caucasus - the snow-covered peak of Mount Kazbek in the background.
Leopold Fertbauer (1802 Vienna - 1875 Vienna) was a son of Viennese clock maker Philipp Fertbauer (1763-1820) and nephew of Viennese artist Leopold Lieb. In 1816-1820 he studied at the Vienna Academy of Fine Arts - first landscape painting under Albert Christoph Dies and Joseph Moessmer, later historical drawing under Franz Caucig and Anton Petter. In 1836 he became custodian of Liechtenstein Gallery in Vienna and in 1862 was retired as "Princely Liechtenstein Gallery Directions-Chief-Adjunct". He was mainly active as an artist of small size portraits of Vienna bourgeosie of Biedemeier period. Sometimes he made also genre and religios paintings. From 1822 to 1835 he regulary participated in Vienna's academical exhibitions. Works of his can be seen in Austrian National Gallery "Belvedere" and other important museums in Austria and abroad.
CLICK HERE FOR OTHER WORKS OF THIS ARTIST IN OUR POSSESSION

Provenance:
heirs of sitter's widow, Baden-Baden, Germany
German antique trade

midec19ap17
Condition: good
Creation Year: 1833
Measurements:UNFRAMED:26,3x20,2cm/10,4x8,0in FRAMED: 36,8x31,0cm/14,5x12,2in
Object Type:Framed oil painting
Style: 19th century paintings
Technique: oil on panel
Inscription:signed and dated: L. Fertbauer f(ecit). Wien 1833
Creator: Leopold Fertbauer
Creator Dates: 1802 Vienna-1875 Vienna
Nationality:Austrian
SHIPPING COSTS UPON REQUEST:
office@wilnitsky.net
Click here for images free of watermark!
Click on images or on

to see larger pictures!