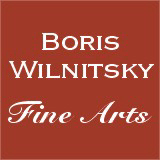 If you have a question about this item,
please contact us at: office@wilnitsky.net
# 42026
A. F. Lagrenée-Attrib. "Henriette-Blanche de Monicault with son Paul", superior miniature!!, 1828/29
Price: 6500 EUR
(please note additional 13% tax applies for transactions concluded within the European Union)
THE SELLER WILL COVER SHIPPING WITH REGULAR MAIL FOR THIS ITEM!

An old legend on verso of this miniature portrait names its sitter - a young lady seated in chair with her little son on her lap - Mme Blanche Garnier-Monicault.
Our Web research delivered some information concerning this woman and her little child.

Her birth name was Henriette-Blanche Garnier-Deschesnes. She was born in 1803 as daughter of Edmond (Hennmont) Garnier-Deschesnes, "receiver general des finances" and his wife Henriette Nardot. On August 14, 1826, she married her equal in age Alexis-Aime-Josoph de Monicault (1803-1875), an attorney at Court of Appeal, future prefect of departments Ariege, Vosges, Eure and Seine-et-Marne and Officer of the Legion of Honor. They had two sons: Paul (1827-1884) and Edouard (1829-1916).
In light of the facts that the dress and hairstyle of Mme de Monicault reflect the fashion trend of the late 1820s (and in no way the early 1830s) and that her child appears at most 1-1.5 years of age, one could say with certainty that the depicted boy was clearly her eldest son Paul de Monicault. The latter, as one learns, made a career of a diplomat and, like his father, became an Officer of the Legion of Honor.
Mme Henriette-Blanche de Moicault died on November 8, 1891 at Chateau Vernouillet by Paris.

Although unsigned, this miniature displays an outstanding quality of execution and is clearly a work of one of the best miniaturists working in France, in late 1820s. Although the portrait's previous owner (a French art collector) thought it to be a work of Bordeaux miniaturist Pierre Edouard Dagoty, we tend to believe that he or she was rather a Parisian master. Our friend, world's best specialist in portrait miniatures Dr. Bodo Hofstetter whom we showed this piece says it seems to be a work of the well-known French miniaturist Anthelme Francois Lagrenée.
Anthelme Francois Lagrenée was born in Paris in 1774 as a son of French painter Louis-Francois Lagrenée. He was a pupil of his father and later - of Vincent. He exhibited at the Parisian Salon from 1799 to 1831. During the revolution Lagrenée served in the French army, where he meticulously studied the anatomy of horses, thus becoming a very fine horse-draughtsman. He was also a very good portraitist (mainly miniaturist); was also very well known as a good imitator of antique cameos. In 1817-1825 the artist lived and worked in St. Petersburg where he had a great success and did portraits of numerous members of aristocracy, as well as of the Empress Alexandra Fedorovna. As a portraitist (as already mentioned) Lagrenée painted chiefly miniatures on ivory and watercolour portraits (sic!), but known are his historical and animalistic paintings in oils. Schidlof writes: "Lagrenée was an excellent miniaturist whose works show a certain influence on Isabey, but his "pointille" is finer in the faces than with the pupils of latter". Miniatures and watercolour portraits of this artist belong to collections of Louvre (Paris), Hermitage and Russian Museum (St. Petersburg), Tretyakov Gallery and Historical Museum (Moscow), etc., etc.
Provenance: French private collection

We are very grateful to Dr. Hofstetter for his generous help

minov2717
Condition: good; the damaged (original) frame was replaced by a newer one retaining original labels
Creation Year: 1828/29
Measurements:UNFRAMED:0,0x0,0cm/0,0x0,0in
Object Type:Framed miniature
Style: Portrait Miniatures
Technique: watercolor and oil on ivory, laid on card
Inscription:verso: old legend
Creator: Anthelme Francois Lagrenée
Creator Dates: 1774 Paris-1832 Paris
Nationality:French
We will cover shipping with regular registered mail (delivery between 7-14 days) for this item.

OBS: Austrian mail refunds cases of loss or damage with maximum EUR 500 to the US (in Europe sometimes more, depending on destination).


Full insured 2-3 days DHL service available upon request and subject to extra charges: office@wilnitsky.net
Click here for images free of watermark!
Click on images or on

to see larger pictures!