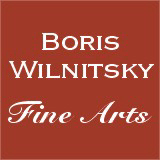 If you have a question about this item,
please contact us at: office@wilnitsky.net
# 41975
Jean Adam Serre-Attrib. "Aristocrat and his young wife", two high quality miniatures!!, 1750/60
Price: 5500 EUR
(please note additional 13% tax applies for transactions concluded within the European Union)
THE SELLER WILL COVER SHIPPING WITH REGULAR MAIL FOR THIS ITEM!

*Size of male portrait: 6x5cm/2,4x2in FRAMED: 5x5,3cm/2x2,1in
**Size of female portrait: 5,9x4,8cm/2,3x1,9in FRAMED: 6,8x5,1cm/2,7x2,in

This pair of high quality portrait miniatures was acquired at Christie's London in one lot in 1997 (see our image nr.12). They were attributed by Christie's expert Dr. Bodo Hofstetter as works of well-known 18th-century miniaturist from Geneva - Jean Adam Serre.
Jean Adam Serre (1704 Geneva - 1788 Geneva) was a painter of miniatures on ivory and enamel; also practiced chemistry and physics. After being his pupil, he became the friend and constant traveling companion of Liotard, whom he helped in his works. His technique resembles Liotard's to such degree that it is not easy to distinguish the works of the two artists (Schidlof).
Provenance: Christie's London, April 15, 1997, Lot 53

minov27ap17
Condition: good
Creation Year: 1750/60
Measurements:UNFRAMED:0,0x0,0cm/0,0x0,0in
Object Type:Framed miniatures
Style: Portrait Miniatures
Technique: both: watercolor on ivory
Inscription:-
Creator: Jean Adam Serre
Creator Dates: 1704 Geneva-1788 Geneva
Nationality:Swiss
We will cover shipping with regular registered mail (delivery between 7-14 days) for this item.

OBS: Austrian mail refunds cases of loss or damage with maximum EUR 500 to the US (in Europe sometimes more, depending on destination).


Full insured 2-3 days DHL service available upon request and subject to extra charges: office@wilnitsky.net
Click here for images free of watermark!
Click on images or on

to see larger pictures!