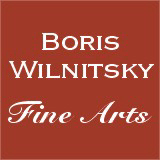 If you have a question about this item,
please contact us at: office@wilnitsky.net
# 41965
Anthelme François Lagrenée "Count Lev Petrovich Wittgenstein", outstanding Russian miniature!, ca.1820
Price: ON REQUEST
(please note additional 13% tax applies for transactions concluded within the European Union)
THE SELLER WILL COVER SHIPPING WITH REGULAR MAIL FOR THIS ITEM!

Found in a private Viennese collection (and a once a segment of a golden bangle), this work displays a superior quality of execution and is signed "Lagrenée" (it was produced by French miniaturist Anthelme François Lagrenée in his Russian period (1817-1825)). It is a miniature portrait of a very young "fliegel-adjutant" (wing-aide-de-camp) of Tsar Alexander I. The sitter is shown wearing the epaulettes of an "ober-officer" (poruchik, stabs-captain (stabs-rotmistr), captain (rotmistr)).
One detail should not be overlooked, however: the young man is shown without awards of any kind, which is a clear indication of his non-engagement in anti-Napoleonic Wars of 1812/15. He was surely included into Tsar's "svita" (retinue) after 1815.
His uniform was introduced in 1816 for "fliegel-adjutants" ascribed to infantry. Additionally, in the next year (1817), the same uniforms were distributed to "fliegel-adjutants" ascribed to cavalry.
In any case, this portrait was executed not before 1817 (the year of Lagrenée's arrival in St. Petersburg). Due to the sitter's particularly youthful appearance, we suggest the early 1820s as the starting timeframe of its creation.

After studying the annual issues of the Russian state calendar "Mesiatseslov" for the years 1820-1824 (in 1825 Lagrenee returned to France), we have arrived at the following conclusion: in this period, there were only five fliegel-adjutants (each in one of the "ober-officer" rank) , who possessed no awards (for example, see our image nr.7 for "Mesiatseslov" of 1823 outlining the course of 1822 events). All of them were in their twenties. Yet, due the sitter's very young visual age, only three of the five men come in question:

1) Prince Ernst Michailovich (Ernst Magnus August) Barklai de Tolly He was the eldest son of Field Marshal Prince Michail Bogdanovich Barklai de Tolly. He was born in 1798; in 1817 (he was then only 19!) Alexander I took him into his retinue as a fliegel-adjutant. He was then already a "poruchik" (1st lieutenant) of Life-Guard Kavalergardski Regiment and possessed no awards. Unfortunately, we could not find any portraits of this man. Nevertheless, we can not imagine that our "beau" is the son of physically less appealing Barklai de Tolly...

2) Vladimir Dmitrievich Novosiltsev, ascribed to Life-Guards-Hussar Regiment (he became a fliegel-adjutant in 1822 at the age of 22 and while in rank of a poruchik). Our images nr.8-9 show two known portraits of this man (one oil portrait by the same artist Anthelme François Lagrenée). Here, one shall note, that unlike the sitter in our portrait, Novosiltsev had no sideburns…

3) Graf (Count) Lev Petrovich Wittgenstein. He was born in 1799. In 1820 (sic!), at the mere age of 21, he became a fliegel-adjutant of Tsar Alexander I. Before that, he too was in rank of a poruchik (by 1822, Wittgenstein was already a stabs-rotmistr). His only known portrait by Franz Krueger (now in Moscow collection of Sergei and Tatiana Podstanitsky; see our image nr.10) was executed in 1836. This portrait - despite showing him sixteen years older - confirms his identity with full certainty and demonstrates that yes, indeed, he is our man!!.

Graf Lev Petrovich Wittgenstein (his birth name was Ludwig Adolf Friedrich Wittgenstein; 1799-1866) was one of the wealthiest estate owners in the Russian Empire. He was the eldest son of General Field Marshal Piotr Christianovich Wittgenstein (descendant of the old German family Wittgenstein) and his wife Antoinette Stanislavovna (Antonie Cacilie), nee Snarska (see our web #38363). In 1808-1813, he studied at St. Petersburg Principal German St. Peter's School; then, was enrolled into the Pazheski (Page) Corps, which he graduated from in rank of a cornet and appointed into Life-Guard Kavalergardski Regiment. On April 20, 1817, he became a regiment's adjutant and was, on September 22, 1818, promoted to poruchik.
On January 16, 1820, Tsar Alexander I installed him into one of his fliegel-adjutants. In 1821, he accompanied the Tsar to the Congress of Laibach; later he was dispatched on diplomatic missions to Paris and London. He was also among the attendees of the Coronation of King George IV of Great Britain. On June 25, 1821, he was raised in rank to stabs-rotmistr; on February 8, 1824 - to rotmistr. From 1825, he served in rank of a fliegel-adjutant of Tsar Nikolai I; from September 1826 to February 1827, Wittgenstein was squadron commander in Kavalergardski Regiment.
His military career came to a halt in 1826, after he was investigated and found to be affiliated with the underground "Union of Prosperity" and the "Southern Society". He was, as a result, brought to trial together with "Decembrists" (members of the revolt of December 1825). Several members of the "Southern Society" - N.M. Muraviov, S.G. Volkonski, N.Ya. Bulgarin, V. Tolstoi and L.I. Polivanov - have testified that back in 1821, Count Wittgenstein and his associate P.I. Pestel traveled to Warsaw, in order to recruit new members into this secret society. The Decembrists also testified that Wittgenstein and Pestel have been the masterminds of the (intended) assassination of Alexander I (according to this evidence, the accomplices were planning to stab the Tsar with a dagger, during one of the imperial balls; apparently, this idea was instigated by A.S. Pushkin's poem "The Dagger", which alledigly the poet personally read out to Pestel (and Wittgenstein?), during his short stay in Februara 1821, in West Ukrainian town Tulchyn (headquarters of Wittgenstein-senior's army). Further, the Decembrists attested that during his administrative commutes between St. Petersburg and Tulchyn Wittgenstein-junior served as a liaison agent between the "Northern Society" and the "Southern Society". In particular, Decembrist A.P. Bariatinski stated that in 1820 he brought Lev Wittgenstein into the "Union of Prosperity", that they both monitored Wittgenstein-senior (General Field Marshal Piotr Christianovich Wittgenstein) and that they then released their findings to Pestel.
During the interrogation, Lev Wittgenstein testified that he had learned of society's dissolution after his return from Laibach.
In recognition of his father's services to Russia, Nikolai I summoned the investigation committee to issue a verdict of acquittal in the case of Lev Wittgenstein. At his father's solicitation, on November 30, 1827, he was released from service due to illness and, on September 14, 1828, sent into retirement in rank of a colonel.

In his retirement Count Wittgenstein devoted his time to management of his substantial estates in Belorussia (now Belarus) and Ukraine, including those that he inherited after untimely death of his first wife, Princess Stephanie Radziwill.
It is known that when he was a widower, Wittgenstein was involved into a rather unsuitable liaison with the wife of Prince Arkadi Alexandrovich Suvorov. In order to put an end to his amorous escapades, Tsar's mother Empress Maria Fedorovna sought out an appropriate young woman for Wittgenstein to marry, namely his first cousin once removed, Princess Leonilla Bariatinskaya. They were married in September 1834. In the same (1834) year, his (and his father's) title was raised to "Serene Prince of the Kingdom of Prussia".
After their wedding, the couple moved to and settled in Paris. During the Revolution of 1848, they moved to Germany, where in a suburb of Frankfurt am Main they acquired Castle Sain - a former estate of family Sain-Wittgenstein.
In 1856, Lev Wittgenstein and his wife have attended in Moscow the Coronation of Tsar Alexander II. In 1861, King Friedrich Wilhelm IV of Prussia had bestowed him the title of "Prince zu Sain-Wittgenstein-Sain"
The last years of Lev Wittgenstein's life were overshadowed by dementia; helpless as a child, he was pushed around in a wheelchair (Alzheimer's disease?). He was then moved to Cannes for medical treatment. He passed away in this city on June 8, 1866.
For an interesting article about him CLICK HERE (illustrated in this article alleged portrait of Lev Witthenstein shows in reality absolutely another man).


Anthelme Francois Lagrenée was born in Paris in 1774 as a son of French painter Louis-Francois Lagrenée. He was a pupil of his father and later - of Vincent. He exhibited at the Parisian Salon from 1799 to 1831. During the revolution Lagrenée served in the French army, where he meticulously studied the anatomy of horses, thus becoming a very fine horse-draughtsman. He was also a very good portraitist (mainly miniaturist); was also very well known as a good imitator of antique cameos. In 1817-1825 the artist lived and worked in St. Petersburg where he had a great success and did portraits of numerous members of aristocracy, as well as of the Empress Alexandra Fedorovna. As a portraitist (as already mentioned) Lagrenée painted chiefly miniatures on ivory and watercolour portraits (sic!), but known are his historical and animalistic paintings in oils. Schidlof writes: "Lagrenée was an excellent miniaturist whose works show a certain influence on Isabey, but his "pointille" is finer in the faces than with the pupils of latter". Miniatures and watercolour portraits of this artist belong to collections of Louvre (Paris), Hermitage and Russian Museum (St. Petersburg), Tretyakov Gallery and Historical Museum (Moscow), etc., etc.
CLICK HERE FOR OTHER WORKS OF THIS ARTIST IN OUR POSSESSION

minov07ap17
Condition: fairly good; in original golden with enamel frame
Creation Year: ca 1820
Measurements:UNFRAMED:4,2x3,0cm/1,7x1,2in FRAMED: 6,0x4,7cm/2,4x1,9in
Object Type:Framed miniature
Style: Portrait Miniatures
Technique: watercolor on ivory (octagonal)
Inscription:signed "Lagrenée"
Creator: Anthelme Francois Lagrenée
Creator Dates: 1774 Paris-1832 Paris
Nationality:French
We will cover shipping with regular registered mail (delivery between 7-14 days) for this item.

OBS: Austrian mail refunds cases of loss or damage with maximum EUR 500.


Fully insured 2-3 days DHL service available upon request and subject to extra charges: office@wilnitsky.net
Click here for images free of watermark!
Click on images or on

to see larger pictures!