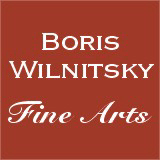 If you have a question about this item,
please contact us at: office@wilnitsky.net
# 41955
"Marechal-de-Camp (Brigade General) Baron Louis-Marie Gaussart", oil on canvas, 1831/32
Price: 4500 EUR
(please note additional 13% tax applies for transactions concluded within the European Union)
The identity of the man depicted in this portrait was established based on found by us on Web article, published still in 2013 by Didier Simonnet and Eric Poisson, local historians of general's native town Chatillon-sur-Marne, department Marne, France (authors were already familiar with this painting - see our image nr.8 and CLICK HERE). The name of this man is Louis-Marie Baron Gaussart. He is depicted here in uniform of a "marechal-de-camp" (in Royal Army, it was a rank equivalent to that of a brigade general; note the two stars on his epaulettes). It appears that had just received his neck cross of Commander of Royal Military Order of the Legion of Honor. Knowing that this award ceremony took place on September 14, 1831, we assume that this portrait was ordered soon thereafter, i.e. in late 1831 - early 1832.
Back in the period of First Bourbon Restoration, Gaussart was awarded the Royal Military Order of St. Louis (and surely the "Decoration of the Lily"). However, after the July Revolution of 1830, these two awards were abolished and hence no longer worn by their recipients.

Louis-Marie Gaussart was born in Binson by Chatillon-sur-Marne on November 7, 1773. His father, Anne-Etienne Gaussart was a parliamentary notary; his mother's name was Marie Jeanne Françoise Guerin.
In 1792, he volunteered to join the Revolutionary Army. He spent the next two years serving in the Army of the Centre and the Army of the Moselle, and fought in the Battle of Valmy. On October 6, 1792, he was promoted into the rank of a sergeant-major; on July 8, 1793, he became a lieutenant. In December of the same (1793) year, he received his first battle wound at Wissembourg.
His next promotion took place on August 7, 1800: on this day, he was made into a "chef de bataillon". On September 22, 1801, he became the first adjutant of General Desjardin. On July 14, 1804, he received the Chevalier Cross of the Legion of Honor.
In 1805-1807, Gaussart, while accompanying General Desjardin, served in the Grande Armée and took part in Austrian and Prussian campaigns. On December 26, 1806, he received his second wound at Polish town Golomin.
Several months after distinguishing himself in the Battle of Eylau (February 8, 1807), Gaussart was awarded (September 10, 1807) the Officer Cross of the Legion of Honor. Clearly, the Battle of Eylau left a particularly deep imprint on his mind (let's not forget that his long-term superior, General Desjardin was mortally wounded in this battle and died several days later). It shall come as no surprise then that twenty five years following these events, Gaussart commissioned the artist to paint him with the plan of this battle: his finger is pointed at the writing "Eylau" (visit our web #30826 for a similar layout).
One month after the Battle of Eylau, on March 5, 1807, he became a major of the 56th Line Infantry Regiment.
Next year (1808) in Spain, he received his next battle wound at Valencia on June 28.
On March 23, 1809, he was raised in rank to lieutenant-colonel and on September 24 - to colonel; he was concurrently appointed Commander of 18th Light Infantry Regiment. On December 16, 1810, Napoleon ennobled him into Chevalier of Empire.
On April 1, 1812, shortly before the French invasion of Russia, his 18th Light Infantry Regiment became attached to Division Broussier in the 4th Corps of the Grande Armée.
He participated in the entire Russian Campaign, in which he was again twice wounded (one time in Maloyaroslavets and another - in Krasnoye) and later crossed the River Berezina with surviving rest of his regiment.
On April 12, 1813, Napoleon promoted him to brigade general with simultaneous transfer into the 3rd Corps (Ney) of the Grande Armée. On August 12, 1813, due to failure of his wounds to heal, he was decommissioned back to France and appointed a military commandant of department Lot-et-Garonne. On October 9, 1813, the Emperor made him a Baron of Empire (see our image nr.15).
On February 13, 1815 (First Restoration), he was awarded the Chevalier cross of the Order of St. Louis. Upon his return to France, Napoleon sent him to the Observation Corps of Jura on May 10, 1815 (i.e. Gaussart broke the oath he swore to Louis XVIII). After the Hundred Days, he was not punished but simply discharged (as a "demi-solde") from the active service. Sent into retirement on January 1825, he was called back into military service (after the July Revolution) on August 24, 1830; on January 1, 1831, he was appointed a military commandant of department Dordogne, region Nouvelle-Aquitaine with Bordeaux as its center (one shall consider that perhaps the author of this portrait too lived in the same city). As already mentioned, on September 14 of the same (1831) year, he was presented with Commander Cross of the Legion of Honor.
On January 1, 1835, he was sent into final retreat. Four years later, on December 9, 1838, he died in Paris. He was buried at the Montparnasse Cemetery (see our image nr.16).
He left behind a widow, Marie Catharine Françoise, Baroness Gaussart, nee St. Giller (there are records of her residing on rue de Monsseur-le-Prince, No.8).
One of the streets in Gaussart s native town Chatillon-sur-Marne had received his name (see once again our image nr.8).
Provenance: French antique trade

minov1717
Condition: fairly good; lined in the mid 19th century
Creation Year: 1831/32
Measurements:UNFRAMED:62,0x52,0cm/24,4x20,5in FRAMED: 77,5x68,0cm/30,5x26,8in
Object Type:Framed oil painting
Style: 19th century paintings
Technique: oil on canvas
Inscription:-
Creator: French School
Creator Dates: -
Nationality:French
SHIPPING COSTS UPON REQUEST:
office@wilnitsky.net
Click here for images free of watermark!
Click on images or on

to see larger pictures!