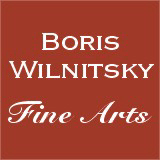 If you have a question about this item,
please contact us at: office@wilnitsky.net
# 41920
Johan Stålbom "Swedish General Charles Emil Lewenhaupt the Younger", superior oil miniature!!, 1772
Price: 4900 EUR
(please note additional 13% tax applies for transactions concluded within the European Union)
This work was initially offered by auction house "Chiswick", UK (sale of October 3, 2017, lot 24) as "After Johan Stalbom" (the auctioneer's attribution was clearly based on similar work of the same artist (available through Web search; whereabouts unknown) - a miniature portrait of the same sitter shown from a different angle (see our image nr.5).
We confirm that this portrait is indeed an absolutely authentic and very typical work (for comparison, see our image nr.8) of well-known 18th-century Finno-Swedish portraitist Johan Stålbom. According to the date on verso, it was painted in 1772.
It is a relatively large (16.5 x 14.8cm) oil-on-copper miniature portrait of Swedish major general (sic! once again, see our image nr.8 for Stålbom's miniature portrait of another Swedish major general), Greve (Count) Charles Emil Levenhaupt the Younger.

Charles Emil Levenhaupt the Younger was the only son of Charles Emil Levenhaupt the Elder (1691-1743; see our image nr.6). His father was a Major-General of the Swedish Army. In 1741, he was involved in the decision to wage war against Imperial Russia (CLICK HERE). Following the war, on 20 June, 1743, Lewenhaupt the Elder was sentenced to death on the grounds of poor performance and conduct in the war. His son Charles Emil the Younger and a small party managed to free him, but he was re-arrested when aboard a vessel in the Stockholm archipelago bound for Danzig. He was executed on August 4th 1743 in Stockholm. His father's misfortune did not seem to have adversely affected career of Levenhaupt the Younger, and he devoted himself to Parliamentary politics and became M Major General of the Swedish Cavalry. For his extensive biography in Swedish, once again see our image nr.5.
The author of this portrait, Johan Stålbom (1712 Nyland - 1777 Estate Orräng, Östergötland / Sweden) from 1733 trained in Stockholm with the painters Johan Pasch and Lorens Pasch the Elder. His portrait works can be seen in Gripsholm Castle, the library and consistory of the Linköping Diocese, the Nordic Museum of Stockholm, the Uppsala University, as well as in collections of a number of Swedish noble families.
Provenance: English antique trade

minov08ap17
Condition: good; in Neoclassical frame
Creation Year: 1772
Measurements:UNFRAMED:16,5x14,8cm/6,5x5,8in FRAMED: 28,5x19,7cm/11,2x7,8in
Object Type:Framed miniature
Style: Portrait Miniatures
Technique: oil on copper (oval)
Inscription:verso: old legend with the date of "1772"
Creator: Johan Stålbom
Creator Dates: 1712 Nyland-1777 Estate Orräng
Nationality:Finnish / Swedish
2-3 days door-to-door shipment, professionally packed by Mail Boxes Etc and shipped with DHL (calculated for US): 110,08 EUR + insurance 1,8% of item price
Shipping cost to other destinations (worldwide) on request
Shipping price may be reduced if you dispense with the frame


Cheaper alternative (may be further reduced if you dispense with the frame): professionally packed by Mail Boxes Etc and shipped with regular Austrian mail - upon request under office@wilnitsky.net (OBS: In this case maximal refunded insurance value is EUR 500 if shipping destination was the US. In Europe sometimes more, depending on destination.)
Click here for images free of watermark!
Click on images or on

to see larger pictures!