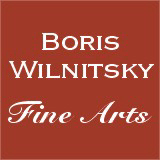 If you have a question about this item,
please contact us at: office@wilnitsky.net
# 41900
Johann Heinrich Schroeder (1757-1812) "Pierre-Augustin Hulin", unique pastel portrait!!, 1805/06
Price: ON REQUEST
(please note additional 13% tax applies for transactions concluded within the European Union)
In the end of September 2010, having received the auction catalogue of "Thierry De Maigret" (Paris) (of its then upcoming sale on October 14th 2010), we noticed in it a pastel portrait of an unknown Napoleonic brigade general with an Officer Cross of Legion d'Honneur. It was not even the general himself that captured our attention in the beginning, but rather the author of the pastel. Being in possession of a lot of works of the best, turn of 19th century, Germann pastellist Johann Heinrich Schroeder we immediately recognized this pastel as an absolutely authentic and very typical work of latter (for comparison see other works of his in our collection). Moreover, as we will see below, in the sitter's biography, the latter in 1805-1807 stayed in present-day Germany where artist Schroeder was active.

But who is this general?

It was the famous book by Alain Pigeard "Les Etoiles de Napoleon" (Paris, 1996) that turned out to be the prime source of help to us. On page 673, we discovered another, painted few years later than "ours", portrait of the same (as we beleived!) man - see our image nr.9. His name according to Pigeard was Cesar Alexandre Debelle (De Belle), Baron de Gachetier. In the portrait illustrated in Pigeard's book he is depicted with neck Commander Cross of Legion d'Honneur.
On the contrary, in our portrait the sitter bears on his chest the 1st model of the Officer Cross of this order (without crown!; the crown was supplemented on April 12th 1806 - 2nd model; this factor moves the upper time margin (date of execution) to this day - 12th April 1806. The lower time margin would be 2nd December 1804 - awarded officers begin to bear Legion d'Honneur Crosses on their coats.

Nevertheless, as we showed this portrait to one of specialists in Napoleonic military uniforms the latter drew our attention to the gilded (with the eagle of 1st Empire!) buttons on sitter's coat (see our image nr.6) - clear indication that the sitter served in Guards !!
And general Debelle never served in this elite troop!!

So we found us again at the begin of our search, with the same question - "Who is this brigade general?"

It is necessary to add that mentioned uniformologist found also a very interesting and especially rare detail: due to the fact that the sitter's coat is unbuttoned, we are able to see an entirely uncommon manner of fixing the order's ribbon. Instead of tending the cloth of his coat by fixing the ribbon on his chest with a double row of thread, the sitter, overwhelmed by conferment of this high award, hurriedly cut two holes in the cloth, in order to slide and fix the ribbon through them (this (usually concealed behind the buttoned coat) part of a ribbon is available for our view in form of an elongated vertical quadruple).

P.S.: A few days later our advisor came to conclusion, that the sitter could be only one person - Pierre-Augustin Hulin (1758-1851), who on 15th September 1802 received the command of the grenadiers (grenadiers á pied) of the Consular Guard (!!) and on 29th August 1803 was promoted to brigade general. In 1804 he was awarded with the Cross of Legion d'Honneur, and from 28th August 1805 he served in Grande Armee stationed in Germany (this curcumstance raises the lower time border of portrait's creation to this day!). Till today were known only two (absolutely authentic!) portraits of this famous soldier - a lithograph showing him in profile (see our image nr.10) and a drawing in Chateau de Malmaison (image nr.11) - strong similarity with our man!!

Pierre-Augistin Hulin, the son of a Parisian draper, was born on September 6, 1758. He entered the army on December 9, 1771, serving in the Regiment de Champagne-infanterie, on October 1, 1772 was transferred to Regiment de Navarre, on May 6, 1773 was transferred to the Regiment des Gardes suisses (Swiss Guard), in the ranks of which he rose to sergeant. In 1787 he had already retired from the Guards and was successful operator of the Royal Laundry. During the week that preceded the storming of the Bastille Pierre-Augustin Hulin was several times spotted agitating the mob against the Crown.
On the day of the storming of the Bastille Hulin offered his services to the Hotel de Ville. He assembled a company of seventy men armed with two cannons. Around 3 o'clock he led his men from Les Invalides to the Bastille. Two hours later atillery fire and pressure from the Bastille personnel persuaded its commandant Marquis de Launay to capitulate. By this time the attacking mob lost around a hundred men, the defenders of the Bastille had only one man killed. Hulin and his deputy Jacob Elie defended de Launay from the mob and sent him under an armed escort to the Hotel de Ville. But the bloodthirsty mob finally overwhelmed the convoy and killed De Launay. The commandant's head was severed and proudly carried around the city on the pike.
On the next day, July 15, 1789, Hulin was appointed company commander of the "Volontaires de la Bastille", an armed formation paid by the city government which later evolved into the National Guard. Hulin's own performance made him a national hero, a "herculean victor", and a staple of patriotic leaflets and magazines issued since 1790.
As aristocrats left the army in large numbers, new officers were promoted from the enlisted ranks. Hulin, hiowever, did not escape the excesses of the Reign of Terror and was incarcerated for almost a year (1793-1794). When Robespierre's radical gowernment fell in 1794, Hulin was released. During the French Revolutionary Wars, Hulin served in the Army of Italy and fought against Austrians in the defense of Genoa and commanded troops in Milan, eventually rising to the rank of colonel.
Under the command of self-appointed First Consul Napoleon Bonaparte he served as chief of staff in several divisions and (as mentioned above) on September 15, 1802 was appointed commander of Grenadiers (grenadiers á pied) Regiment of the Consular Guards. In August of 1803, still being the commander of this regiment he was promoted to brigade general.
In 1804 Hulin presided over the commission that tried Duke d'Enghien. The Duke, a descendant of the Conde family, a centuries-old aristocratic family powerful under the Bourbons, was convicted of treason and was executed by firing squad, an act that was met by horror and anger from other European nations.
Hulin fought in the Grande Armée in the campaigns of 1805 and 1806, fighting in present-day Germany. In November 1805 he became a commandant of Vienna (with 3,000 men he stayed one and half months in that city, living in Lobkowicz Palace), after the completion of the Prussian campaign, on October 25, 1806 he was given command of troops in Berlin. On August 9, 1807 he was promoted to division general and appointed commandant of 1-re division militaire and governor of Paris. He held the latter title til March 31, 1814, and during the "Hundred Days" in 1815. On April 26, 1808 he was styled Count of the Empire, and on June 30, 1811 he obtained two (!) awards at once - Order of Iron Crown and Grand Commander Cross of Legion d'Honneur.
Hulin was the military governor of Paris in 1812, when pro-Republic General Claude Francois de Malet (see our web # 41538 ) launched a coup while Napoleon was pursuing a disastrous campaign in Russia. Troops loyal to Malet seized many Bonopartist officers in the city and tried to take control of government. When Hulin attempted to arrest the rebel general, Malet shot him in the face. Hulin's resistance caused troops and military police to turn on Malet and take him into custody. Malet and other conspirators were executed, Hulin was rewarded on April 3, 1813 with the Order of Reunion.
When Napoleon abdicated, Hulin's command was taken away from him by the restored Bourbon monarchy. However, when the former emperor returned from Elba in 1815, Hulin was given back (March 20, 1815) his position as commander of 1-re division militaire and governor of Paris, which was again stripped from him when Napoleon was defeated - on June 23, 1815 he was replaced by Andreossy. Banished by the ordinance of July 24, 1815, he withdrew himself at first in Germany (til the end of 1815), then in Belgium and from there in Holland. When the ordinance of December 1, 1819 reopened the doors of France to him, he returned in fatherland, lived in retirement many years in an estate located at Nevers.
The count Hulin, who in 1820s had lost the sight lived as a stone-blind man until 1841. On January 9, 1841, he died in Paris (see our image nr.13 showing his still existing tomb at Montparnasse Cemetery).
The best German pastelist of the late 18th century Johann Heinrich Schroeder (Schröder) was born in 1757 in Meiningen, Thuringia (which was then residence town of Duchy Saxe-Meiningen). His early work shows the influence of Johann Philipp Bach who may also have taught him. However, by 1778 he had become a pupil of J.H.Tischbein in Kassel where he exhibited two works at "Junge Maler" in the Academy show in 1780: one pastel portrait, the other a Cleopatra after Titian (medium unspecified). He travelled to Hanover (ca. 1780-84), Brunswick (court artist 1785), Frankfurt, Mannheim, Dresden (1786), Kassel (1787, returning in 1804), Berlin (1789-1792 and 1793-1806). His first trip to Berlin was mentioned in a letter from January 1789 of Charlotte, Duchess of Brunswick-Wolfenbuettel to her sister-in-law, Elisabeth Christine, Queen of Prussia.
From 1792-1793 Schroeder was in London, following the marriage of the Prussian Princess Friederike with the Duke of York; there he portrayed the Royal Family and exhibited three portraits of unnamed sitters at the Royal Academy. Returning to Germany via The Netherlands, he made a portrait of Queen Luise of Prussia which was widely copied. He was in Brunswick in 1801 before settling in his home town Meiningen after 1806. There were further trips to Bad Pyrmont (1806) and Karlsruhe (1810-1811). He also executed a series of portraits of the Baden Royal Family in the 1800s.
He died in his native town Meiningen in 1812.
Resume: We found per chance extemely important, created in 1805-1806 (before April 12, 1806) authentic portrait (only known painted!) of famous Napoleonic general, Pierre-Augustin Hulin.

minov10ap10
Condition: good
Creation Year: 1805/06
Measurements:UNFRAMED:34,0x29,0cm/13,4x11,4in FRAMED: 44,0x39,2cm/17,3x15,4in
Object Type:Framed miniature
Style: Old master drawings
Technique: pastel on vellum (painted in oval, mounted on stretcher)
Inscription:-
Creator: Johann Heinrich Schroeder
Creator Dates: 1757 Meiningen-1812 Meiningen
Nationality:German
SHIPPING COSTS UPON REQUEST:
office@wilnitsky.net
Click here for images free of watermark!
Click on images or on

to see larger pictures!