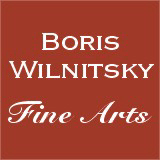 If you have a question about this item,
please contact us at: office@wilnitsky.net
# 41881
Johann Baptist Reiter "Artist's second wife Anna Brajer at the age of 36", rediscovered painting! 1873
Price: 12000 EUR
(please note additional 13% tax applies for transactions concluded within the European Union)
According to artist's own, handwritten inscription on verso of the canvas, this work is a portrait of his wife at the age of 36.
The inscription reads as follows: "JB Reiter /malte seine /Gemalin in /ihren 36 jungen /Jahre /(1)873" (English: "JB Reiter /painted /his wife in /her 36 young /year /((1)873").

As it is known, by 1873, well known Austrian artist Johann Baptist Reiter was already remarried to his second wife for as long as ten years. His first marriage remained childless and thus a source of his sorrow, until in the mid 1850s he met a 17-year-old native of Bohemia (now - Czech Republic), Anna (Anna Josefa Theresia) Brajer (1836-1889), who first became his mistress and later (after he divorced his first wife Maria Anna) his second wife. In 1862, she bore him son Moritz (see our image nr.8) and, two years later daughter Alexandrine.
Our portrait was made 11 years after the birth of her first child. Moreover it is a (last 100 years long thougt to be lost) counterpiece to dated also 1873 and of the same size self-portrait of the artist (now in collection of Austrian National Gallery "Belvedere" - see our images nr.18-19).
Johann Baptist Reiter (1813 Urfahr by Linz - 1890 Vienna) was a son of a master carpenter. He spent three years as an apprentice at his father's company, painting furniture, signs and crosses. Encouraged by the lithographer and art dealer, Josef Hafner (1799-1891), he enrolled at the Academy of Fine Arts, Vienna. His teachers there included Leopold Kupelwieser and Thomas Ender. After 1830, he largely earned his living as a porcelain painter.
Probably as the result of a recommendation by Kupelweiser, he was awarded a scholarship by the Upper Austrian Landstand that enabled him to continue his studies from 1834 to 1837. During this time he also exhibited and won the Lampi-Preis for model drawing in 1836. He was married in 1839. Originally, he did genre and historical scenes, but he decided to switch to portraits and soon became so popular that he was able to purchase a large house in Vienna with a four-horse carriage and a Moor as a servant. During the Revolution of 1848 he sided with the revolutionaries. Possibly due to the trouble this caused, his wife left him in 1850. From then until 1870, he was a regular participant at the exhibitions of numerous Austrian art societies.
It is unclear if he was divorced or his first wife died, but he was remarried in 1866. His new wife's extravagance eventually forced him to take more orders than he could handle, as well as turn to making copies of the Old Masters. She died in 1889, and he died the following year. He was interred at the Zentralfriedhof.
In 2013, a major retrospective was jointly hosted by the Schlossmuseum Linz and the Nordico Stadtmuseum. It included over 170 works gathered from museums in Vienna and Budapest and private collections.
Our images nr.9-17 show several works of this artist that were offered at various art auctions in the last years.

Literature:
Alice Strobl "Johann Baptist Reiter", Wien-München 1963, p. 47, 48, 114
Lothar Schultes "Johann Baptist Reiter", Salzburg 2013, p. 246

Provenance: Vienna auction house "Dorotheum", Sale No. 272, 28th March - 2nd April 1917, Lot 1287; private collection of a late, Austrian-born gentleman living in Hastings-on-Hudson, New York/USA

We are very grateful to Dr. Lothar Schultes, author of publishéd in 2013 monograph about J.B. Reiter for his generous help.

miokt17ap17
Condition: good; in original frame
Creation Year: 1873
Measurements:UNFRAMED:63,0x50,0cm/24,8x19,7in FRAMED: 84,0x70,3cm/33,1x27,7in
Object Type:Framed oil painting
Style: 19th century paintings
Technique: oil on canvas
Inscription:see description
Creator: Johann Baptist Reiter
Creator Dates: 1813 Urfahr by Linz-1890 Vienna
Nationality:Austrian
SHIPPING COSTS UPON REQUEST:
office@wilnitsky.net
Click here for images free of watermark!
Click on images or on

to see larger pictures!