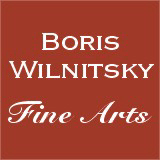 If you have a question about this item,
please contact us at: office@wilnitsky.net
# 41869
Walenty Sliwicki "Karl Osipovich de Lambert", important Russian miniature on ivory!!, 1799
Price: 7900 EUR
(please note additional 13% tax applies for transactions concluded within the European Union)
THE SELLER WILL COVER SHIPPING WITH REGULAR MAIL FOR THIS ITEM!

Signed and dated "VSlivicki /1799", this work is a miniature portrait of a young Russian gentleman in civil (sic!) dress (his redingote says he is depicted either in spring or autumn). He bears the ribbon of Russian Military Order of St. Georg of 4th class. A rarity at the current antique market, this work was created by Polish, turn of 19th century miniaturist Walenty Sliwicki,

The depicted gentleman (surely a retired Russian officer) was definitely awarded his St.Georg Cross in late 1794 or 1795, for the next conferral of St. Georg of the 4th class took place in August of 1796 - it was presented to a single person - certain "kollezhski assessor" (state official) and a former mayor, Ivan Nikolaevich Chekryzhev. The latter was surely much older than "our" young sitter. The next awardings St.Georg of 4th class took place after (!) 1799 - in 1802.
On the contrary, in 1794/95, the Order of St. Georg of the 4th class was awarded to 247 men - 109 of them were Russian officers who distinguished themselves in suppression of the Polish (Warsaw) Uprising of 1794 (under command of Tadeusz Kosciuszko; CLICK HERE); other 138 officers were veterans, awarded for "vyslugu let" (for long serevice; each of them was surely much older than our sitter). Our gentleman was clearly one of 109 "Polish Campaign" awardees.

But who was this young (he looks for age between 20 and (maximim) 28 years) retired (sic!) officer, possessing in 1799 only one award - St.Georg of 4th class?

In-depth search through list of 109 "Polish Campaign" awardees exposed (surely among those, whose biographies are known) following four men:

1. Prince Yegor (Georgi) Alexeevich Golitsyn (1773-1811; see our image nr.11 and CLICK HERE). In 1799 he was 26-year-old, possessed only St.Georg of 4th class and (from 1798) was out of service.
2. Pavel Nikolaevich Choglokov (1772-1832; see our image nr.12 and CLICK HERE). In 1799 he was 27-year-old, possessed only St.Georg of 4th class and (from 30 June 1799 till 4 November 1800) was out of military service.
3.The youngest of all - Alexei Petrovich Yermolov (1777-1861; see our image nr.13 and CLICK HERE). In 1799 he was 22-year-old, possessed only St.Georg of 4th class and from 1798 (discharged by Paul I, tried and sent to exile in Kostroma) till 15 March 1801 was out of service.
4. Graf (Count) Karl Osipovich de Lambert (1773-1843; see our images nr.14-16 and CLICK HERE and HERE). In 1799 he was 26-year-old, possessed only St.Georg of 4th class and from mid 1798 (discharged due to illeness) till 15 Maj 1799 (joined again his Staroduibski Cuirassier Regiment which (in ranks of Rimski-Korsakov's Corps) just crossed Poland and Bohemia on the way to Switzerland (Swiss Campaign of 1799)) was out of service.

From these four candidates the indisputable fisiognomical resemlance with our sitter demonstrate portraits of No. 4 - that of French emigre, who entered Russian military service in 1793, Count Karl Osipovich de Lambert (see again our images nr.14). He was surely portrayed by Sliwicki as he in spring of 1799 crossed Poland, on the way to his Starodubski Regiment (the latter was already in Bohemia).
Walenty Sliwicki (also Slivicki) was born in Poland in about 1765 and died in Warsaw on September 20th, 1857. He studied under Bacciarelli and Norblin, then took up a military career which he seems to have given up about 1820.
In 1821, he was the owner of a lithograph business, which was founded by Count Chodkiewicz. In 1830 he was in Wilno (Vilnius, Lithuania), where he became a protégé of Emperor Nikolai I. Between 1820 and 1827 he published in Warsaw a series of 28 lithographs, portraits of famous Polish personages.
Schidlof adds that Sliwicki was a very interesting artist as a miniaturist. He writes further that "his works have much expression and one notices in them a certain resemblance to those of Ritt".
Our images nr.8-10 show several other miniatures of this artist.

Provenance: German private collection

P.S. 29 September 2017:
Currently the best specialist in Russian military portraits, Dr. Alexander Kibovskyi (Moscow), whom we showed this miniature and who found our version as interesting one, offered second possible candidature - in 1799 34-year-old, in possession of only St.Georg of 4th class (awarded in 1789) and, between July and mid September (called off back to St.Petersburg) of 1799, Russian envoy in Dresden Alexander Alexandrovich Bibikov (see our image nr.18 with latter's biography). On the way home (on 25th September 1799 he was already in Prague) Bibikov crossed Poland and could be portrayed there by Walenty Sliwicki.
Dr. Kibovskyi notes also the fisiognomical resemblance (nose, long (own!) hair) between our sitter and 49-year-old Bibikov on engraving from 1814 (prototype to famous oil painting in St.Petersburg Hermitage - see image nr.17). He means also our portrait could be a "complimentary" one, showing 34-year-old Bibikov as a still young man.
But what is with the Bibikov's doubled chin, clearly visible on 1814 engraving and respectively on the oil painting in Hermitage?!

For similiar story see our web # 42440

misept21ap17
Condition: good; in original frame
Creation Year: 1799
Measurements:UNFRAMED:5,6x4,6cm/2,2x1,8in FRAMED: 6,4x4,9cm/2,5x1,9in
Object Type:Framed miniature
Style: Portrait Miniatures
Technique: watercolor on ivory
Inscription:signed and dated: "VSlivicki /1799" (ligated VS)
Creator: Walenty Sliwicki (Valenty Slivicki)
Creator Dates: 1765-1857 Warsaw
Nationality:Polish
We will cover shipping with regular registered mail (delivery between 7-14 days) for this item.

OBS: Austrian mail refunds cases of loss or damage with maximum EUR 500.


Fully insured 2-3 days DHL service available upon request and subject to extra charges: office@wilnitsky.net
Click here for images free of watermark!
Click on images or on

to see larger pictures!