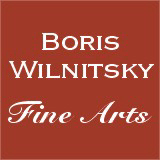 If you have a question about this item,
please contact us at: office@wilnitsky.net
# 41863
Adalbert Suchy "Oberleutnant Joseph Kamptner and his wife", two fine miniatures, 1833
Price: 5900 EUR
(please note additional 13% tax applies for transactions concluded within the European Union)
THE SELLER WILL COVER SHIPPING WITH REGULAR MAIL FOR THIS ITEM!

We are dealing here with two miniature portraits of a relatively young (newlywed?) married couple. They were painted by Austro-Czech miniaturist Adalbert Suchy in 1833.
The husband is shown wearing the so-called "Campagne-Rock" (daily uniform) of an Austrian infantry officer. His "Feldbinde" (sash worn over the left shoulder) indicates that he is an adjutant (aide-de-camp) of one of the regiments of the Austrian Army (or even of one of the battalions integrated into a regiment).
One of the buttons of his regimental is unfastened: one gets a glimpse of (stashed underneath the hem) his "Dienstbuch" (duty book) - an attribute that he clearly never parts with.
The coloring of the collar and the buttons of his regimental provide the regiment's number. In our case, they are "papagei-grün" (parrot-green; see our image nr.12) and, respectively, white. In 1833, these colors were assigned for use in the 10th Line Infantry Regiment of the Austrian Army.
Although the standard research source - the 1833 issue of the " Militär-Schematismus des österreichischen Kaiserthumes" - does not offer the names of battalion adjutants of the 10th Line Infantry Regiment, it does provide the name of the regiment's adjutant - Oberleutnant (1st Lietenant) Joseph Kamptner. The latter was in line of duty ascribed to the regiment's staff and was permanently attached to the regiment's headquarters, stationed in Cashau (now Košice, Slovakia); in other words, he was in the same area that was frequented by the author of these two works - Adalbert Suchy. As it is known, the artist produced many portraits of various representatives of Bohemian, Moravian and Hungarian high society.

And now, the story takes an interesting turn. Through our in-depth Web research, we were able to find extensive information about Joseph Kamptner. In it, one also finds his portrait (ca. 1855; see our image nr.15) and immediately comes to realize that he is without question the same man!!

*Joseph Kamptner was born in Vienna in 1805. He received his military education at the Military Academy in Wiener Neustadt (ca. 60km from Vienna). In 1824, he graduated from the Military Academy with rank of a "Fähnrich" (ensign) and was appointed into the 10th Line Infantry Regiment "Graf Mazzuchelli". On March 15, 1831, he was promoted into "Unterlieutenant" (2nd lietenant) and in two weeks became the regiment's adjutant. By 1833, Kamptner was already an "Oberlieutenant". On June 1, 1837, he was raised in rank and became a "Capitän-Lieutenant" (a rank between the 1st lieutenant and captain). On July 17, 1841, he was promoted to "Hauptmann" (captain) and on March 9 of 1849 - to major with immediate transfer to 49th Line Infantry Regiment "Freiherr von Hess".
On March 21, 1853, he was transferred to the 41st Line Infantry Regiment "Freiherr von Sivkovich" and, on the next day, raised to lieutenant-colonel.
On February 24, 1854, Kamptner was transferred to gendarmerie as a Commander of the 10th Gendarmerie Regiment. On June 15, 1857, he was raised to colonel.
In summer of 1859 he filed a request to be sent to the frontline (Austro-Sardinian War of 1859). On July 4, 1859, Kaiser (Emperor) Franz Joseph granted his request, and he received under his command the 35th Line Infantry Regiment "Graf Khevenhüller" (already active in the field).
In 1864, for distinguishing himself in German-Danish War (in it, the Austrian troops fought on the side of Prussians), he was awarded the Prussian Order of the Crown of the 2nd class (in his aforementioned portrait of ca. 1855 (once again see our image nr.15), he bears the Austrian Cross of the Military Merit).
On April 19, 1965, Kamptner was promoted into the rank of major-general.
On October 26, 1869, he was sent into retirement and simultaneously promoted to lieutenant-fieldmarshal. From that point in time, he lived in Ofen (now Budapest).
He died of pneumonia in Vienna on December 19, 1876. Five days after his death, a grand memorial service with full tributes was held in his honor (it was attended by the 1st Battalion of Infantry, one squadron of dragoons and an artillery battery) in the Church "Kirche zu St. Rochus" on Vienna's Landstrasse.
Joseph Kamptner is particularly esteemed among Austrian military historians for his heroic conduct during the revolutionary events of 1848 in Vienna (between 5th and 7th of October of that year, he was the provisional commandant of "Hofburgwache" (guard of the Hofburg Imperial Residence) and distinguished himself by using courage and determination in neutralizing the mob attack).
Additionally, he distinguished himself in the takeover of revolutionary Vienna and in the Battle of Schwechat (October 30, 1848).
Adalbert Suchy (ca. 1783 Klattau, Bohemia - 1849 Vienna) was a son of a carpenter. In 1802 he became a student of the Academy of Vienna, where he studied under Schmutzer, and where he exhibited between 1820 and 1840. Suchy chiefly painted miniatures and portraits in watercolor, yet, sometimes, he also did pastels and portraits in oils. He soon acquired success and painted a considerable number of personages of the court and aristorcracy, amongst them the Emperors of Austria Franz I and Ferdinand, as well as members of their families. Several of Suchy's works are in the Historisches Museum der Stadt Wien (Wien-Museum). In the past, Suchy's miniatures belonged to the many important Viennese and Czech collections.
Provenance: German private collection

*We are very grateful to well-known specialist in Austrian military uniforms, Mr. Leopold Kudrna, for his generous help in our research.

misept21ap17
Condition: fairly good; both miniatures are housed in original leather travel case
Creation Year: 1833
Measurements:UNFRAMED:9,0x7,1cm/3,5x2,8in FRAMED: 11,5x9,7cm/4,5x3,8in
Object Type:Framed miniatures
Style: Portrait Miniatures
Technique: case; leather and gilt-metal mounting; husband's portrait: watercolor on card; wife's portrait: watercolor on ivory
Inscription:wife's portrait is signed:and dated: "Adalbert Suchy (1)833"
Creator: Adalbert Suchy
Creator Dates: 1783 Klattau / Bohemia-1849 Vienna
Nationality:Czech / Austrian
We will cover shipping with regular registered mail (delivery between 7-14 days) for this item.

OBS: Austrian mail refunds cases of loss or damage with maximum EUR 500.


Fully insured 2-3 days DHL service available upon request and subject to extra charges: office@wilnitsky.net
Click here for images free of watermark!
Click on images or on

to see larger pictures!