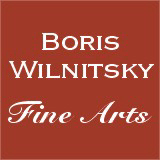 SALE!!! SAVE MONEY !! 1 EUR = 1 USD
# 41860
Lyudmila Skubko-Karpas "Soviet general S. M. Krivoshein, "colleague" of Heinz Guderian", oil, 1968
2700 EUR
FINAL DISCOUNT PRICE= 2700 USD
( for EUR price see date rate )
Please note: Shipping and insurance costs are not included in this promotion, ONLY ITEM PRICES!
(please note additional 13% tax applies for transactions concluded within the European Union)
This work was executed in a pan-Soviet style known as the "Soviet Socialist Realism". Also, it tells a very interesting story, namely that of the "unshakable friendship" between Hitler's Germany and Stalin's Russia. For Stalin, however, this friendship ended up abruptly, on June 22, 1941, when Germany invaded the USSR.
The depicted (richly decorated) retired general is Soviet commander who on September 22, 1939, together with German general Heinz Guderian, was reviewing troops at the joint Russo-German military parade in just recently occupied by Germans Polish town of Brest-Litovsk on the River Bug; the Germans handed over this town to the USSR on the same day (CLICK HERE, and HERE).
The most macabre part of this event was that Guderian's Soviet colleague (see above) was a Jew (the full given name of General Krivoshein was Semyon Moiseevich, and he was the son of a Jewish artisan from Russian town Voronezh); the sad irony of that meeting lies in the fact that the Holocaust is about to start happening in just a few months, yet this Jewish-born Soviet general, who is standing by one of Nazi Germany's leading commanders, has no clue whatsoever that in the next several years, millions of his fellow-Jews will be sent to death by his today's allies…

*Semyon Moiseevich Krivoshein (CLICK HERE and HERE) was born on November 28, 1899 in Voronezh. In 1917, he graduated gymnasium (secondary school) and in 1918, enlisted himself in the Red Army to fight against the Whites in the Russian Civil War, seeing service in the 1st Cavalry Army of Semyon Budyonny. After the end of the Civil War, Krivoshein was chosen among most talented cavalry officers to master the new brand of weapon. He was sent to study in the elite Frunze Military Academy, graduated in 1931 and served in the mechanized troops, rising in 1934 to a regiment commander. In 1936 he volunteered to fight in Spain and received the honor of becoming the first Soviet tank commander in there. In November-December 1936, he commanded tank forces of the Republican army in the Battle of Madrid. In January 1937 Krivoshein was recalled to the Soviet Union. He was promoted to kombrig (brigade general). In the summer of 1938, he led his merchandised brigade against the Japanese in the Battle of Lake Khasan. Following the conclusion of the Molotov-Ribbentrop Pact in August 1939, both Germany and the Soviet Union invaded Poland. After the aforementioned parade on September 22, 1939, Krivoshein's next tour of duty with his tank brigade was attack on Finland during the Winter War of 1939-40. In 1940 he became commander of a tank division and was promoted to major-general. In April of 1941, he received the 25th Mechanized Corps under his command. In 1943, during the WWII, Krivoshein became Commander of the 3rd Mechanized Corps in Mikhail Katukov's 1st Tank Army of the Voronezh Front (Krivoshein and his corps especially distinguished themselves in the famous tank battle at the village Prokhorovka (Battle of Kursk). After this battle, Krivoshein was promoted to lieutenant general and was awarded the Order of Suvorov. In the last days of the WWII, in spring 1945, Krivoshein led his corps in vanguard of 1st Belorussian Front of the leading Soviet commander of World War II Georgy Zhukov in the Battle of Berlin. For his distinction in this battle, Krivoshein received the Order of a Hero of the Soviet Union. After The death of Stalin in March 1953, Krivoshein (then only 54 years old) was sent into retirement. He spent the last quarter century of his life writing books of his war memoirs (CLICK HERE).
The author of this portrait, Lyudmila L'vovna Skubko-Karpas, nee Karpas was born in a Jewish family in Petrograd (St. Petersburg) on April 13, 1923, and died in Moscow on June 1, 2012. From the age of six, she lived in Moscow, where her father, Lev Moiseevich Karlas, was the Head of Arbat Construction Works (he was a highly educated man, was a graduate of St. Petersburg and Leipzig universities, and could speak six languages).
In 1935-1938, Lyudmila studied at the Children Studio of Moscow Memory of the Year 1905 Academic Art College; in 1939-1941 - at the Studio of VCSPS under G.K. Dorokhov. She spent the years 1941-1944 in evacuation in Ural region. Once back in Moscow, she began studying at the Surikov Moscow State Academy Art Institute (Studio of G. Ryazhski).
In 1948, she married her schoolmate, artist Sergei Skubko.
In 1952, after the graduation from Surikov Institute, she became a member of the Moscow branch of the Union of Soviet Artists.
From 1990-1997, she lived in Paris. Works of Lyudmila L'vovna Skubko-Karpas are on display in various museums of Russia and abroad (also, see our image nr.9 and CLICK HERE to view the recently published Russian book about the artist and her husband "From the art heritage of Moscow painters Sergey Skubko and Lyudmila Skubko-Karpas").
Provenance: private collection, Germany

misept20ap17
Condition: good
Creation Year: 1968
Measurements: UNFRAMED:70,5x80,5cm/27,8x31,7in FRAMED: 88,8x99,2cm/35,0x39,1in
Object Type: Framed oil painting
Style: Soviet Socialist Realism
Technique: oil on canvas
Inscription: signed in Cyrillic and dated (19)68"; verso is inscribed
Creator: Lyudmila L'vovna Skubko-Karpas
To see other works by this artist click on the name above!
Creator Dates: 1923 St. Petersburg-2012 Moscow
Nationality: Jewish / Russian
SHIPPING COSTS UPON REQUEST:
office@wilnitsky.net
Click here for images free of watermark!
Click on images or on

to see larger pictures!