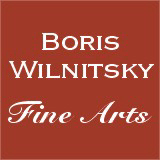 If you have a question about this item,
please contact us at: office@wilnitsky.net
# 41850
Margaret Brisbine (1901-1970) "American Football", oil on canvas, 1938
Price: 5000 EUR
(please note additional 13% tax applies for transactions concluded within the European Union)
Dated "1938", this oil painting probably shows an episode from the famous American football game - the 1938 Rose Bowl (California vs. Alabama - CLICK HERE and HERE).
Margaret Brisbine (1901 South Dacota - 1970 Pelham, New York) was a well-known 20th-century American female artist. She began her studies at the Rice Institute in Houston/Texas, where she gave much promise. In the fall of 1921 she began attending the Pennsylvania Academy of Fine Arts, winning a Cresson Scholarship in the spring of 1923, which allowed her to travel to study art in London, Paris, Berlin, Vienna, Venice, Florence and Rome. She regularly showed her works at various exhibition in the USA. In the 1920s, she married (fourteen years her senior) Italian opera singer, painter and sculptor Enzo Baccante. Sometime after his death (1938), she remarried to Theodore Lunt Preble (1893-1968). When she died, she was buried next to him at the Jedediah Preble Cemetery in Whitefield, Lincoln County, Maine / USA (see our additional image).
Provenance:
1) artist's heirs living in Maine / USA
2) US antique trade

misept15ap17
Condition: good
Creation Year: 1938
Measurements:UNFRAMED:55,5x71,2cm/21,9x28,0in FRAMED: 71,0x76,4cm/28,0x30,1in
Object Type:Framed oil painting
Style: The New Objectivity
Technique: oil on canvas
Inscription:signed and dated: "M. Brisbine 1938"
Creator: Margaret Brisbine
Creator Dates: 1901 South Dacota-1970 Pelham, New York
Nationality:American
SHIPPING COSTS UPON REQUEST:
office@wilnitsky.net
Click here for images free of watermark!
Click on images or on

to see larger pictures!