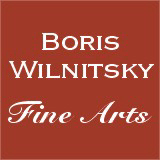 If you have a question about this item,
please contact us at: office@wilnitsky.net
# 41848
"Marie-Charlotte-Caroline and Alexandrine d'Ourches", two superior miniatures!!, 1815/18
Price: 3900 EUR
(please note additional 13% tax applies for transactions concluded within the European Union)
According to the sitters' dresses and hairstyles, this pair of superior quality miniatures on ivory was executed in the second half of the 1810s. The portraits show two young sisters from Lorraine family of marquises d'Ourches: Marie-Charlotte-Caroline (born in ca. 1790; she is the lady wearing a necklace) and her older sister Alexandrine (born in 1787; she was known as "Aline" in her intimate circle).

The first of the two sisters - Marie-Charlotte-Caroline - married (substantially her senior) officer (and later - infantry colonel) François Le Clerc, comte de Bussy (1770-1846). It is known that their marriage remained childless, and that Marie-Charlotte-Caroline outlived her husband by eleven years and died in 1857.

Her sister Alexandrine (Aline) was married on September 12, 1819 (it is possible that she was the first to marry (i.e. before her older sister did): both of these miniatures were clearly painted before her wedding - note that both sisters' pose in white (maiden) gowns. She married (nine years her junior) Guards officer (and - from 1824 - a gentleman-in-waiting of King Charles X) Rene Alexandre Le Senechal de Kercado, marquis de Molac (1796 - after 1870). The year 1825 marked the birth of their daughter Louise (their only child).
After the July Revolution of 1830 the family moved to Munich, where Rene Alexandre became a cavalry captain "à la suite" (a military title, given to those who were entitled to wear a regimental uniform but otherwise had no official position), later a major "à la suite", and - from 1838 - a "Kammerherr" (chamberlain) of King Ludwig I of Bavaria (concurrently, his wife Alexandrine (Aline) became a "Kammerfrau" (lady-in-waiting) of Queen Therese).
Sometime later (probably following Alexandrine's death), her husband settled in Nice (France), where he was last mentioned in 1870.

The sisters were daughters of Pierre Didier François, marquis d'Ourches, marquis de Tantonville (1759-1823; he was a captain of the Royal Dragoons and later - the "Premier Chambellan de Monsieur" (chief gentleman-in-waiting of the future King Louis XVIII) and his wife (from 1788), Marie-Charlotte Hyacinthe Rarécourt de la Vallée de Pimodan (1770-1829).
Besides the sisters pictured in "our" portraits, they had two other daughters: Sidonie and Marie-Charlotte Leon Suzanne (the latter married marquis de Foresta; in fact, both of the miniatures presented here previously belonged to her; also, she is referred to as "grandmaman" to in legends on versos of both miniatures.

Both miniatures are (still) set into their original frames made of silver. The frames are adorned, respectively, with a count- (Comtesse de Bussy) and marquis (marquise de Molac) crown; see our images nr.3, 12 and 28). Additionally, each of the two frames is mounted onto an easel tableau made of wood and covered with velour.
Provenance: heirs of the third sister d'Ouchers - Marie-Charlotte-Suzanne, marquise de Foresta (referred to as "grandmaman" on versos of both miniatures; see our image nr.9 and our image nr.18).

misept14ap17
Condition: good
Creation Year: 1815/18
Measurements:UNFRAMED:5,5x5,5cm/2,2x2,2in FRAMED: 27,8x27,8cm/10,9x10,9in
Object Type:Framed miniatures
Style: Portrait miniatures
Technique: both: watercolor on ivory
Inscription:both: inscribed with old legend on verso
Creator: French School
Creator Dates: -
Nationality:French
SHIPPING COSTS UPON REQUEST:
office@wilnitsky.net
Click here for images free of watermark!
Click on images or on

to see larger pictures!