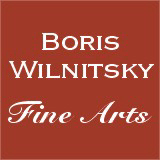 If you have a question about this item,
please contact us at: office@wilnitsky.net
# 41741
Lorentz Sparrgren-Attrib. "Colonel Gillis Edenhjelm", important Swedish miniature!!, 1817/20
Price: 4500 EUR
(please note additional 13% tax applies for transactions concluded within the European Union)
THE SELLER WILL COVER SHIPPING WITH REGULAR MAIL FOR THIS ITEM!

This miniature was found in July 2017, in London store "Gould Antiques".
It is still housed in original golden frame with Swedish hallmarks on its hanger. Additionally, on verso, it is titled in Swedish "Landshöfd /Edenhjelm" (Governor Edenhjelm). This work is a (long thought to have been lost) miniature portrait of celebrated Swedish officer, hero of the Battle of Leipzig (CLICK HERE) and, later (1834-1843) - Governor of Gothenburg (Göteborg), Gillis Edenhjelm.
Until now, this miniature was only known through black-and-white illustration (viewable on the Web, it is obviously a lithograph after this portrait - see our image nr.9). The same illustration was used in an article about Gillis Edenhjelm, which is similarly available on the Web (in Swedish; CLICK HERE).

Gillis Edenhjelm (1778 Öresten - 1862 Stockholm) was a son of Major-General Erik Erdman (who acquired the name "Edenhjelm" through royal ennoblement) and Anna Catharina Ridder. In 1788, after finishing grammar school, he was ascribed into the army and received the rank of a 2nd lieutenant. In 1796, he became a 1st lieutenant. In 1801, he was transferred with the same rank to Gøta Artillery Regiment. On October 26 of the same (1801) year, he was promoted to captain. On February 5, 1811, Edenhjelm became a major.
As commander of the Swedish artillery, he fought heroically in the Battle of Leipzig, in which he was seriously wounded. On January 11, 1814, he became a lieutenant-colonel of Gøta Artillery Regiment and - on October 7, 1817 - raised in rank to colonel and commander of this regiment.
On July 4, 1823, he was made an adjutant-general. On March 17, 1825, he was appointed military commandant of Gothenburg. His promotion into major-general followed on June 24, 1830. In 1834, he became first the vice-governor and, several days later - governor of county Gothenburg (Göteborg) and Bohus) in Southern Sweden. He remained in this function until 1843.
Still in 1814, he married Carolina Lovisa Boij (1791-1873).

Evidently, Gillis Edenhjelm ordered this portrait promptly following his promotion to colonel (1817). In it, he poses as a decorated officer with neck crosses of the Prussian Military Order "Pour le merite", Russian Order of St. Anna of the 2nd class with diamonds and the Knight Cross of Swedish Order of the Sword - all three of which he clearly received for distinguishing himself in the Battle of Leipzig.

Although unsigned, this superior quality miniature on ivory demonstrates all stylistic criteria of works by Sweden's leading early-19th-century miniaturist Lorentz Sparrgren (for comparison, see our images nr.10-15) and could with great likelihood be the latter's original creation.
Lorentz Lars Svensson Sparrgren (1763 Gothenburg - 1828 Stockholm) was a pupil of P.Hilleström at the Academy of Stockholm (Sparrgen studied there between 1783 and 1788). Later on, the artist left for India and from there to China to learn painting on glass. According to Thieme-Becker, he supposedly devoted himself to miniatures only after his return to Europe. He spent the period between 1796 to about 1803 in Paris. In 1796 he also became an associate member of the Academy of Stockholm, in 1800 - its full member and, in 1810 - one of its teaching professors.
Schidlof writes about him: "Sparrgren was undoubtedly the best Swedish miniaturist of his period. His style is very Scandinavian and is reminiscent of the technique of Domenico Bossi, but one feels there a serious French influence...".
miaug09ap17
Condition: good
Creation Year: 1817/20
Measurements:UNFRAMED:6,1x5,0cm/2,4x2,0in FRAMED: 8,0x5,6cm/3,1x2,2in
Object Type:Framed miniature
Style: Portrait Miniatures
Technique: watercolor on ivory
Inscription:verso is titled: "Landshöfd /Edenhjelm"
Creator: Lorentz Lars Svensson Sparrgren
Creator Dates: 1763 Gothenburg-1828 Stockholm
Nationality:Swedish
We will cover shipping with regular registered mail (delivery between 7-14 days) for this item.

OBS: Austrian mail refunds cases of loss or damage with maximum EUR 500.


Fully insured 2-3 days DHL service available upon request and subject to extra charges: office@wilnitsky.net
Click here for images free of watermark!
Click on images or on

to see larger pictures!