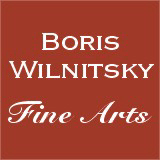 If you have a question about this item,
please contact us at: office@wilnitsky.net
# 41730
Nicolas François Dun "Emma, Lady Hamilton", famous miniature from Ullmann Collection, 1798/1800
Price: 8900 EUR
(please note additional 13% tax applies for transactions concluded within the European Union)
THE SELLER WILL COVER SHIPPING WITH REGULAR MAIL FOR THIS ITEM!

This miniature was recently acquired through an antique trade in Portugal. This great work (it was known and famous from as early as 1925, when it was first published in Vienna, in the catalogue of antique collection of Dr. Emerich Ullmann (highly esteemed Austrian surgeon and art collector; after his death in 1937, his collections were dispersed throughout several auction sales in 1937 and 1938 - CLICK HERE).
However, neither Professor Ullmann, nor the author of his collection catalogue, Vienna's leading specialist in portrait miniature - Dr. Leo Gruenstein - were able to determine the identity of the young lady in this superior quality miniature by Neapolitan court artist, Frenchman Nicolas Dun.
In the catalogue written by Dr. Gruenstein, this work was presented as "Brustbild einer jungen Dame" (English: "half-length portrait of a young lady"; see our image nr.7).
Clearly, in 1925, both Professor Ullmann and Dr. Gruenstein were unaware of the existence of Dun's (very similar) other miniature - the one on display at the National Maritime Museum in Greenwich (London). The latter miniature is accompanied by an authentic legend providing the woman's factual identity: it turns out she was none other than Emma Lay Hamilton - a legendary beauty and the wife of the British ambassador in Kingdom of Naples-Sicily (see our image nr.8 and CLICK HERE).
Nicolas François Dun (1764 Luneville - 1832 Naples) was born into family of a musician working at the Lorraine Court in Luneville. It is unknown, where or with whom he studied, but in 1790 one could find him in Naples, where Dun belonged to the inner circle of friends of famous Lady Hamilton, wife of British ambassador, who was living in this city at the time. It was in her house that the artist made acquaintances with Goethe, Hackert, Angelika Kauffmann, Fueger, Mme Vigée-Le Brun, etc. He soon became a court portrait miniature painter, proceeding to portray all royalties of Naples of the following forty years, beginning with Bourbons, then family of Murat, and finally, Bourbons again. In the Period of Restoration (after the end of Napoleonic Era) he often portrayed members of the Russian and Austrian aristocracy staying in Naples (among his known miniatures are portraits of Comte and Comtess Orlov (1817), Prince Nikolaus Palffy, Prince Labanov, Prince Dolgorukov, etc.).
Works of this artist can be seen in collections of museums of Chantilly and Gotha, the Wallace Collection (London), Louvre (Paris), various Russian museums, etc..
CLICK HERE FOR OTHER WORKS OF THIS ARTIST IN OUR POSSESSION. See also our web #40464 .

Provenance:
1) Collection Dr. Emerich Ullmann (until 1937)
2) "Cabral Moncada Antiquidades", Lissbon / Portugal

P.S. 28th August 2017:
We just discovered on Web the Angelika Kauffman's portrait of Lady Hamilton in Victoria & Albert Museum, London (see our image nr.9). It was executed in late 1790s (in Rome or Naples), and it was surely seen by Nicolas Francois Dun...

miju28ap17
Condition: fairly good; in original frame
Creation Year: 1798/1800
Measurements:UNFRAMED:7,8x5,8cm/3,1x2,3in FRAMED: 13,6x12,0cm/5,4x4,7in
Object Type:Framed miniature
Style: Portrait Miniatures
Technique: watercolor on ivory
Inscription:signed: Dun
Creator: Nicolas François Dun
Creator Dates: 1764 Luneville-1832 Naples
Nationality:French
We will cover shipping with regular registered mail (delivery between 7-14 days) for this item.

OBS: Austrian mail refunds cases of loss or damage with maximum EUR 500.


Fully insured 2-3 days DHL service available upon request and subject to extra charges: office@wilnitsky.net
Click here for images free of watermark!
Click on images or on

to see larger pictures!