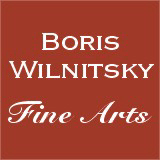 If you have a question about this item,
please contact us at: office@wilnitsky.net
# 41696
Giovanni Battista Canevari "Portrait of Napoleon I", important miniature on ivory!!, 1805/09
Price: 5900 EUR
(please note additional 13% tax applies for transactions concluded within the European Union)
THE SELLER WILL COVER SHIPPING WITH REGULAR MAIL FOR THIS ITEM!


Giovanni Battista Canevari (also Canevaro, Canavero, Canavari, Cassevari) was born on March 4, 1789 in Genoa as son of Emanuele and Rosa Canevaro. He began studying art in his native Genova at St. Margherita di Rapallo. Later, his family moved to Livorno and then to Florence, where he attended Accademia di Belle Arti under Pietro Benvenuti. Soon after he began receiving orders from the court of Lucca, which was then reigned by sister of Napoleon I, Elisa Bonaparte (CLICK HERE).
In 1809, Elisa Bonaparte became the Duchess of Tuscany and moved her court to Florence. There, Canevari enlisted in one of the regiments of Napoleonic Young Guard (sector of the French Imperial Guard) and proceeded to take part in several campaigns of the Napoleonic Wars. After Napoleon's defeat and upon returning to Italy, he worked in his native Genoa - then, part of the Kingdom of Sardinia (and after 1815 in Turin, yet continued visiting Genova) as a portrait miniaturist for noble families and King Carlo Felice of Savoy.
In 1824, he settled in Rome, where he soon made acquaintance with Vincenzo Camuccini, Bertel Thorwaldsen, Pietro Tenerani, d'Aglio e Monti and others. In 1825, he married in Rome female artist Enrichetta Muschi.
His fame of being an outstanding portraitist (besides miniatures on ivory, he also painted large-scale oil portraits (for example, see our additional images), as well as portraits in pastel) increased rapidly and spread over to England and Paris. In 1849, he became an honorary member of the Accademia Ligustica in Genoa; in 1871 - member of Accademia di San Luca in Rome.
Schidlof says, he was an excellent miniaturist, very much influenced by his English contemporaries.
Works of Giovanni Battista Canevari belong to most esteemed museum collections: Uffizi (Florence), Galleria Accademica Nazionale di San Luca (Rome), National Gallery of Irland (Dublin), etc.

Our additional images show a few of his works offered at art auctions in the last years.
See also see our web #32773

Provenance: private collection, Orleans / France

mijul08ap17
Condition: fairly good; in original golden frame; dusty under the glas
Creation Year: 1805/09
Measurements:UNFRAMED:8,8x8,6cm/3,5x3,4in FRAMED: 14,0x14,0cm/5,5x5,5in
Object Type:Framed miniature
Style: Portrait Miniatures
Technique: watercolor on ivory
Inscription:signed: Canavero
Creator: Giovanni Battista Canevari
Creator Dates: 1789 Genoa-1876 Rome
Nationality:Italian
We will cover shipping with regular registered mail (delivery between 7-14 days) for this item.

OBS: Austrian mail refunds cases of loss or damage with maximum EUR 500.


Fully insured 2-3 days DHL service available upon request and subject to extra charges: office@wilnitsky.net
Click here for images free of watermark!
Click on images or on

to see larger pictures!