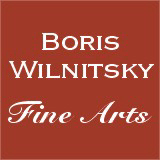 If you have a question about this item,
please contact us at: office@wilnitsky.net
# 41653
Giovanni Battista Gigola-Attrib. "Lady playing harp", high quality miniature!!, ca. 1800
Price: 4500 EUR
(please note additional 13% tax applies for transactions concluded within the European Union)
THE SELLER WILL COVER SHIPPING WITH REGULAR MAIL FOR THIS ITEM!

This miniature on ivory was once housed in a private collection in Milan (Italy). It shows a young aristocratic lady playing harp on terrace of her palazzo. The composition of this work (although portraying another person) wholly echoes that of the miniature portrait of Marie Gabrielle Sébastienne Briux, which was executed in Paris in 1798/99 by great French miniaturist Jean-Baptiste Jacques Augustin (see our image nr.8). It is well known that Augustin kept in Paris a studio that was daily frequented by his numerous pupils. One of them could have painted the work, which is presented here.

Concerning the author of our miniature:
Although the biographers of famous Italian miniaturist Giovanni Battista Gigola maintain that in 1800 the latter attended the studio of Augustin's rival, Jean-Baptiste Isabey, we cannot exclude the possibility that he (alike many other European miniaturists studying in Paris) also took lessons from Augustin.
Therefore, we believe to be dealing here with a work of Milan's best miniaturist of the late 18th - early 19th century, Giovanni Battista Gigola (our comparison images nr.9-11 convincingly support this attribution).
Giovanni Battista (Giambattista) Gigola (or Cigola) was born in 1767 in Brescia and died in Tremezzo near Milan in 1841. He commenced his studies in Italy; in ca. 1800 Gigola traveled to Paris, where he joined the studio of Isabey. According to Leisching, he may have participated in several exhibitions in Paris beginning from 1803. Sometime later he returned to Milan, where he was a protégé of the viceroy Eugene, Duke of Leuchtenberg (Eugene de Beauharnais). Besides miniatures on ivory, Gigola also painted on enamel. In fact, he is considered the artist who reintroduced this technique to Italy. He also drew illustrations for Byron and Lodovico da Porto. Schidlof says, his miniatures show no influence of his master Isabey, they are of a typical Italian technique, with slightly dull coloring and the backgrounds painted in gouache.
mijun30ap17
Condition: good
Creation Year: ca 1800
Measurements:UNFRAMED:7,5x7,5cm/3,0x3,0in FRAMED: 8,7x8,7cm/3,4x3,4in
Object Type:Framed miniature
Style: Portrait Miniatures
Technique: watercolor on ivory
Inscription:-
Creator: Giovanni Battista (Giambattista) Gigola
Creator Dates: 1767 Brescia-1841 Milan
Nationality:Italian
We will cover shipping with regular registered mail (delivery between 7-14 days) for this item.

OBS: Austrian mail refunds cases of loss or damage with maximum EUR 500.


Fully insured 2-3 days DHL service available upon request and subject to extra charges: office@wilnitsky.net
Click here for images free of watermark!
Click on images or on

to see larger pictures!