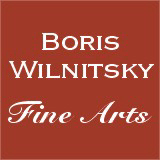 If you have a question about this item,
please contact us at: office@wilnitsky.net
# 41633
Cornelius Hoyer "Countess Maria Stepanovna Talyzina", very important Russian miniature!! 1781/83
Price: ON REQUEST
(please note additional 13% tax applies for transactions concluded within the European Union)
THE SELLER WILL COVER SHIPPING WITH REGULAR MAIL FOR THIS ITEM!

Formerly housed in the lid of a round box (based on its typical for this kind of miniatures diameter of 6,5cm), this superior quality miniature on ivory shows 40-year-old Countess Maria Stepanovna Talyzina, nee Princess Apraksina; her identity is revealed by the freshly unsealed letter addressed to her. The address on the back of the letter states: "a Madame /...de Talisin /a /S-t Peterbourg".

Maria Stepanovna Talyzina was born on the 20th of May 1742 as the second daughter of General-Field-Marshal, Prince Stepan Fedorovich Apraksin (1702-1758) and his wife Agrafena Leontievna Soymonova (1719-1771). She was raised and educated in her father's estate Olgovo in Moscovskaya Gubernia.
Grand Duchess Ekaterina Alekseevna, who saw Talyzina as a child, recalled:
"Once the Empress went to dinner to General Stepan Apraksin's estate; we were among the invitees… On that day, I saw two daughters of General Apraksin for the first time…the second one was only six; she was then suffering from pulmonary tuberculosis, coughing up blood, and was literally all skin and bone; no one could ever suspect that one day she will become so large, colossal, so monstrously obese, as those, who knew her, used to view her, for she is the same person, who was back then merely a small child".

On the 19th of January 1763 Maria Stepanovna was married to poruchik (1st lieutenant) of Semenovski Leib-Guards Regiment, Count Alexander Fedorovich Talyzin, one of the aides involved at Ekaterina II' enthronement (see our image nr.15).

While not as beautiful as her sister Duchess Elena Stepanovna Kurakina, Maria Talyzina was, according to her contemporaries, "very pert and very daring", fan of taking night rides with her father's adjutants. Rumor had it that she counted among her suitors her sister's benefactor, Count Petr Ivanovich Shuvalov. Later Maria Stepanovna shared a close bond with Count Nikita Ivanovich Panin, their relationship lasted until the count's death. With advancing age, Maria Talyzina grew plain and gained a great deal of weight. These unfortunate changes in her appearance led one of the foreign diplomats to comment that "the old count's faithfulness certainly did him a credit, for anyone else in his place would not be able to find that much virtue in himself". Owing to her closeness with Panin, Maria Talyzina was widely known in St. Petersburg diplomatic circles, in which she had the reputation of an intriguer. Her heavy figure, though proverbialized in her family, never stood in the way of her social life overall and dancing in particular; she was surprising her nephews with buoyancy of not only her minuet and polish [dance], but also her contradance steps". The aunt of her sister's sons, "glorious" dukes Alexander Borisovich and Aleksei Borisovich Kurakin (her husband was their custodian), she was significantly involved in their education and enjoyed great love and respect from both of them. After the death of their mother, she took her brother Stepan Stepanovich Apraksin under her roof and gave him proper upbringing; with time he became a cavalry general, an exceptionally handsome fellow and ladies' man known across the whole of Moscow. In her widowhood, Talyzina always lived in her family's estate Olgovo, which was inherited by her brother, up until his marriage in 1793. Previously, in 1790, she divided the estate between her children: they were to pay her 1000 rubles annually; additionally, her sons were to pay off her depths of 120000 rubles, for which they were signed over her St. Petersburg house in the Novaya Morskaya Street.
She passed away in Moscow in 1796 and was buried at the cemetery of Novodevichy Monastery next to her brother.

Our images nr.10-14 provide her extensive biography (Russian Wikipedia) and show four other known portraits of her; we shall note that the fourth of them (image nr.14), showing Talyzina at (apparently) the age of 54 (i.e. shortly before her death) and considered thus far an authentic one (it was published as a double portrait of her and her brother by Grand Duke Nikolai Michailovich Romanov in his famous book "Russian Portraits of XVIII and XIX Centuries"), leaves us in deep perplexity: in it, the depicted lady looks much older as 54 (she appears to be of at least 70-80 years of age) than Talyzina was in reality at the time of her death in 1796. We allow ourselves to suppose that the double portrait published by Grand Duke has in reality nothing to do with Apraksin and his sister Talyzina, and depicts an unknown gentleman from the discussed period and his mother.

In any case, the fact that our portrait depicts Maria Stepanovna Talyzina and no one else is of no doubt. In the early 1780s (and this is exactly how one shall date this portrait, based on the sitter's dress and hairstyle) there was known only one "Madame Talysina" from St. Petersburg, who was of this age and bearing these physiognomic characteristics, namely Countess Maria Stepanovna Talyzina.

And now let us say a few words about the author of this important portrait that demonstrates stylistic criteria of works by one of the best 18th-century French miniaturists, Jean-Baptiste Massé (see some of his works in our possession) and his pupils alike. Massé counted among his pupils an artist, whose name comes first into question as that of a miniaturist working in St. Petersburg in the 1780s - Cornelius Hoyer.
After examining our comparison images nr.16-25 (especially nr.16 !!!) showing works of Danish miniaturist Hoyer, who in 1781-1783 lived in then Russian capital, one becomes clear: Dr. Bodo Hofstetter, who suggested Hoyer as the author of this miniature portrait, was absolutely correct. Indeed, we are dealing here with an extremely rare and very important "Russian" work of this famous master!
Cornerlius Hoyer (1741 Hammermollen by Kronborg - 1804 Copenhagen) was Denmark's most distinguished miniature painter. He was also one of the two most outstanding Danish-born portrait painters of the 18th century, the other being Jens Juel. On his long travels, during which he worked for foreign courts, he made his name well known not only for Danish portraiture, but also for a number of the best known foreign miniature painters (e.g. Fueger and Ritt).
Presumably, he began his training (as one of the primary students) at the Royal Academy of Copenhagen in 1755 and studied there until summer 1764. He was awarded with prizes in the years 1758, 1759 and 1763. Around the same time, presumably about or immediately before 1758, Hoyer earned his living by painting miniatures in a family of painters named Thornborg, who in craftsmanlike way produced portraits in series, amongst others portraits of Royalty.
Hoyer's first trip abroad in 1764 led him to Paris, where he sojourned two years, and where, while visiting the French Academy, he became a pupil of the best known French miniature painter of the time - J. B. Masse. In the end of 1766 he went via Genoa and Florence to Rome, where he arrived in February of 1767. In autumn of 1767 the artist left Rome for Naples, returning home via Florence where he was admitted as a member of the local Academy of Fine Arts. Along his journey, he also briefly stayed in Bologna, where in April of 1768 he was admitted as a member of the Accademia Clementina. At that time, he had already for some time lived in Dresden, where he became acquainted with the leading artists (amongst them Anton Graff), and where he worked for the Electoral family. In 1771 he was appointed Couincillor of the Dresdener Academy.
From October 1768 to July 1781 Hoyer lived in Copenhagen, where he was made an agréé of the Danish Academy of Fine Arts, receiving admittance as its full member in April of 1770. In July of 1781 Hoyer left Copenhagen and went via Stockholm (where he was introduced to the Swedish King and Queen) to St. Petersburg, where he arrived on August 5th, 1781. Immediately upon his arrival, he was commissioned to paint portraits of the Grand Duke Paul (later - Tsar Paul I) and the Grand Duchess Maria Fedorovna, as well as those of their two young sons, Alexander (later - Alexander I) and Constantin. Besides portraits executed for the Court, the artist painted several portraits of distinguished personalities of St. Petersburg, amongst others, the Empress Catherina's lady-in-waiting, Countess Branitskaia (now in the collection of Hermitage, St. Petersburg), Count Panin (now in the collection of Russian Museum, St. Petersburg), Countesses Osterman and Nolcken.
Hoyer left St. Petersburg in April 1783 and traveled to Stockholm, where he stayed until December 1783, and again, from October 1784 to early summer of 1785. There, he executed at least a score of miniatures for the Swedish Court and was appointed a member of the Swedish Academy of Fine Arts.
Around October 1787 Hoyer went to Berlin, where he stayed until April 1788, then to Dresden, Meissen, Leipzig, Weimar, Erfurt, Gotha, Darmstadt, Mannheim, Strasburg. From May 1789 he lived in Paris, then again returned to Germany. In August 1797 he returned to St. Petersburg, where he presumably remained until spring of 1798. On December 19th, 1797, he was admitted as a member of the Russian Academy of Fine Arts, around the same date as another excellent miniaturist Augustin Ritt. Besides Ritt Hoyer met in Russia Madame Vigee Lebrun, whom he mentioned as schemer and charlatan. Around August of 1798 he returned to Copenhagen. He died there in his official residence at Charlottenborg on June 2nd, 1804.
Schidlof maintains that, Hoyer was the best Danish miniaturist. The National Museum in Copenhagen owns some thirty works by him. His miniatures also belong to collections of the National Museum in Stockholm, the Viennese Albertina, etc.
Provenance: Dresden auction house "Günther", 22 June 2013, lot 179

*We are very grateful to our friend, world-best expert in portrait miniatures Dr. Bodo Hofstetter (Switzerland) for his generous help concerning the authorship of this important portrait.
Condition: fairly good; two vertical cracks; slight stain in the right area (viewer's left); glassed
Creation Year: 1781/83
Measurements:UNFRAMED:6,5x0,0cm/2,6x0,0in FRAMED: 7,3x0,0cm/2,9x0,0in
Object Type:Framed miniature
Style: Portrait Miniature
Technique: watercolor on ivory
Inscription:on the letter: "à Madame/...de Talisin/á St. Peterbourg"
Creator: Cornerlius Hoyer
Creator Dates: 1741 Hammermollen-1804 Copenhagen
Nationality:Danish
We will cover shipping with regular registered mail (delivery between 7-14 days) for this item.

OBS: Austrian mail refunds cases of loss or damage with maximum EUR 500.


Fully insured 2-3 days DHL service available upon request and subject to extra charges: office@wilnitsky.net
Click here for images free of watermark!
Click on images or on

to see larger pictures!