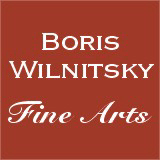 If you have a question about this item,
please contact us at: office@wilnitsky.net
# 41619
Louis-Marie Autissier "Baroness de Linois, wife of Napoleonic admiral", important miniature!, 1800/05
Price: 3500 EUR
(please note additional 13% tax applies for transactions concluded within the European Union)
The depicted mature lady (she is dressed and hairstyled according to fashion of 1800/05) is referred to on verso of this miniature portrait as "comtesse de Linois". In truth, in that period, she was a baroness and received a title of a "comtesse" (countess) in 1810 through her husband. The latter - by then already four years long detained in England as prisoner of war - was in this (1810) year advanced in rank (in absence!) from barony to "Count of Empire" by Emperor Napoleon I. Respectively, all members of his immediate family, i.e. his wife and children, also became counts.
The birth name of the depicted lady was Julie Victoire Augustine du Fresne de Virel. She was born on October 24, 1761 in Brest, main base of the French Navy. She was a daughter of Louis GaŽtan du Fresne de Virel, "commissaire de la marine" (naval intendant) and his wife, Marie Elisabeth le Vacher. In about 1787, she married a naval officer her age (possibly one of her father's associates), "lieutenant de frigate", Charles Alexandre Leon Durand, Baron (sic!) de Linois. In the period between 1788 and 1804, the couple had five children. Concurrently, Julie's husband made a distinguished career, for by 1799 he was already a rear admiral. In 1806 (i.e. several years after this miniature was executed), de Linois was wounded in the sea battle at Cape Verde ("Action of 13 March 1806"), and subsequently captured by the British. He remained in captivity until 1814. Upon his release and return to France, he was appointed by Louis XVIII the Governor of Guadeloupe. During the "Hundred Days", he supported Napoleon, and at the beginning of the 2nd Restoration was court martialed but acquitted in 1816. However, he was placed in retirement and never served again. He outlived his wife by twenty-seven years: Julie died on March 23, 1821, in Versailles, at the age of 58. Our images nr.8-11 offer additional biographical materials concerning her and her husband.

We would also like to add that the legend on verso of this miniature portrait was handwritten by the sitter's second-born child, son Alexandre (Augustin Alexandre Antoine Durand de Linois - CLICK HERE).

Although unsigned, this large miniature on ivory is without doubt an absolutely authentic and very typical (for comparison, see our images nr.12-16; also, CLICK HERE FOR OTHER WORKS OF THIS ARTIST IN OUR POSSESSION) work of one of France's leading 19th-century artists, Louis-Marie Autissier.
Louis Marie Autissier was born in 1772 in Vannes, Bretagne, and died in 1830 in Brussels. He began his art studies at the College de Marie under Vautin (drawing). From 1789, he was already himself a drawing teacher in Morlaix. He then two-years-long served in the military service, becoming thereafter a clerk at Bureau of Commandant of Rennes and a member of National Convent that sponsored his further studies. In 1795 Autissier moved to Paris, where he received a grant from Republic for studying at the Academy, as well as a scholarship for Italy.
Turmoil in the state administration led, however, to his move to Brussels, where he changed his first name to that of his father (Jean Francois; possibly fearful of being found under his real name - ?). In Brussels he was mainly active as portrait miniaturist, soon becoming a favorite artist of the high society. In 1806 he became a court artist of the Netherlands Royal Family (family of Napoleon's brother and King of the Netherlands Louis Bonaparte), for whom he produced a large number of portraits. In 1817 he portrayed King Wilhelm I of the Netherlands, as well as various Brusselian and Parisian courtiers and royalties (among others, King Louis XVIII of France, Princes Adelaide Eugenie Louise, Duke Wellington, etc.). From 1812 Autissier was a member of the Society of Arts in Gent. He also regularly exhibited his works in Parisian Salon (in sum 250 miniatures).
Works of L.M. Autissier belong to museum collections of Brussels, Vienna ("Albertina"), etc.
Provenance: private collection, Paris

mijun13ap17
Condition: good; in original fram
Creation Year: 1800/05
Measurements:UNFRAMED:11,7x10,0cm/4,6x3,9in FRAMED: 23,4x21,5cm/9,2x8,5in
Object Type:Framed miniature
Style: Portrait Miniatures
Technique: watercolor on ivory
Inscription:verso: old legend
Creator: Louis Marie Autissier
Creator Dates: 1772 Vannes-1830 Brussels
Nationality:Belgian
2-3 days door-to-door shipment, professionally packed by Mail Boxes Etc and shipped with DHL (calculated for US): 97,27 EUR + insurance 1,8% of item price
Shipping cost to other destinations (worldwide) on request
Shipping price may be reduced if you dispense with the frame


Cheaper alternative (may be further reduced if you dispense with the frame): professionally packed by Mail Boxes Etc and shipped with regular Austrian mail - upon request under office@wilnitsky.net (OBS: In this case maximal refunded insurance value is EUR 500 if shipping destination was the US. In Europe sometimes more, depending on destination.)
Click here for images free of watermark!
Click on images or on

to see larger pictures!