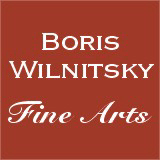 If you have a question about this item,
please contact us at: office@wilnitsky.net
# 41615
Jean Philippe Goulu "Pedro I of Brazil and his wife Maria Leopoldine of Austria", two miniatures, 1817
Price: ON REQUEST
(please note additional 13% tax applies for transactions concluded within the European Union)
THE SELLER WILL COVER SHIPPING WITH REGULAR MAIL FOR THIS ITEM!

These two superior quality miniature portraits were found in a private collection in the US. They depict a young newlywed couple: 19-year-old Crown Prince Pedro (future King Dom Pedro I) of Portugal and Brazil (1798-1834; CLICK HERE)) and one year his senior wife Maria Leopoldine Archduchess of Austria (1797-1826; CLICK HERE)). Both portraits were painted in Rio de Janeiro in 1817 (commemorating their wedding, which took place few months prior) by French miniaturist Jean Philippe Goulu - a newly-arrived expatriate artist from France. Goulu painted one more portrait of Pedro (showing him, however, in front of a humbler background) in the same days of 1817; today, this portrait is on display in Palacio Nacional de Queluz by Lissabon (see our image nr.17).

Five years later, in 1822, Pedro (incentivized by his wife) proclaimed the independence of Brazil from Portugal. On December 1, 1822, he was crowned Emperor of Brazil.
The marriage of both - Pedro and Maria Leopoldine - was not a happy one. Pedro betrayed his wife with other women and didn't hesitate to beat and mistreat her. On December 1, 1826, he is said to have kicked her, pregnant with her 8th child, so badly that she had a miscarriage. Leopoldine died 10 days after that in the Palace Boa Vista in Rio de Janeiro.
For another portrait of her in our possession, CLICK HERE).
Jean Philippe Goulu was born in 1786 in Geneva and died in 1853 in Buenos Aires. His father was a portrait miniaturist, his brother - Ferdinand Sebastian - a writer. Obviously, Goulu trained with his father and later continued his artistic career in France where he remained until the fall of the 1st Empire. In 1817, he came to Rio de Janeiro, where he established himself as a court miniaturist and drawing teacher of King Joćo VII. In 1824, he went to Buenos Aires and, in December of the same year, announced himself in the local newspaper as a "portrait miniature painter, who guarantees resemblance of sitters in portraits made by him". Immediately, he became a sought-after portraitist of Buenos Aires high society, especially ladies and military personalities. In 1828, he succeeded Swiss artist Joseph Guth as professor of the drawing class at the University of Buenos Aires. He also gave private lessons to representatives of the local elite.
Works of this artist can be seen in museums of Brazil, Argentina and Portugal.
mijun13ap17
Condition: good in original gilt-metal frames (one - with artist's Parisian carte-de-visite on verso)
Creation Year: 1817
Measurements:UNFRAMED:7,3x5,2cm/2,9x2,0in FRAMED: 8,0x6,1cm/3,1x2,4in
Object Type:Framed miniatures
Style: Portrait Miniatures
Technique: both: watercolor on ivory
Inscription:both are signed: Goulu
Creator: Jean Philippe Goulu
Creator Dates: 1786 Geneva-1853 Buenos Aires
Nationality:Swiss
We will cover shipping with regular registered mail (delivery between 7-14 days) for this item.

OBS: Austrian mail refunds cases of loss or damage with maximum EUR 500.


Fully insured 2-3 days DHL service available upon request and subject to extra charges: office@wilnitsky.net
Click here for images free of watermark!
Click on images or on

to see larger pictures!