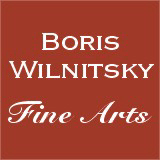 If you have a question about this item,
please contact us at: office@wilnitsky.net
# 41551
"Henri Jacques, Baron Guillot de la Poterie (Legion de la Mayenne)", fine miniature on ivory, 1821
Price: 2000 EUR
(please note additional 13% tax applies for transactions concluded within the European Union)
THE SELLER WILL COVER SHIPPING WITH REGULAR MAIL FOR THIS ITEM!

According to the authentic old legend on verso of this miniature, it is a portrait of certain Henri Jacques Guillot de la Poterie. He is depicted in the uniform of a "capitaine adjudant-major" (officer in rank of a captain who oversees the administrative affairs of his battalion) of the French royal line infantry (2nd Restoration). Additionally, his regimental colors inform us that he served in the 51st Line Infantry Regiment called in 1815-1822 "Legion de la Mayenne" (one of the ca.90 infantry regiments which were in this period fell under the category of "legions departementales" (a classification referring to soldiers' and officers' geographical origin, i.e. departments where they came from)).
As a result of a brief Web research, we were able to establish this man's identity.

He was born on June 17, 1791, as a son of Jacques-Pierre-Andre Guillot de la Poterie (1767-1826). His father was a famous "chouan Arthur" (CLICK HERE and see our image nr.13), Commander of "Legion Arthur" of Vendee rebells. After the suppression of the Vendée Uprising, he and his family (including his little son Henri-Jacques) went into emigration and returned to France in the days of the 1st Restoration (see our image nr.13). In 1817, he (and, respectively, his son) was created a Baron.
His son (and our sitter) Henri-Jacques joined the Royal military service in 1816. One discovers him in 1819 as a "lieutenant adjudant-major" of the "Legion des Cotes du Nord" (No.20). In the next (1820) year, his name appears i(n the list of officers of the "Legion de la Mayenne" (sic! - see our image nr.10; commander of this line infantry regiment was then his father), yet by 1822 it is already absent from the list of officers of the same regiment (in that year, due to infantry's reorganisation this unit became 12th Regiment of Light Infantry). One could assume that he was transferred to another regiment, however his death notice (available on the Web; see our image nr.12) refers to him as "ancient capitaine adjutant-major á la Legion de Mayenne". The latter detail implies that he was promoted to the captain in 1821, shortly before his retreat from the army. The same death notice alike the "Armorial General de La Touraine" (see our image nr.8) names him "chevalier de la Legion d'honneur"; clearly, he received this order either soon after this miniature was executed or already after his retirement, for in our portrait, he is shown without awards.
Provenance: antique shop in Mantes-la-Jolie, region Ile-de-France

mimai1117
Condition: good
Creation Year: 1821
Measurements:UNFRAMED:6,0x6,0cm/2,4x2,4in FRAMED: 12,5x11,7cm/4,9x4,6in
Object Type:Framed miniature
Style: Portrait Miniatures
Technique: watercolor on ivory
Inscription:verso: old legend
Creator: French School
Creator Dates: -
Nationality:French
We will cover shipping with regular registered mail (delivery between 7-14 days) for this item.

OBS: Austrian mail refunds cases of loss or damage with maximum EUR 500.


Fully insured 2-3 days DHL service available upon request and subject to extra charges: office@wilnitsky.net
Click here for images free of watermark!
Click on images or on

to see larger pictures!