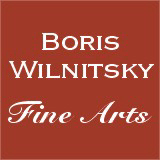 If you have a question about this item,
please contact us at: office@wilnitsky.net
# 41536
Andre-Victor Auger "Albin Rene Roussin", outstanding large miniature on ivory!!, 1814/20
Price: 10000 EUR
(please note additional 13% tax applies for transactions concluded within the European Union)
THE SELLER WILL COVER SHIPPING WITH REGULAR MAIL FOR THIS ITEM!

We are dealing here with a very attractive, high quality, large miniature portrait of a relatively young (he appears to be about 30-35) French naval officer from the early period of Bourbon Restoration (note his royal awards: the (established by the Bourbons on April 28, 1814) "Decoration of the Lily" and the Chevalier Cross of the Royal Military Order of Saint Louis; besides these insignias, he bears (as first in row) a Chevalier Cross of the Legion of Honor, which he was likely awarded still during the Napoleonic Epoch.
He is depicted in the uniform of a "capitaine de vaisseau" of the 2nd class - the so-called "habit de grande tenue á bord" (for comparison, see our images nr.12-13).

In our concentrated efforts to establish the sitter's identity, we consulted the standard reference sources of research, i.e. the annual issues of the (published in Paris ever since the Bourbon reinstatement in 1814) "Almanach Royal". The latter source provides (among others) the concise lists of Royal Navy officers, as well as the online archive of documents pertaining to bearers of the Legion of Honor - the so-called "leonore".
We began by consulting the "Almanach Royal" for the year 1816 (it outlined the status of the officer personnel up to the end of 1815). To be more precise, we have singled out those "capitaines de vaisseux" (of both 1st and 2nd classes) who were in possession of the following two French awards: the Chevalier (sic! there are higher classes of this order: "Officer", "Commander", "Grand Officer", etc.) Cross of the Legion of Honor and the Chevalier Cross of the Order of Saint-Louis. We have located a few dozens of such officers. We then studied each one of them in "leonore" thus establishing their respective age(s) by 1815. It turned out that only one out of these men was (with great age difference) in his mid-30s, namely 35-year-old "capitaine de vaisseau" of the 2nd class, Albin Rene Roussin (all other "candidates" were at least (!) five years older than he).
We have almost instantaneously found a known portrait of this man on the Web (see our image nr.14). In this portrait, despite being much older (the portrait was painted in 1842) Albin Rene Baron de Roussin (he was ennobled in 1820) demonstrates the same physiognomic properties as "our" young sitter.
In our following research, we have gone further back and have studied the "Almanach Royal" for 1814 (1st Bourbon Restoration) and 1815 (end of the 1st - beginning of the 2nd Bourbon Restoration, after the "Hundred Days")). We were surprised to discover that the Almanach issue of 1814 refers (erroneously! this error was corrected in the issues that followed up to 1820) to Albin Roussin's Officer (sic!) Cross of Legion (also chest cross but with additional rosette on the ribbon). In 1814 issue of the "Almanach Royal", Monsieur Rousson is already in possession of the Order of Saint-Louis. Additionally, "leonore" provides the date when he was presented the Chevalier Cross of the Legion of Honor - December 20, 1810. In reality he received his next Cross of the Legion (Officer Cross) on July 5, 1820.
The 1820 issue of the "Almanach Royal" also emphasizes the fact of Roussin's being the youngest of all "capitaines de vaisseaux" of both 1st and 2nd classes.
This gathered information allows us to date this miniature as having been made sometime between 1814 and 1820 (consequently, Roussin's age ranging somewhere between 33 and 39).

Our images nr.17-19 offer extensive biography of this man (also CLICK HERE).

This miniature is clearly signed "auger". It means that we are dealing here with an extreme rarity at the current antique market - a portrait work (for another one, see our image nr.21) of well-listed French artist of the 1st half of the 19th century, André (Adrien) Victor Auger.
André Victor Auger was born in October 1787 in Saint-Valery-en-Caux, department Seine-Interieure and died in 1854. He was a pupil of Jacques Louis David and was mostly known as a genre, historical and graphic artist. Besides that, he was also active as a lithographer (producing prints of military scenes and caricatures) and portraitist.
Auger exhibited at the Salon de Paris in 1810, 1824 and 1832. In 2006, German art dealer Thomas Le Claire offered the pencil drawing, signed by André Victor Auger, dated 1808 and titled "Portrait of violinist Jean Vidal (1789-1867)" at the Salon du Dessin in Paris for €110000.
Provenance: French antique trade

mimai08ap17
Condition: good; in original frame; the glass is somewhat scratched and with minimal chip at 8:00 o'clock
Creation Year: 1814/20
Measurements:UNFRAMED:16,2x12,3cm/6,4x4,8in FRAMED: 24,5x19,2cm/9,6x7,6in
Object Type:Framed miniature
Style: Portrait Miniatures
Technique: watercolor on ivory
Inscription:signed: "auger"
Creator: André Victor Auger
Creator Dates: 1787 Saint-Valery-1854
Nationality:French
We will cover shipping with regular registered mail (delivery between 7-14 days) for this item.

OBS: Austrian mail refunds cases of loss or damage with maximum EUR 500 to the US (in Europe sometimes more, depending on destination).


Full insured 2-3 days DHL service available upon request and subject to extra charges: office@wilnitsky.net
Click here for images free of watermark!
Click on images or on

to see larger pictures!