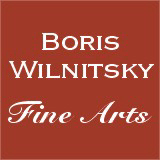 If you have a question about this item,
please contact us at: office@wilnitsky.net
# 41534
Ivan A. Winberg "Empress Alexandra Fedorovna, Consort of Nikolai I", important miniature!!, 1836/40
Price: 7900 EUR
(please note additional 13% tax applies for transactions concluded within the European Union)
THE SELLER WILL COVER SHIPPING WITH REGULAR MAIL FOR THIS ITEM!

Still in its original golden locket with two St. Petersburg hall-marks and mark of master "IB" (Jonas Bergström?), it is an important miniature portrait of the Consort of Tsar Nikolai I, Tsarina (Empress) Alexandra Fedorovna, nee Princess Charlotte of Prussia (1798-1860; CLICK HERE). It was painted by its author - well-known St. Petersburg miniaturist Ivan Winberg - as a partial (slightly altered in composition) copy after Tsarina's 1836 portrait by Woldemar Hau (see our image nr.8). The latter portrait shows Alexandra Fedorovna seated in interior of a small palace cottage in Alexandria (Tsar's residence "Peterhof" by St. Petersburg; today, this watercolor belongs to the collection of Russia's State Museum "Peterhof"). It is a typical work of Ivan Winberg, who, as it is known, chiefly made copies after large-scale portraits of the Russian royalties and aristocrats (similar to what his colleague Alois Rockstuhl was doing at a later point in time).
Ivan Andreevich Winberg (1798 Helsinki - 1851 St. Petersburg) was a well-known Russian miniaturist and son of the Swedish-born, St. Petersburg goldsmith Andreas Winberg (1756 - after 1827), who from 1779 worked in Russia. From the early 1820s Winberg studied at the St. Petersburg Imperial Academy of Fine Arts, where he regularly exhibited his miniature portraits from 1824. In 1830 he received the title of "naznacheny v akademiki" (Associate of the Academy) artist and - in 1846 - titles of Professor and Academician (Member of the Academy) of miniature painting.
He also regularly exhibited his miniatures at annual academic exhibitions (1824, 1833, 1836, etc.). He was also active at the Court, which is evident from his miniature portraits (on ivory) of Alexander I, Nikolai I, Prince Kochubei, Count Sukhtelen, Empress Alexandra Fedorovna, Alexander II (as Grandduke), and other members of St. Petersburg high society.
Winberg's son, Ivan Ivanovich Winberg, was also a miniaturist.
Many portraits of Ivan Andreevich Winberg can be viewed in most esteemed museums of Russia: Tretyakov Gallery, Russian Museum, Hermitage, State Historical Museum, as well as other important Russian museum collections. His other works achieve increasingly high prices at the current antique market.
Our images nr.9-16 show several other works of this artist that were offered at the international art auction market in the last years.
We own another portrait of Alexandra Fedorovna by Winberg (see our web #40347), which was made about fifteen years before the one presented here, when she was still the Grand Duchess and wife of the Crown Prince Nikolai Pavlovich (from 1825 - Tsar Nikolai I).

Provenance: antique trade, Göteborg, Sweden

mimai08ap17
Condition: good; in original golden frame with two Russian hall marks
Creation Year: 1836/40
Measurements:UNFRAMED:4,9x3,4cm/1,9x1,3in FRAMED: 5,2x3,7cm/2,0x1,5in
Object Type:Framed miniature
Style: Portrait Miniatures
Technique: watercolor on ivory
Inscription:signed: "Winberg"
Creator: Ivan Andreevich Winberg
Creator Dates: 1798 Helsinki-1851 St. Petersburg
Nationality:Russian / Swedish
We will cover shipping with regular registered mail (delivery between 7-14 days) for this item.

OBS: Austrian mail refunds cases of loss or damage with maximum EUR 500.


Fully insured 2-3 days DHL service available upon request and subject to extra charges: office@wilnitsky.net
Click here for images free of watermark!
Click on images or on

to see larger pictures!