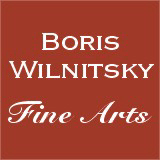 If you have a question about this item,
please contact us at: office@wilnitsky.net
# 41520
Daniel Saint "Wilhelm, Crown Prince of Wuerttemberg", superb miniature on ivory!!, 1814/16
Price: 7500 EUR
(please note additional Austrian VAT (Value Added Tax) applies for transactions concluded within the European Union)
THE SELLER WILL COVER SHIPPING WITH REGULAR MAIL FOR THIS ITEM!

Offered here is a superior quality miniature portrait of Crown Prince Wilhelm of Wuerttemberg (1781-1864; CLICK HERE). He is depicted in military uniform, bearing the insignia of three awards: tamong them Cross of the Russian Order of St. George of 3rd Class (awarded on May 13, 1814), and Austrian (Commander Cross of Maria-Theresian Order (awarded on February 4, 1814). The latter award, although it bears a resemblance to a Knight (chest) Cross, is nevertheless a Commander (neck) Cross, which is pinned through the uniform's second buttonhole. The aforementioned award conferrals (particularly that of the Order of St. George) offer the lower time range of this work's execution - May 13, 1814. Due to the sitter's relatively young appearance, one could argue that this miniature portrait was painted between 1815.1818 (in 1816 Wilhelm succeeded his late father as King Wilhelm I).
We could add that Wilhelm's second wife was the beloved sister of Tsar Alexander I, Catherine Pavlovna, Grand Duchess of Russia (CLICK HERE).
*Our images nr.7-9 show several other portraits of Prince Wilhelm.

Clearly signed "Saint", this miniature portrait is a work of one of the leading Parisian miniaturists of the early 19th century, Daniel Saint. Moreover, we are certain that it was executed in Paris, in the early summer of 1814, after the allies' triumphant entry into that city (Prince Wilhelm's took a heroic part in the capture of Paris and entered the city together with allied monarchs).
Daniel Saint (1778 Saint-Lô, France - 1847 Saint-Lô) was a pupil of Isabey, Regnault and Aubry. He specialized in miniatures and became Isabey's principal collaborator in execution of official portraits. He took part in most of Salons between the years 1804 and 1839, and obtained a 2nd class medal in 1806 and a 1st class - in 1808. On several occasions Saint did portraits of the Empress Josephine. Napoleon commissioned a portrait from him and sent it - adorned with diamonds worth 150000 francs - to Marie-Louise in Vienna. The emperor's decision to order a portrait from Saint was supposedly very much influenced by the fact that Napoleon saw and favoured another work by the artist, namely a miniature portrait of Prince Kourakine exhibited by Saint at the Salon of 1810. Saint was not only appreciated in the Empire period, but also became one of the most popular miniaturists under Charles X and Louis-Philippe, whose portraits he did on several occasions.
Schidlof says further: "...Saint may be considered as one of the greatest French miniaturists of the 19th century. He was very close to equalling Isabey and Augustin...".
Works of this artist achieve high prices at current art auction market (see our images nr.10-17)

Provenance: Swiss private collection

miapr24ap17
Condition: good
Creation Year: 1815/18
Measurements:UNFRAMED:9,3x7,6cm/3,7x3,0in FRAMED: 15,8x13,6cm/6,2x5,4in
Object Type:Framed miniature
Style: Portrait Miniatures
Technique: watercolor on ivory
Inscription:signed: "Saint"
Creator: Daniel Saint
Creator Dates: 1778 Saint-Lô-1847 Saint-Lô
Nationality:French
We will cover shipping with regular registered mail (delivery between 7-14 days) for this item.

OBS: Austrian mail refunds cases of loss or damage with maximum EUR 500.


Fully insured 2-3 days DHL service available upon request and subject to extra charges: office@wilnitsky.net
Click here for images free of watermark!
Click on images or on

to see larger pictures!