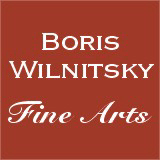 SALE!!! SAVE MONEY !! 1 EUR = 1 USD
# 41510
Thomas Faed "Sir Walter Scott and his friends in Abbotsford", large watercolor, 1849/50
10000 EUR
FINAL DISCOUNT PRICE= 10000 USD
( for EUR price see date rate )
Please note: Shipping and insurance costs are not included in this promotion, ONLY ITEM PRICES!
(please note additional 13% tax applies for transactions concluded within the European Union)
This large (56.5 x 80 cm), outstanding quality watercolor shows the famous English writer Sir Walter Scott with his literary friends at his Abbotsford House (CLICK HERE). Although unsigned, it is Thomas Faed's absolutely authentic and extremely important own replica of his oil painting in the National Galleries of Scotland (Edinburgh; see our image nr.19). The latter work is widely known through its numerous reproductions through engravings (for example, see our images nr.19-22; one of these engravings, printed in 1854 by London publisher James Keith and New York publisher Williams accompanies the watercolor presented here (see our images nr.22-24). The same museum houses a preparatory drawing for this painting (see our image nr.17). Also known is an oil study for it (see our image nr.18).
The oil painting at the National Galleries of Scotland in Edinburgh (same as our watercolor) was painted in 1849. Its layout was based on the pre-existing portraits of the gathered gentlemen. Our image nr.24 offers the names of each one of them.
Here, portrayed from left to right, are:

seated:

1) James Ballantyne (1772-1833; Scottish editor and publisher; CLICK HERE)
2) Archibald Constable (1774-1827; Scottish publisher, bookseller and stationer; CLICK HERE)
3) Thomas Campbell (1777-1844; Scottish poet; CLICK HERE)
4) Thomas Moore (1779-1852; Irish poet; CLICK HERE)
5) Sir Adam Fergusson (1770-1854; deputy keeper of the regalia of Scotland and one of the companions of Walter Scott at Edinburgh University; CLICK HERE)
6) Francis Jeffrey, Lord Jeffrey (1773-1850; Scottish judge and literary critic; CLICK HERE)
7) William Wordsworth (1770-1850; English Romantic poet; CLICK HERE)
8) Johan Gibson Lockhart (1794-1854; Scottish writer and editor; CLICK HERE)
9) George Crabbe (17541832; English poet, surgeon and clergyman; CLICK HERE)
10) Henry Mackenzie (1745-1831; Scottish writer; CLICK HERE)
11) Sir Walter Scott himself (1771-1832; Scottish historical novelist, playwright and poet; CLICK HERE)
12) (on footstool), James Hogg (1770-1835; Scottish poet, novelist and essayist; CLICK HERE).

standing:

1) Sir Humphrey Davy (1778-1829); Cornish chemist and inventor; CLICK HERE)
2) Sir David Wilkie (1785-1841; Scottish painter; CLICK HERE)
3) Sir William Allan (1782-1850; Scottish historical painter, president of the Royal Scottish Academy; CLICK HERE)
4) John Wilson (1785-1854; Scottish advocate, literary critic and author; CLICK HERE)

As already mentioned, this watercolor is accompanied by a (matted and framed) engraving (image: 60.5 x 80cm; framed: 85 x 104cm).
Thomas Faed (1826 Burley Mill/Kirkcudbrightshire - 1900 London) was a well known Scottish genre painter of the 19th century, member of a noted artists' family (his brothers John and James and his son Francis were also renowned artists). Initially trained by his father, after the latter's death in 1843 he continued education under brother John in Edinburgh, further studied at School of Design in the same city under Sir W. Allen and Thomas Duncan. He began exhibiting his watercolors at Edinburgh Academy and won prizes. During late 1840s Faed turned to oil painting, in 1849 became associate of the Scottish Academy and soon won great popularity. In 1851 the artist had his first exhibition at the Royal Academy, London, and from 1852 permanently lived in London. From mid 1850s he was one of the most popular artists of England, regularly exhibiting at the Royal Academy (associate from 1861 and member from 1864). In 1892 Faed went blind and stopped working. His works are displayed at the Tate Gallery, Victoria and Albert Museum, in museums of Glasgow, Leicester, Liverpool, Salford, Sheffield, Sunderland, and abroad: in Hamburg, Montreal, Melbourne, Aberdeen. At the international art auction market his paintings achieve significant prices (see additional images).
Provenance: US antique trade

miapr21ap17
Condition: good
Creation Year: 1849/50
Measurements: UNFRAMED:63,2x81,2cm/24,9x32,0in FRAMED: 86,5x110,0cm/34,1x43,3in
Object Type: Framed watercolor
Style: Victorian paintings
Technique: watercolor on paper, laid onto a panel by the artist; later matted and framed
Inscription: -
Creator: Thomas Faed
To see other works by this artist click on the name above!
Creator Dates: 1826 Burley Mill-1900 London
Nationality: English / British / Scottish
SHIPPING COSTS UPON REQUEST:
office@wilnitsky.net
Click here for images free of watermark!
Click on images or on

to see larger pictures!