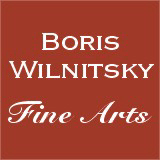 SALE!!! SAVE MONEY !! 1 EUR = 1 USD
# 41508
Josef Grassi "Johanna Biron, Princess of Courland", rediscovered important portrait!!, 1801/06
ON REQUEST
( for EUR price see date rate )
Please note: Shipping and insurance costs are not included in this promotion, ONLY ITEM PRICES!
(please note additional 13% tax applies for transactions concluded within the European Union)
Rediscovered after a long absence, this work recently appeared at a sale of Parisian auction house "Tajan" (October 2016). We immediately recognized what was described as "portrait of a young woman by artist of English School, ca. 1800" (see our image nr.8) to be an absolutely authentic work of an Austro-German, turn of the 19th century portraitist Josef Grassi.
Morevoer (after performing a brief research), we were able to identify it as the famous portrait of one of the four Princesses of Courland (modern day Latvia; then - semi-independent Duchy of Courland), consequently daughters of ruling Duke Peter Biron (CLICK HERE) - Johanna Biron.
This portrait of her has been illustrated and published in 1941 book "Die Sagan /Das Leben der Herzogin Wilhelmine von Sagan, Prinzessin von Kurland" by Clemens Brühl (CLICK HERE). The fact that Clemens Brühl used black-and-white plate to illustrate this portrait (see our images nr.9-10) leads to the following conclusion: in 1941, by the time he completed his book, Brühl only had access to either an old photograph of this painting, or an illustration (similarly black-and-white) from another, previously published book. Thus, in 1941, the whereabouts of "our" painting was still unknown.

Once we have seen it in the online pre-sale catalogue of "Tajan", we have instantaneously attributed this work to Josef Grassi. Such quickness of decision was based on the fact that in the course of the years, we have owned (and continue to own) Josef Grassi's numerous paintings, drawings and portrait miniatures (he happens to be one of our most beloved Neoclassical portraitists) and are, therefore, well acknowledged of and accustomed to his manner.
Well-informed of Grassi's prolonged sojourns at Biron's estate in Silesian village Sagan (Peter Biron's summer residence - Palace Sagan (Polish - Zagan; see our image nr.26)), we initially believed to be dealing with one of Grassi's portraits of the palace's future owner (after 1800 death of Duke Peter) and its main resident, Duke's first-born daughter Wilhelmine Biron, Duchess of Sagan. The latter is featured in several Grassi's paintings as a young lady showing strong physiognomic resemblance to "our" sitter.
However, several minutes after consulting the aforementioned book by Clemens Brühl, we discovered (page 49) "our" portrait as that of Wilhelmine's younger sister Johanna.

Princess Johanna was born on June 24, 1783 at Castle Würzau by Mitau, Courland (now Jelgava, Latvia; CLICK HERE), which belonged to her father Peter Biron, Duke of Courland. She was the third-born child (and third daughter) of Duke and his third wife Dorothea, Countess von Medem (to see her portrait (once in our possession), CLICK HERE).
Together with her other three siblings: two older sisters, Wilhelmine (1781-1839; she was the most known of all Duke's children - CLICK HERE) and Pauline (1782-1845; CLICK HERE), and ten years her junior sister Dorothea (1793-1862; CLICK HERE), she grew up at Palace Sagan. All four sisters were raised in the absence of their parents; they were cared for by tutors and maids, and grew up almost in their own court, with lavish house parties, a resident troupe of actors, a private orchestra. When Johanna (her family called her "Jeanne") was sixteen, she fell in love with Arnoldi, a young (and obviously clever) violinist from the orchestra who had been hired to teach the music to the Courland sisters. Jeanne became pregnant, and Arnoldi persuaded her to run off together to America (she only packed her jewels). The couple then came to Germany. There, Arnoldi went to Hamburg to organize boat tickets and to find a buyer for Johanna's jewels (the transit to America needed to be paid for), leaving Johanna alone for some time in the house of his friends. In the meantime, Johanna's father - Duke Peter Biron - summoned Prussian officers of Sagan garrison to search all the neighboring localities for the two fugitives. One of the officers was lucky enough to discover Johanna in Erfurt, in the house of Arnoldi's friends. He found her in the state of utter despair, resembling a "lovebird caught in a trap", and promptly collected her.
Duke Peter disinherited her in a fit of temper shortly before he died (she was still pregnant with Arnoldi's child). Also, one shall add that Johanna was not delivered home to Sagan but instead to Prague, to stay under the chaperonage of Duke Peter's friend, Bohemian Chief of Police, Count Wratislaw.
In the meantime, Arnoldi learned of Johanna's disappearance from Erfurt and of her nearly imprisonment in Prague, and promptly followed her into the area neighboring with Bohemia (Prague). From there, he attempted to contact Johanna and sent her a number of letters. These letters have naturally ended up in the hands of Count Wratislaw's people. Consequently, the latter organized the couple's mock reunion. When Arnoldi arrived at the agreed place in Eger (present day Hungary), he was immediately apprehended and executed in a matter of days. His and Johanna's love affair ended in tragedy.
On September 19, 1800, while living in full isolation in Prague, 17-year-old Johanna gave birth to a son. The boy received a simple name "Fritz" but no surname (in fact, he remained "nameless" until the age of ten, when he was adopted by Frau von Piattoli (nee Baroness Julie Vietinghoff), who was a court lady of Johanna's mother. Still upon his birth, the boy was immediately separated from his mother, and the latter never saw him again.
A few months after the child's birth, a friend of Johanna's parents, Queen Marie Caroline of Naples and The Two Sicilies sent to Prague a fiancé for Johanna, Neapolitan aristocrat Francesco Pignatelli, Prince of Belmonte, Duke of Acerenza, who was considerably her senior. Their wedding took place on March 18, 1801. As it happens, this marriage was never a happy one, and was dissolved in four years (Johanna waited for official divorce for thirteen years).
In 1806, Johanna inherited from her mother (by then, the widow of Duke Peter Biron for six years) the Courland Palace in Dresden (CLICK HERE).
She resided in this palace for some time, until she and her sister Pauline (married Princess of Hohenzollern-Hechingen) were separated from their husbands (later, Jeanne had a longtime liaison with certain Monsieur Borel). Both sisters settled in Vienna, where they shared an appartment.
Same as her elder sisters Wilhelmine and Pauline (the left painting in image nr.12 shows her with Pauline), Johanna was an exceptional beauty. The sisters caused quite a stir when they appeared at events around the Congress of Vienna (1814/15) and were referred to as "the three graces" by their attendees.
In 1821, after the death of her mother, Johanna (she never remarried) inherited the latter's Castle Löbichau in Thuringia (then - Duchy of Saxe-Altenburg; CLICK HERE). She died there at the age of 93, on June 24 (sic! note the diabolic coincidence with her date of birth!), 1876. Her body was brought to Sagan and laid to rest in the family tomb of the local Church of Grace.

Yet, one question remains: what is the story behind this portrait? The pages 79-80 of the aforementioned book by Clemens Brühl inform that: "In the period between 1801 and 1806 a number of portraits of Courland sisters were produced by famed artist Josef Grassi. Duchess Dorothea (mother - B.W.) met this Viennese painter back in Warsaw, where he was already an established portraitist of the Polish high society. In 1796, she commissioned him to paint her portrait. One year later, she invited him to Sagan for the first time. In 1806, she helped him to get a professorship at the Dresden Academy of Fine Arts… This is when he painted the life-size double portrait of Pauline and Jeanne (our image nr.12 - B.W.), showing them dressed in ancient Greek attire, gliding through a park landscape like elflike creatures, and the portrait of Wilhelmine (portrayed in the similar way) standing next to young Dorothea, who is gently touching her hand (she is seated on a moos rock). However, most true-to-life paintings were five half-length portraits (sic! - B.W.): those of the mother (Dorothea), Wilhelmine wrapped in dark fur, Pauline in empire ermine coat, a portrait of Jeanne (Johanna - B.W.) holding a harp and a portrait of small Dorothea with a dove.

Jeanne with a harp is none other than an idealized representation of "our" young princess as Erato, the Greek muse (CLICK HERE).

Our image nr.14 shows a miniature portrait of Johanna from 1830s (formerly in the collection of Count K. I. Palen in St. Petersburg).


Josef (Maria Giuseppe) Grassi was born in Vienna on 22. April 1757, as the younger brother to the sculptor and porcelain modeller Anton Grassi. Their father, Ottilio, was a goldsmith from Udine, Italy. In 1768, aged 11 (!), he began studying at the Vienna Academy of Fine Arts, and very soon achieved great success, especially among women, as a skilled portraitist, miniaturist and later as painter of larger portraits in oil. Nevertheless, at the end of his studies, in 1791, he felt that he was being treated unfairly at the Academy when he lost a competition for a travel scholarship; hence he took the advice of some friends who were Polish nationalists and moved to Warsaw. There he became a teacher of Teresa Jablonowska and established himself as a successful portrait painter. On the recommendation of Jean-Baptiste Lampi, he even got the vacancy of a painter at the court of the Polish King Stanislaus August II and advanced to the favourite portraitist of Polish court and high aristocracy.
In 1791 the Vienna Academy elected him member of Academy for his portrait works.
When the Kosciuszko Uprising broke out in 1794, he was able to leave the battle zone through mediation of Kosciuszko, whose portrait he had painted. Together with his pupil Johann Niedermann who also stayed in Poland during that time he returned to Vienna.
1797 was obviously the year of Grassi's first visit in Castle Sagan in Silesia (now Zagan, Poland). Later stays at the castle followed. The Duchess Wilhelmine von Sagan is supposed to be the person who helped Grassi to commissions and to an Academy professor title (1799) in Dresden, where he taught along with Anton Graff. He took two leaves of absence during his stay in Dresden, one to Gotha in 1804 where he decorated a bedroom for Duke August of Saxe-Gotha-Altenburg, painted portraits of the Duke and his wife and scenes illustrating literature works of the Duke, and another to Rome from 1808-1810 as a member of the Accademia di San Luca. From 1816 to 1821 he stayed in Rome again, serving as the "Director of Studies for Saxon Artists in Italy". At that time, however, the Nazarene movement came into vogue, and his work was ignored so he returned to Dresden. Here, he lived a secluded life without any official job, and died on 07. January 1838.
He was a bearer of the Grand Cross of Saxonian Civil Order and had a title of "Geheimer Legationsrat" (Privy Legation Councilor) which he obtained from Duke August of Saxe-Gotha-Altenburg.
Our images nr.16-25 show several other works of this artist.

miapr20ap17
Condition: fairly good; lined
Creation Year: 1801
Measurements: UNFRAMED:63,5x48,0cm/25,0x18,9in FRAMED: 79,3x63,7cm/31,2x25,1in
Object Type: Framed oil painting
Style: Old Master paintings
Technique: oil on canvas
Inscription: -
Creator: Josef Grassi
To see other works by this artist click on the name above!
Creator Dates: 1757 Vienna-1838 Dresden
Nationality: Austrian / German
SHIPPING COSTS UPON REQUEST:
office@wilnitsky.net
Click here for images free of watermark!
Click on images or on

to see larger pictures!