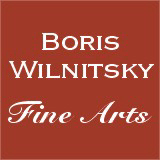 If you have a question about this item,
please contact us at: office@wilnitsky.net
# 41506
Pierre Noel Violet-Attrib. "Anna Baldauf, the wrong "Chocolate Girl" of Liotard", fine pastel, 1788/90
Price: 5500 EUR
(please note additional 13% tax applies for transactions concluded within the European Union)
According to old authentic inscription on the backing of the frame, we are dealing here with portrait of certain Anna Baldauf. The same inscription informs that on July 24, 1802, Anna Baldauf married Carl, Fürst (Prince) Dietrichstein. However, based on the young lady's dress and hair-style (fashion of the late 1780s), one could freely say that their wedding took place over ten years after the portrait's execution.
In reality, we are looking at the portrait of 31/33-year-old daughter of a Viennese tradesman, who, shortly before this portrait's execution, was a "Kammerfrau" (chambermaid) of Princess Marie Christine von Dietrichstein (after the latter died on March 4, 1788, her chambermaid became the mistress of her widowed husband - then one of Austria's wealthiest men, Johann Carl, Prince von Dietrichstein-Proskau-Leslie (for his extensive biography, see our image nr.10)). Shortly after, the young woman from a bourgeois family acquired the social polish of highly aristocratic lady (the fact that her hair is adorned with pearls is an evidence of it). An unmarried woman for the next fourteen years, in 1792, Anna was granted nobility through her father Melchior Baldauf, who was ennobled by Kaiser Franz II with addition of predicate "Edler von" to his surname (consequently, as his daughter, Anna became "Edle von Baldauf").
As already mentioned, Prince Dietrichstein married his mistress in 1802. Soon after that, after being admitted to all aristocratic Viennese salons, Anna became one of Vienna's most prominent socialites and was nicknamed "Nannerl Dietrichstein".
She outlived her husband (their marriage was childless) by seven years and died on January 25, 1815 in Vienna, Weihburggasse No. 970.

The name "Anna Baldauf" is widely known not only because of Anna's giddy life, but due to one of the most mystified legends in the history of art.

In ca. 1840, the media spread a rather convoluted legend, in which "our" Anna Baldauf was referred to as the model for the "Chocolate Girl" in famous pastel of Swiss artist Jean-Etienne Liotard (see our images nr.7-9). According to this legend, during his stay in Vienna, the artist met a young beautiful court "Stubenmädchen" (chambermaid) Anna Baldauf, daughter of a hackney coacher (sic!) and depicted her in his pastel. The legend proceeds to tell that the young woman swept wealthy Prince Carle Dietrichstein off his feet, and that shortly after, he married her (see our image nr.8)…

It is very possible that the model for the "Chocolate Girl" was indeed a certain young woman by the name "Baldauf". One could suppose that she was Charlotte (not Anna!) Baldauf, the teenage daughter of Viennese banker Baldauf, in whose house Liotard lived during his first stay in Vienna (1743-1745). Similarly, the girl's elaborate dress (too expensive for a "Stubenmädchen") speaks in favor of this assumption. In any case, this girl could have nothing to do with "our" sitter: the "Chocolate Girl" was painted in 1744, whereas Anna was born thirteen years later, in 1757. Apparently, the fact that Anna and Charlotte were namesakes confused the author of the 19th-century media legend thus leading him to create the false "Baldauf-Dietrichstein" connection.

This portrait appears to be the work of a 1st-class French pastelist of the late 18th century. It was executed either in Vienna (possibly during the artist's sojourn in this city), or in France, during one of the visits of Prince Dietrichstein and (then, still his mistress) Anna Baldauf. First artist in question would be Parisian artist Pierre Noel Violet. Known today as a (chiefly!) miniaturist, he was mentioned in 1787 as "monsieur Violet, celebre par ses beaux portraits au pastel" (see our images nr.15-17 with his biography und two other works of his).
Pierre Noel Violet (1749 Paris - 1819 London), published in 1788 the "Traité Elémentaire sur l'Art de Peindre en Miniature", which made his name known. In 1782 he became a member of the Academy of Lille and exhibited in Paris at the Salon de la Correspondance in 1785 (!) and 1787. In the time of the Revolution he left France and settled in England, where he became a friend of Bartolozzi. From 1790 to 1819 he took part in a considerable number of exhibitions of the London Royal Academy with numerous miniatures. He painted the Prince of Wales, as well as numerous personalities among the English aristocracy.
Schidlof adds: "… we only known a few authentic pieces by him.".
Provenance: inventory sale of a noble castle, Lower Austria

*For portrait of the sitter's stepson, see our web #23966.

miapr0717
Condition: good
Creation Year: 1788/90
Measurements:UNFRAMED:48,0x41,0cm/18,9x16,1in FRAMED: 56,6x49,1cm/22,3x19,3in
Object Type:Framed pastel
Style: Old Master drawings
Technique: pastel on vellum mounted onto stretcher by the artist
Inscription:verso (backing of the frame): old inscription
Creator: Pierre Noel Violet
Creator Dates: 1749 Paris-1819 London
Nationality:French / English / British
2-3 days door-to-door shipment, professionally packed by Mail Boxes Etc and shipped with DHL (calculated for US): 216,47 EUR + insurance 1,8% of item price
Shipping cost to other destinations (worldwide) on request
Shipping price may be reduced if you dispense with the frame


Cheaper alternative (may be further reduced if you dispense with the frame): professionally packed by Mail Boxes Etc and shipped with regular Austrian mail - upon request under office@wilnitsky.net (OBS: In this case maximal refunded insurance value is EUR 500 if shipping destination was the US. In Europe sometimes more, depending on destination.)
Click here for images free of watermark!
Click on images or on

to see larger pictures!