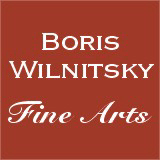 If you have a question about this item,
please contact us at: office@wilnitsky.net
# 41479
Peter E. Rockstuhl "Travelling case with important miniature portrait of a Russian officer ", 1801
Price: ON REQUEST
(please note additional 13% tax applies for transactions concluded within the European Union)
THE SELLER WILL COVER SHIPPING WITH REGULAR MAIL FOR THIS ITEM!

This 19th-century traveling case bound with embossed leather was acquired in March 2017 from a private French collection. It houses five portrait miniatures that - though ranging from different epochs - share the same common legacy.

The principal piece in the center of the tableau (it is still mounted into original golden (unmarked) filigree frame) is a portrait (6,6 x 5,1 cm) of a Russian officer (possibly even a general; he is depicted without head gear, which could otherwise specify his military rank). He wears the so-called "obshchearmeiski" (or army's common) uniform - an indication that at the time of portrait's execution, he was not assigned to any particular troop. As informed us well-known military historian, author of numerous works about Russian military and civil uniforms, Sergei A. Popov this uniform corresponds to the regulation of the narrow period between 1801-1802 (not earlier and not later!).
The hairwork (made from sitter's hair!) on verso of the miniature displays a golden ligated monogram with initials of the sitter's given and surname. This monogram could be pointing out to the following four:

Cyrillic monograms "ER" or "RE"
Latin monograms "EP" or "PE"

If we assume to be dealing with portrait of a "non-general", the odds are that we will be unable to ever determine his identity (of course except for the possibility to meet per chance his another portrait!).
If, however, we chose to regard the sitter as a general, we will be faced with another case scenario. We are fortunate to have at our disposal a very important instrument - a (published in Russia, in 2000) two-volume work "The Generals of Russian Empire" written by Sergei Volkov. This dictionary provides complete list of the names (given and surnames!) of all Russian generals from the early 17th century to 1917.

In the period of 1801-1802 all four possible monograms lead to a single general (with Cyrillic monogramm "ER") - Emelian Ivanovich von Reiter (1764-1837; see our image nr.19; in 1801/02 he was 37/38-year-old - fiull correspondence with visual age of the sitter!). He was promoted to the rank of major-general in 1799. Several months later, he left the army, yet rejoined the military service in the early 1801, and was appointed to "Proviantskaya Kommissia" (military office responsible for furnishing the troops with provision). Von Reiter remained in this function until his death.
Mr. Popov also informed us that from 30 January 1802 (decree of Alexander I) all officials of "Proviantskaya Kommissia" had to wear "obshchearmeiski" (sic!) uniform.
Nevertheless we doubt wether German-born General von Reiter would use Cyrillic monogramm instead his Latin "EvR".

Moreover, the indisputable authority in Russian military portraits, Dr. Alexander Kibovskyi (Moscow) whom we showed photograph of this miniature, says it was executed in 1801, not later - sitter's long pigtail (Paul's reign model) was not already worn in 1802!

All that means we are dealing with a portrait of a still unknown (rather non-general) officer which was painted in 1801.

The mounted into golden (unmarked) finger-ring portrait of a lady (second miniature on ivory in this 5-piece-set) is probably that of the officer's wife (the latter is dressed and hairstyled also according to fashion of that period). Respectively three miniature photographs from 2nd half of 19th century are probably that of couple's growed old children. The officer's portrait is clearly signed: "Rockstuhl fec.", what means we are dealing with (probably earliest made by him there!!) work of one of best St.Petersburg miniaturists of that time, Peter Ernst Rockstuhl. Moreover, with a very great possibility he was also the author of the female portrait - typical for this artist sitter's representation in profile and octagonal form convincingly support this attribution.
Peter Ernst Rockstuhl, portrait miniature and silhouette artist was born in 1764 in Angern (then Duchy of Courland, now Engure, Latvia) and died in 1824 in St. Petersburg. According to Dr. Wilhelm Neumann, author of the "Dictionary of Baltic artists", published in 1908, Rockstuhl's birthplace was possibly Warsaw; Ernst Lemberger says it was "Angern in Courland" (Latvia). Further Lemberger mentions that the artist worked in Mitau (now Jelgava, Latvia) and Riga, in 1789 was in Vilna, later moved to St. Petersburg, where remained until his death in 1824. Nobody can say when exactly he came to St. Petersburg. It was for sure after 1798 (in this year his son Alois Gustav was born in Vilna). So it must have been between 1800 and 1804. In the Russian capital the artist soon became a very popular miniaturist, whose sitters were members of the high aristocracy and royalties. T.A. Selinova could located over 100 of his works that survived time. They are mainly in Russian public collections (25 miniatures in the Historical Museum Moscow and more than 10 works are in the Russian Museum and Hermitage). Only few are in private hands.
His oeuvre is divided in three periods: To the first period belong works made in 1780-1790s, before arrival to St. Petersburg, mainly silhouettes. To the second period belong his miniature portraits from ca. 1800 to 1815 and to the third and last period, works from 1815 to 1824, his death year (this group is not well researched yet).
Provenance: private collection, Caleville, Normandy / France

*We are very grateful to Sergei Popov and Alexander Kibovskyi for their generous help in our research.

mimar30ap17
Condition:
"officer" and three photographs - good
"lady" (finger-ring) - fairly good
case - good
Creation Year: 1801
Measurements:UNFRAMED:6,6x5,1cm/2,6x2,0in FRAMED: 19,0x16,0cm/7,5x6,3in
Object Type:case with miniatures
Style: Portrait Miniatures
Technique: two miniatures: watercolor on ivory; three miniatures: photographs
Inscription:general's portrait is signed "Rockstuhl fec.(it)"
Creator: Peter Ernst Rockstuhl
Creator Dates: 1764 Angern, Latvia-1824 St. Petersburg
Nationality:Russian
We will cover shipping with regular registered mail (delivery between 7-14 days) for this item.

OBS: Austrian mail refunds cases of loss or damage with maximum EUR 500.


Fully insured 2-3 days DHL service available upon request and subject to extra charges: office@wilnitsky.net
Click here for images free of watermark!
Click on images or on

to see larger pictures!