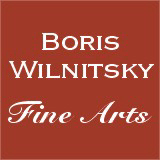 If you have a question about this item,
please contact us at: office@wilnitsky.net
# 41420
Franz Liborius Schmitz "Captain Frederic Jonglas", interesting miniature!!, 1819
Price: 2000 EUR
(please note additional 13% tax applies for transactions concluded within the European Union)
THE SELLER WILL COVER SHIPPING WITH REGULAR MAIL FOR THIS ITEM!

This miniature is clearly signed and dated (obverse) - "Schmitz 1819". Formerly, it belonged to famous collection of Napoleonica amassed at the turn of the 20th century by French industrialist Bernard-Franck (see our image nr.13). It still bears on verso the label of this collection, as well as Bernard-Franck's singlehandedly written note informing that this painting is a portrait of a captain of either 1st or 2nd French Dragoon Regiment. This note is complemented by a date of 1816, which clearly refers to the year of the new uniform regulation.
In fact, in the period between 1816 and the early 1820s, the uniforms of the 1st and 2nd Dragoon Regiments of the French Army distinguished themselves from one another only by one detail, i.e. the color of "paremens" (cuffs): while the 1st Dragoon Regiment's uniforms displayed red cuffs (alike their revers and collars), the uniforms of the 2nd Dragoon Regiment revealed green cuffs. We can therefore understand Bernard-Franck's ambivalence toward making the final attribution: the young dragoon captain is depicted half-length, his cuffs thus concealed from the viewer's sight.

In our attempt to establish the identity of this young officer (he appears to be about 30 to 35 years at most), we turned to the standard reference source - the "Annuaire de l'État Militaire de France" (the Web has a collection of all of its annual issues dating back to 1814). However, only starting 1820, the issues begin to list next to the officers' names also their military awards, such as crosses of Legion of Honor and the Military Order of St. Louis.
In the issue of 1820 (it lists all officers active by the end of 1819; see our image nr.9) one finds in 2nd Dragoon Regiment not a single captain without (sic! "our" sitter has no awards) at least one of the aforementioned orders: while not all of the captains were in possession of both crosses, all of them owned at least the Chevalier Cross of the Legion of Honor. Moreover, all of them were awarded the Chevalier Cross still (!) during the Napoleonic Epoch (i.e. before 1816).
Almost the same concerned the 1st Dragoon Regiment. We say "almost" because there is a record of one captain (listed as Jonglas, Frederic) who was awarded no "Legion" or "St. Louis".
This information prompted us to turn to another standard reference source - the online portal "leonore". We were able to find there several documents concerning this man (see our images nr.10-12).

Marie-Pierre-Frederic Jonglas was born on April 16 1786 in Paris as a son of Pierre Alexandre Jonglas (according to his name, probably of Belgian or Dutch origin) and his wife Marguerite Ephrosine, nee Tellier.
In 1803, at the age of 17, he volunteered to join the 20th Chasseur Regiment. In 1804, he received the rank of a "fourrier"; in 1809 - a "sous-lieutenant" ("2nd lieutenant).
His service list (see our image nr.10) informs that in 1813, he became a lieutenant, was in the same (1813) year transferred to the infantry and served there "in function of a captain". It also informs that in January 1815, he was appointed "adjutant-major" of the 3rd Hussars and on January 22, 1817, finally received his captain's patent (license) and was immediately summoned to transfer into the 1st Dragoon ("Dragoons de Calvados") Regiment.
Similarly, we learn that from 1806 to 1814, Marie-Pierre-Frederic Jonglas served in the Grandé Armée (Germany and France). The same document informs that he was wounded on March 7, 1814 in the Battle of Craonne.
He received his first award - the Chevalier Cross of Legion of Honor - on May 18, 1820.
He died on June 18, 1854.

The signature "Schmitz" refers to the German-born miniaturist Franz Liborius Schmitz, who in the years of the early Restoration lived in Paris and specialized in painting miniature portraits of military officers (CLICK HERE FOR OTHER WORKS OF THIS ARTIST IN OUR POSSESSION).

Schidlof mentions certain Schmitz as author of one (also signed "Schmitz") miniature in National Museum Stockholm - portrait of (Swedish) Major-General Karl Magnus Klingström (besides that, in 1978, at Sotheby's Zurich was offered signed "Schmitz" miniature portrait of a young lady). Further Schidlof suggests that this Schmitz could be the same "Franz Liborius Schmitz, born in Bonn, who worked between 1803 and 1814 in Denmark, Sweden, Germany and France as a silhouettist". The latter (according to "Sventsk Konstnärs Lexikon") was born in 1762 in Bonn and died in 1827 in Allingskovgaard, Denmark. He was mainly known as silhouettist and mentioned as working in Germany and France, then, from 1803, in Scandinavian countries (Denmark, Sweden, Norway).
Our following Web research brought further biographical materials about this artist, all referring to him as to a silhouettist. But suddenly, in collection of the Sinebrychoff Museum (Helsinki) we found the second (after already aforementioned one in National Museum Stockholm) miniature on ivory by artist "Schmitz".
And this miniature - portrait of an unknown officer- demonstrates artist's "complete" signature - "F.L.Schmitz" (!!).
Thus far all Schmitz' biographers mention his activities up until 1814. Yet, he must have done something between the years 1814 and 1827 (his year of death)?
Our case demonstrates that he stayed in Paris during the early period of Bourbon Restoration. It was however not his first visit to the French capital: Swedish artist dictionary mentions his activity in France before 1803.
Provenance: antique trade, USA

mimar06ap17
Condition: fairly good, glass some scratched; not inspected out of frame
Creation Year: 1819
Measurements:UNFRAMED:6,6x5,3cm/2,6x2,1in FRAMED: 12,5x11,2cm/4,9x4,4in
Object Type:Framed miniature
Style: Portrait Miniatures
Technique: watercolor on ivory
Inscription:signed and dated: Schmitz 1819; verso: old legend
Creator: Franz Liborius Schmitz
Creator Dates: 1762 Bonn-1827 Allingskovgaard
Nationality:German / Danish
We will cover shipping with regular registered mail (delivery between 7-14 days) for this item.

OBS: Austrian mail refunds cases of loss or damage with maximum EUR 500.


Fully insured 2-3 days DHL service available upon request and subject to extra charges: office@wilnitsky.net
Click here for images free of watermark!
Click on images or on

to see larger pictures!