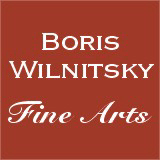 If you have a question about this item,
please contact us at: office@wilnitsky.net
# 41418
Giuseppe Bagetti "Napoleonic Army crossing Great St-Bernard Pass (1800)", large drawing, 1809/10
Price: EUR
(please note additional Austrian VAT (Value Added Tax) applies for transactions concluded within the European Union)
SOLD!!!

This large drawing shows the Napoleonic Army crossing (May 1800) the Great St-Bernard Pass in the Swiss Alps (CLICK HERE and see our image nr.19). Our comparison images nr.18-25 convincingly prove that it is a very important work of Italian topographic artist Giuseppe Pietro Bagetti.
Interestingly enough, Bagetti (himself not an eyewitness of this occurrence; as we will see below, the drawing was executed ten years after it took place) added to the composition none other than the Chief-Commander General Napoleon (*in our image nr.16, one can see an orderly delivering a coffee (tea?) tray to the group of officers who are warming themselves next by a campfire; these men are shown standing in circle around the only seated person in the composition (he is shown here with his back to the viewer), who happens to be Napoleon Bonaparte himself!).
Giuseppe Pietro Bagetti was born in 1764 in Turin. At a very young age, he gained entrance to the local Conservatorio della Chiesa Metropolitana, where he studied composition under the guidance of the Bolognese abbot Gaetano Bernardino Ottani, a painter of ruins and successful musician and tenor.
At the same time, he gained a sound scientific education in topography and design, taking the architectural course at the Regia Universita di Torino, where he obtained licenses for practicing civil and military architecture on the 23rd of December 1782. In order to be perfect his rendering of landscapes and to learn the technique of painting in watercolors, Bagetti contancted the famous painter Pietro Giacomo Palmieri who, having taught at the Academy of Fine Arts in Parma, had recently moved to Turin after a long period in Paris. Bagetti thus learnt of ideas and solutions in a picturesque style still unknown in Piedmont society.
In 1792, Bagetti was commissioned to teach topographical design at the Royal Academy of Aristocrats in Turin; in November of that year he was nominated "master of design" at the Royal Military Academy.
Vittorio Amedeo III, Duke of Savoy, praising his "unusual ability and expertise in design", attributed him with the title of "our designer of views and villages" on August 2nd 1793, and sent him to follow the Sardinian army, saying "we have seen fit to give him a seemly fee and, now wishing to provide for his livelihood, and for the coach and horse expenses at they are needed for journeys that he will undertake for our court, we have provided to assign the daily payment of six lire, starting from the day of his departure from Turin to go to Cuneo, and continuing until he returns to the capital and our retinue".
In June of 1800 (i.e. several days after (!) Napoleon crossed the Great St-Bernard Pass), Bagetti joined the service of the Piedmont Topographical Department and was assigned with the rank of "Captain topographical engineer", to the Piedmont Reserve Army. Following the Battle of Marengo (June 14th 1800), this corps was disbanded and its members transferred to the Depot de la Guerre in Paris. Bagetti was assigned to the Estates General Staff, with flattering motivations: "Vos talents distingués et votre zèle pour la gloire de l'armee française justifient ce choix" (June 20th). However, from Paris, he was soon assigned to the Italian Army, captained by General Brune. In September 1801, having returned to Turin, he worked at the Temporary Topographical Department set up by Napoleon to produce copies of the maps, surveys and geodesic calculations made by the corps of geographical engineers in previous years.
At the same time, he dedicated himself to more free-handed compositions which revealed his versatile sensitivity and readiness to embrace the new taste in landscapes.
In October 1802, having now attained artistic maturity, Bagetti was sent to the Section topographique stationed at the Piedmont. As commanded by Bonaparte, the Section had the task of producing views of the battlefields of the First (1796-1797) and the Second (1800) Campaigns in Italy, going to the same places of battle in order to achieve an absolutely faithful reconstruction of the physical and historic data.
The project for views of the battlefields ("Vues des campagnes des Francais en Italie 1796-1800") took shape through careful preparation and repeated "recces" on the field, which required some eight years to conduct from 1802 to 1810, and tight team work that complied with the established procedures demanded by the Depot de Guerre which monitored progress from Paris.
Municipal Gallery of Modern Art in Turin owns today 103 sheets contained in large bindings, bearing on their spines the title "Vues des Campagnes des Francais en Italie 1796 et 1800" (for one of this drawings, see our image nr.). In the official documents between Bagetti and the Depot de la Guerre, these were called "tableaux".
Thanks to recent research, the period of producing the sheets dedicated to the Great St-Bernard one can date them as being between 1809 and 1810 (the above text has been borrowed from "Giuseppe Pietro Bagetti /Napoleon crossing the Alps. A tale by images" by Virginia Bertone and Giulio Massobrio, Milan 2006 - see our image nr.27).
From 1810, Bagetti was active in Paris. From spring 1812 until the end of the same (1812) year, he participated in the Russian Campaign as a military artist. In winter, he was back in Paris, but soon thereafter departed to the German front.
After the Bourbon Restoration, he returned to Turin and rejoined the service of the King of Savoy. In Turin, he also became a Member of the Academy of Fine Arts.
He died in Turin on April 29, 1831.
Provenance: antique trade, Sweden

mimar03ap17
Condition: good
Creation Year: 1809/10
Measurements:UNFRAMED:55,0x66,0cm/21,7x26,0in FRAMED: 65,0x76,0cm/25,6x29,9in
Object Type:Framed drawing
Style: Old Master drawings
Technique: grey wash on paper
Inscription:-
Creator: Giuseppe Pietro Bagetti
Creator Dates: 1764 Turin-1831 Turin
Nationality:Italian
SHIPPING COSTS UPON REQUEST:
office@wilnitsky.net
Click here for images free of watermark!
Click on images or on

to see larger pictures!