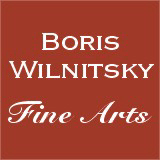 SALE!!! SAVE MONEY !! 1 EUR = 1 USD
# 41367
Jean Laurent Mosnier-? "Lady writing a letter", high quality miniature!!, 1780/85
2500 EUR
FINAL DISCOUNT PRICE= 2500 USD
( for EUR price see date rate )
Please note: Shipping and insurance costs are not included in this promotion, ONLY ITEM PRICES!
(please note additional 13% tax applies for transactions concluded within the European Union)
THE SELLER WILL COVER SHIPPING WITH REGULAR MAIL FOR THIS ITEM!

Executed (according to the sitter's dress and hairstyle) in the early 1780s, this round, high quality miniature on ivory is indisputably the work of a French master.
Moreover, it strongly resembles works of well-known Parisian artist of that period, Jean Laurent Mosnier (for comparison, see our web #40839 and #30381). The miniature is still set into the lid of an old round box, which is made of ebony, tortoiseshell and silver. The verso of the box bears an engraved monogram "OBE" - most definitely the sitter's initials. Incised in Victorian, neo-Gothic style, this monogram is likely the evidence that this box was produced much later than the miniature; we also do not exclude the possibility that, ten years after the miniature was made, the sitter - alike hundreds of other French aristocrats during the Reign of Terror - fled France to England and never returned to his native country (it is also quite possible that she was married to an Englishman and was thus integrated into an English family…).
Jean Laurent Mosnier was born in Paris in 1743 or 1744. He studied at the Academie de St. Luc, of which he became a master in 1766. At first, known as a portrait miniaturist, he portrayed in 1776 Queen Marie Antoinette from life and was appointed by her "peintre de la reine". He became a celebrated artist and was in great demand. In 1786, he became an Agréé (Associate) and, in 1788, a member of the Academie Royale. He portrayed many prominent persons of that time. In 1789, he showed 14 portraits at the Salon de Paris - a clear sign of his success.
In 1791, he was one of the first French artists to emigrate to England at the outbreak of the Revolution, and appears to have lived in London, where he exhibited (at the Royal Academy) in 1791-1796.
In 1797, Mosnier came to Hamburg, where he became one of the best-paid portraitists of this city; members of wealthy families and representatives of Royal Houses (a.o. Prince Louis Ferdinand of Prussia) were his sitters.
In 1801, Director of St. Petersburg Academy, Count Alexander Stroganov, persuaded him to move to St. Petersburg, where Mosnier became official painter of Emperor Alexander I. In 1802, he became also a member of St. Petersburg Academy and its professor. He painted several portraits of various high aristocrats. In 1807, he was appointed chief of Portrait Class of the Academy, but on April 10th 1808 unexpectedly died in St. Petersburg.
Works of Mosnier belong today to the world's most esteemed museum collections: Louvre (Paris), Hermitage and Russian Museum (St. Petersburg), Pushkin Museum (Moscow), museums of Hamburg, Salzburg, various American and British museums, etc.
Provenance: private collection, West Yorkshire, England

mifeb02ap17
Condition: good
Creation Year: 1780/85
Measurements: UNFRAMED:6,3x6,3cm/2,5x2,5in FRAMED: 7,8x7,8cm/3,1x3,1in
Object Type: Framed miniature
Style: Portrait Miniatures
Technique: box: ebony, tortoiseshell, silver; miniature: watercolor on ivory
Inscription: verso: sitter's initials "OBE"
Creator: Jean Laurent Mosnier
To see other works by this artist click on the name above!
Creator Dates: 1743 (or 1744) Paris-1808 St. Petersburg
Nationality: French
We will cover shipping with regular registered mail (delivery between 7-14 days) for this item.

OBS: Austrian mail refunds cases of loss or damage with maximum EUR 500.


Fully insured 2-3 days DHL service available upon request and subject to extra charges: office@wilnitsky.net
Click here for images free of watermark!
Click on images or on

to see larger pictures!