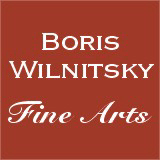 If you have a question about this item,
please contact us at: office@wilnitsky.net
# 41357
F. L. Schmitz-Attrib. "Colonel Guido Joseph de Ricci", interesting miniature on ivory!!, 1815/21
Price: 2000 EUR
(please note additional 13% tax applies for transactions concluded within the European Union)
THE SELLER WILL COVER SHIPPING WITH REGULAR MAIL FOR THIS ITEM!

On view here, is a high quality miniature portrait (it strongly resembles works of living between 1815-1820 in Paris and specialising on miniature portraits of military officers German artist Franz Liborius Schmitz (see our web # 35844 and # 41420) of a relatively young (he looks for 35/45 years) colonel of French artillery (it is a "corps royal d'artillerie" (see our image nr.7 with a button with symbol of lily)). from the early period of Bourbon Restoration (note his royal awards). He bears Chevalier Crosses of the Royal St. Louis Order and the Royal Legion of Honor (the latter he could obtain still in Napoleonic epoch).
As shows our image nr.9 to that time in "corps royal d'artillerie" served among others four colonels who possessed exactly mentioned complect of awards. Three of them served in province, and only one (he was also the youngest of all - he was born in 1777 what means he was about 40 (sic)) in mentioned period) served in Paris, the city where miniaturist Schmitz was then active. His name was Guido Joseph de Ricci.

Guido Joseph de Ricci was born in 1777 in Acqui (Piedmont, Kingdom of Sardinia). He entered military service in 1793, as a sous-lieutenant of Sardinian artillery. In 1802 he entered French service as a "capitaine en second" of 1st "regiment d'artillerie a pied". In 1807 he was transferred to Grande Armee and participated in the Prussian campaign (on 11 July 1807 awarded Chevalier Cross of Legion of Honor). In 1808 he was promoted to "chef de battaillon". In September of 1808 we meet him in Spain as a "directeur d'artillerie" in Pampelune. On 9 January 1809 he is appointed "directeur du parc d'artillerie" of 3rd Corps of the Army of Spain. In March of 1809 he is again in Germany, in 1810 he returned to Spain.
In age of 33, on 2 March 1811 he was promoted to colonel. His Order of Saint-Louis he obtained during 1st Restoration - on 20 August 1814. From 1st November 1815 (lower time border of this portrait) to 4 April 1816 he served in Paris, then one and half year in Grenoble, before on 22nd January 1818 he returned to central artillery depot in Paris. The upper time border of this portrait is 25th April 1821 - on that day he was awarded Officer Cross (ribbon with rosette) of Legion of Honor. On 3rd November 1823 he became "marechal-de-camp" (major-general).
He died in Paris on 17 December 1857 (see our image nr.10 with his extensive biography).

Schidlof mentions certain Schmitz as author of one (also signed "Schmitz") miniature in National Museum Stockholm - portrait of (Swedish) Major-General Karl Magnus Klingström (besides that, in 1978, at Sotheby's Zurich was offered signed "Schmitz" miniature portrait of a young lady). Further Schidlof suggests that this Schmitz could be the same "Franz Liborius Schmitz, born in Bonn, who worked between 1803 and 1814 in Denmark, Sweden, Germany and France as a silhouettist". The latter (according to "Sventsk Konstnärs Lexikon") was born in 1762 in Bonn and died in 1827 in Allingskovgaard, Denmark. He was mainly known as silhouettist and mentioned as working in Germany and France, then, from 1803, in Scandinavian countries (Denmark, Sweden, Norway).
Our following Web research brought further biographical materials about this artist, all referring to him as to a silhouettist. But suddenly, in collection of the Sinebrychoff Museum (Helsinki) we found the second (after already aforementioned one in National Museum Stockholm) miniature on ivory by artist "Schmitz".
And this miniature - portrait of an unknown officer- demonstrates artist's "complete" signature - "F.L.Schmitz" (!!).
Thus far all Schmitz' biographers mention his activities up until 1814. Yet, he must have done something between the years 1814 and 1827 (his year of death)?
The case of # 35844 demonstrates that he stayed (whether briefly or at length is unknown) in Paris during the early period of Bourbon Restoration. It was however not his first visit to the French capital: Swedish artist dictionary mentions his activity in France before 1803.
Provenance: private collection, Bourge/France

mimai1214
Condition: good
Creation Year: 1815/21
Measurements:UNFRAMED:6,9x5,8cm/2,7x2,3in FRAMED: 13,0x11,8cm/5,1x4,6in
Object Type:Framed miniature
Style: Portrait Miniatures
Technique: watercolor on ivory
Inscription:-
Creator: Franz Liborius Schmitz
Creator Dates: 1762 Bonn-1827 Allingskovgaard
Nationality:German / Danish
We will cover shipping with regular registered mail (delivery between 7-14 days) for this item.

OBS: Austrian mail refunds cases of loss or damage with maximum EUR 500.


Fully insured 2-3 days DHL service available upon request and subject to extra charges: office@wilnitsky.net
Click here for images free of watermark!
Click on images or on

to see larger pictures!