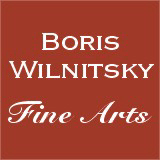 If you have a question about this item,
please contact us at: office@wilnitsky.net
# 41295
Louis Andre Fabre "Mme de Genlis with her daughter Pamela", important miniature!!, ca. 1775
Price: ON REQUEST
(please note additional 13% tax applies for transactions concluded within the European Union)
THE SELLER WILL COVER SHIPPING WITH REGULAR MAIL FOR THIS ITEM!

The verso of this portrait miniature is inscribed with an old legend written by one of its previous owners (see our image nr.8). This legend which informs of the identity of the depicted woman and her little daughter is entirely accurate: our comparison image nr.10 convincingly demonstrates that we are indeed dealing here with portrait of famous Parisian socialite, writer and educator of Marie-Antoinette's epoch, Stéphanie-Félicité de Genlis (1746-1830; CLICK HERE). In this charming portrait, she is portrayed at the age of ca. 30; she is depicted with her 2/3-year-old adoptive daughter Stephanie Caroline Anne Syms (some of de Genlis' biographers say she was her illegitimate child) who was called "Pamela" (ca. 1773-1831; CLICK HERE).

Under the aforementioned legend on verso, one finds also the word "Deranton" (written by a later hand). It suggests that the miniature's subsequent owner believed it to be a work of well-known French, late-18th-century miniaturist Joseph Deranton.
Nonetheless, after examining our comparison images nr.11-13, one can see that the factual author of this portrait is another celebrated miniaturist of that epoch, namely Louis Andre Fabre. Moreover, this miniature was already once offered at the sale of Christie's London as a 100% authentic work of the latter (auction sale of November 21, 2000, lot 101; see our image nr.14).
Louis-Andre Fabre (1750 Geneva - 1814 La Chaux-de-Fonds) was a miniature painter on ivory and enamel. In 1790 he became a citizen of Geneva; also, it is known that in 1776 he was a collaborator of another miniaturist on enamel, J.-F. Soiron; in 1780 he was master of P.L. Bouvier and David Bellamy. In 1789 Fabre exhibited in Salon of Geneva a portrait painted on enamel. It is possible that the artist lived in Paris after 1790 (Schidlof says that "although his works are frequently found there, they are very rarely signed" and only one miniature portrait signed by Fabre is known!!). Schidlof refers to Fabre as to an "excellent miniaturist".
Provenance:
1) Dumont Collection, Paris
2) L.H. Gilbert Collection, Lisbon
3) Christie's London, December 3, 1963, lot 144
4) Hodkinson Collection
5) Christie's London, February 16, 1965, lot 34
6) Jenkins Collection
7) Christie's London, November 21, 2000, lot 101
8) private collection, London
9) antique trade, England

mijan12ap17
Condition: good
Creation Year: ca 1775
Measurements:UNFRAMED:8,0x8,0cm/3,1x3,1in FRAMED: 9,1x9,1cm/3,6x3,6in
Object Type:Framed miniature
Style: Portrait Miniatures
Technique: watercolor on ivory
Inscription:verso: old legend
Creator: Louis-Andre Fabre
Creator Dates: 1750 Geneva-1814 La Chaux-de-Fonds
Nationality:Swiss / French
We will cover shipping with regular registered mail (delivery between 7-14 days) for this item.

OBS: Austrian mail refunds cases of loss or damage with maximum EUR 500.


Fully insured 2-3 days DHL service available upon request and subject to extra charges: office@wilnitsky.net
Click here for images free of watermark!
Click on images or on

to see larger pictures!