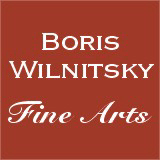 SALE!!! SAVE MONEY !! 1 EUR = 1 USD
# 41292
Johann Leberecht Eggink (1784-1867) "Portrait of a gentleman", important Russian miniature!!, 1817
6900 EUR
FINAL DISCOUNT PRICE= 6900 USD
( for EUR price see date rate )
Please note: Shipping and insurance costs are not included in this promotion, ONLY ITEM PRICES!
(please note additional 13% tax applies for transactions concluded within the European Union)
THE SELLER WILL COVER SHIPPING WITH REGULAR MAIL FOR THIS ITEM!

Executed in 1817 in Rom, just after the artist's arrival to this city (see his biography below), it is a very important work of Baltic miniaturist, graduate of St. Petersburg Academy of Fine Art, Johann Leberecht Eggink.
Thus far, the identity of the depicted ca. 40-year-old gentleman (he is decorated with a silver "Civil Merit Medal of Bavarķan Crown") remains unknown to us.
Johann Leberecht (in Russian - Ivan Yegorovich) Eggink was born, according to the most recent biographical sources (see our image nr.7 with clip from Saur's artist dictionary), in 1784 (and not in 1781 or 1787, or even 1790, as various other resources imply) at the estate Pewicken in the Russian province Courland (present day Latvia), and died in 1867 in Mitau (now - Jelgava, Latvia). As the matter of fact, his real family name should have been "Knigge": he was born as illegitimate son of a Baltic-German nobleman and owner of the above estate Pewicken - Friedrich Dietrich Baron von Knigge and his estate stewardess, Latvian woman Lowisa Brihwin. In fact, the name "Eggink" is nothing else but an anagram of the name "Knigge".
As early as 1802 he was motivated to study art by the German artist Friedrich Tielker, who was in transit through Latvia to Koenigsberg. In 1811-1812, he studied philosophy at the University of Dorpat (now Tartu, Estonia), simultaneously attending local drawing school, where his teacher was Karl August Senff. In 1813, he came to St. Petersburg, where for the next one-and-a-half years he attended the drawing lessons at the Imperial Academy of Fine Arts. In the late 1814 he moved to Germany (sojourning in Berlin and Dresden and briefly attending the Dresden Academy); in 1815-1816 lived in Vienna (he studied there at the Academy as well and made acquaintances with Estonian artists Gustav Adolf Hippius, Otto Friedrich Ignatius, August Georg Wilhelm Pezold).
From late 1816 to 1817 he lived in Munich; in 1817, together with G.A. Hippius, Eggink traveled to Rome and remained there until 1828 (from 1823 he was a scholarship recipient of the St. Petersburg Academy). In 1822, in Verona, he was acknowledged by Tsar Alexander I, who was staying there at the time.
While in Italy, the artist made acquaintance with famous Nazarene painters such as Julius Schnorr von Carolsfeld, Friedrich Overbeck, Fraz Pforr, Carl Philipp Fohr, Carl Christian Vogel von Vogelstein, etc., and was strongly influenced by them. In 1828, he became an Associate of the Roman Accademia di San Luca. In the same year, he settled in St. Petersburg, followed, in 1829, by receipt of the title "agree" (Associate) from the St. Petersburg Imperial Academy. In 1833, he received the title "out-of-class artist". In 1836, he was granted a full membership of the Academy (becoming an academician) for a portrait of the fabulist Ivan Andreevich Krylov. Today, this portrait is housed in the Russian Museum in St. Petersburg.
In 1830-31, he was commissioned to make drawings of military uniforms for Grand Duke Michail Pavlovich. In 1832, Eggink re-visited Courland, and, in 1837 settled in Mitau, where he was active as art teacher of secondary school until 1858.
Johann Leberecht Eggink is one of the most important Baltic artists of the 1st half of 19th century.
His works can be viewed in various Russian, Latvian and other international museums (among others, in Moscow State Historical Museum, St. Petersburg Russian Museum, museums of Saratov, Riga, Poznan, etc.).
Our images nr.8-14 offer extensive biographical facts about this artist and show several of his other works.

Provenance: private collection, Germany

mijan11ap17
Condition: good; slightly concave
Creation Year: 1817
Measurements: UNFRAMED:7,4x5,7cm/2,9x2,2in FRAMED: 14,8x13,1cm/5,8x5,2in
Object Type: Framed miniature
Style: Portrait Miniatures
Technique: watercolor on ivory
Inscription: signed and dated: Eggink /Roma /1817
Creator: Johann Leberecht Eggink
To see other works by this artist click on the name above!
Creator Dates: 1784 estate Pewicken-1867 Jelgava (Mittau)
Nationality: Latvian / Estonian / Russian
We will cover shipping with regular registered mail (delivery between 7-14 days) for this item.

OBS: Austrian mail refunds cases of loss or damage with maximum EUR 500.


Fully insured 2-3 days DHL service available upon request and subject to extra charges: office@wilnitsky.net
Click here for images free of watermark!
Click on images or on

to see larger pictures!