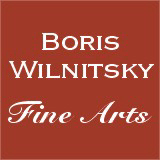 SALE!!! SAVE MONEY !! 1 EUR = 1 USD
# 41290
Mulnier-senior "Countess Sophia Alexandrovna Golovkina", miniature from Grand Duke's book!!, 1800/05
18000 EUR
FINAL DISCOUNT PRICE= 18000 USD
( for EUR price see date rate )
Please note: Shipping and insurance costs are not included in this promotion, ONLY ITEM PRICES!
(please note additional 13% tax applies for transactions concluded within the European Union)
This very large (15 x 11cm) miniature on ivory displays a superior quality of execution. It was last shown to the general public in 1905, at the famed "Exhibition of Historic Russian Portraits" organized in St. Petersburg's Tauride Palace (Tavrichesky Dvorets) by S. P. Dyagilev. Over 110 years later, in December 2016, this work had resurfaced at Berlin auction house "Actionata", where we had promptly purchased it.
The truth is that this beautiful portrait showing a seeming young (in reality, she was over 35) lady, dressed and hair-styled according to fashion of the early 1800s, was already known to us. To be precise, we were long acquainted with it through the (undisputed source of every antique Russian art aficionado) five-volume of "Portraits russes des XVIII et XIX siecles" ("Russian portraits of the Eighteenth and Nineteenth Centuries") compiled by Grand Duke Nikolai Michailovich Romanov.
The work, which is presented here, is included in the 5th volume of that book (sic! - as a work of an unknown artist; see our images nr.8-9).
It is a unique (other works can be found neither on the Web nor in art reference literature) portrait of well-known St. Petersburg aristocratic lady and courtier, Countess Sophia Alexandrovna Golovkina, nee Countess Demidova.
She was born on May 23, 1766 as daughter of Count Alexander Grigorievich Demidov (1737-1803; CLICK HERE) and his wife Countess Praskovia Matveevna Olsufieva (1730-1813). On May 23, 1795, in St. Petersburg, Sophia Alexandrovna married two years her junior Count Piotr Gavrilovich Golovkin (1768-1821). The latter was raised in the Netherlands (where his father served as a General), came to Russia in 1783 and became a courtier of the Empress Catherina the Great. In 1818, he became the "Ober-Jaegermeister" (Master-Huntsman) of the Russian Imperial Court.
In her turn, Sophia Alexandrovna was widely known for her philanthropy. On February 9, 1816, she was awarded a small cross of the Russian Ladies Order of Saint Catherine for her charitable deeds. The receipt of this award secured her also the title of a "Stats-Dama" (lady-in-waiting).
Although her father left her the Taytsy Estate (CLICK HERE and HERE) near St. Petersburg, she chose to live primarily in the city. In 1810, her husband acquired house No. 48 on Bolshaya Morskaya Street - a building, which she then later, after his death (1821), inherited. She did sell it, however, one year later, to Senator Prince I.A. Gagarin.
Countess Sophia Alexandrovna died childless on October 12, 1831, and was buried at the Lazarevski Cemetery of Alexander Nevsky Lavra (Monastery - CLICK HERE). Her three nephews inherited the several estates that she owned. For her extensive biography, see our image nr.10.

As it was already mentioned, in 1905 (then, still in possession of one of Countess Golovkina's relatives, certain P.A. Demidov), this miniature was shown at the "Exhibition of Historic Russian Portraits" in St. Petersburg's Tauride Palace (see above) as a work of an unknown artist. Interesting is that no one back then (neither P.A. Demidov, nor the exhibition curators) had considered examining the miniature under a magnifying glass. Had any of them done so, they would have discovered the (clearly readable) signature of its author "Mulnier" (see our image nr.6), left of the sitter's elbow.
That task was, however, accomplished by the experts of auction house "Auctionata" (Berlin): the miniature was catalogued (see our image nr.15) as "signed "Mulnier"" (in "Auctionata" expert's opinion, it was either a work of Jean-Baptiste-Ferdinand Mulnier (Mulnier-senior; 1757-1836; see our image nr.12), or the latter's son and pupil Etienne Ferdinand Mulnier (Mulnier-junior; 1783-1854; see our image nr.16).
Nonetheless, we do know that the miniature was executed between 1800 and 1805. We also know that Mulnier-junior began working as a miniaturist in 1814 at the earliest. Juxtaposing these facts, we can conclude that, without a doubt, this miniature is a work of Mulnier-senior.
Moreover, the same (written in the same handwriting) signature can be found in another work of Mulnier-senior, which is currently in our possession (see the last image in our web #34971).
Jean-Baptiste-Ferdinand Mulnier (his son Mulnier-Junior also became a miniaturist) was born in 1757 in Nancy and died in Nantes in 1836. In September 1725 he entered the Parisian Ecole des Beaux-Arts. Two years later he embarked on a journey to Santo Domingo. Shortly thereafter a revolt of the natives forced him to return to France. Under the Directoire Mulnier permanently settled in Nantes, where he soon became a fashionable miniaturist, quickly attaining wealth and recognition. He acquired a number of properties and surrounded himself with works of Old Masters. Gradually his son replaced him as the leading miniaturist of Nantes. Mulnier the Elder stopped working for profit altogether and only painted for his own pleasure. Schidlof says further that all the miniatures painted after about 1825 and signed "Mulnier" are works of the son - Etienne Ferdinand Mulnier.
Unfortunately, we could not locate any information pertaining to Mulnier-senior's apparent stay in St. Petersburg. He could have painted Countess Golovkina's miniature portrait during a brief stay in the Russian capital, or - and it shall not be excluded - during Sofia Alexandrovna's visit to France.

Provenance:
1) P.A. Demidov, St. Petersburg
2) anonymous private property, West Europe
3) Berlin auction house "Auctionata", December 7, 2016, lot 216 (see our image nr.15)

mijan11ap17
Condition: good; in original frame (had not been inspected out of the frame)
Creation Year: 1800/05
Measurements: UNFRAMED:15,0x11,0cm/5,9x4,3in FRAMED: 24,2x17,6cm/9,5x6,9in
Object Type: Framed miniature
Style: Portrait Miniatures
Technique: watercolor on ivory
Inscription: signed: Mulnier
Creator: Jean-Baptiste-Ferdinand Mulnier
To see other works by this artist click on the name above!
Creator Dates: 1757 Nancy-1836 Nantes
Nationality: French
SHIPPING COSTS UPON REQUEST:
office@wilnitsky.net
Click here for images free of watermark!
Click on images or on

to see larger pictures!