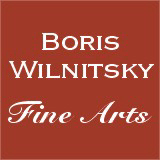 If you have a question about this item,
please contact us at: office@wilnitsky.net
# 40982
Sir Augustus Wall Callcott (1779-1844) "Composer Charles Dignum", important miniature!!, ca. 1800
Price: 2900 EUR
(please note additional 13% tax applies for transactions concluded within the European Union)
THE SELLER WILL COVER SHIPPING WITH REGULAR MAIL FOR THIS ITEM!

Painted (according to sitter's dress and hairstyle) in ca. 1800, this unsigned miniature is a portrait of popular London tenor singer, actor and composer, then 35-year-old Charles Dignum. This piece turned out to be an extremely rare work (no other miniatures on ivory painted by this author were known until today!) of renowned English painter (later predominately known as landscapist, he was originally a portraitist), Sir Augustus Wall Callcott (for his biography and several auction records, see our images nr.10-14).
This portrait was thus far known only through an engraving by James Heath (incidentally, in his engraving, Heath showed the sitter without the book - clear indication of the miniature's authenticity; see our image nr.8).
Our images nr.9 and nr.12 show another portraits by Sir Callcott (in fact, nr.9 is a drawn copy after his work).

The sitter, Charles Dignum, was a son of an Irish Roman Catholic tailor, whose home and business moved from Rotherhithe to Lincoln's Inn Fields (London) during the boy's childhood. He became a chorister in the Sardinian Embassy Chapel in Duke Street, where he was taken on as a vocal pupil by Samuel Webbe, the organist. The boy had plans to enter the church, but was apprenticed by his father to a carver-gilder, with whom, however, he soon fell out, and after some months he articled himself to Thomas Linley the Elder, the composer and singing master.
Linley launched him on his public career in spring 1784, at first in the Handel memorial concerts at Westminster Abbey and the Pantheon, and then at Theatre Royal, Drury Lane, where he first appeared as Young Meadows in "Love in a Village". His next role was Cymon in Michael Arne's opera. In a busy first year he was well-received, appearing in various roles, and made his place alongside many well-established performers. On the removal of the elder Bannister to the Royalty Theatre, Dignum succeeded to a caste of parts more suited to his person and his voice, which was a fine tenor. Amongst other characters those of Hawthorn ("Love in a Village") and Giles ("The Maid of the Mill") (libretti by Isaac Bickerstaffe, 1762 and 1765 respectively) particularly suited him: indeed he was thought superior in them to any actor that had appeared since the days of John Beard, their original representative. Dignum was the original performer of Crop the miller, in Stephen Storace's "No song, no supper", and of Abdalla in Storace's "Dido, Queen of Carthage". He was also well known as Tom Tug in Dibdin's "The Waterman", in which role there is an illustration of him in the Garrick Club.
His career progressed, principally at Drury Lane, in musical theatre (mainly ballad opera) and pantomime, in lesser roles in Shakespearean theatre. He remained a popular choice in ballad recitals, singing much at Ranelagh Gardens and in taverns: in the summer seasons, he continued singing at Vauxhall Gardens until at least 1810. He was specially associated with the songs of James Hook, but also composed and arranged many songs both for his own use and for others to perform.
He married Miss Rennett, the daughter of an attorney, whose fortune helped to sustain them. After her death, he suffered a period of "mental derangement" in misery at her loss, and also suffered from much unhappiness when his granddaughter was kidnapped for a period, for which the offender was prosecuted and transported.
He died of inflammation of the lungs in Gloucester Street, London, aged 62 in 1827 (©Wikipedia).
Provenance: English private collection

misept16ap16
Condition: good
Creation Year: 1800
Measurements:UNFRAMED:11,2x8,5cm/4,4x3,3in FRAMED: 23,3x21,2cm/9,2x8,3in
Object Type:Framed miniature
Style: Portrait Miniatures
Technique: watercolor on ivory
Inscription:-
Creator: Sir Augustus Wall Callcott
Creator Dates: 1779 Kensington Grabel-1844 London
Nationality:English / British
We will cover shipping with regular registered mail (delivery between 7-14 days) for this item.

OBS: Austrian mail refunds cases of loss or damage with maximum EUR 500.


Fully insured 2-3 days DHL service available upon request and subject to extra charges: office@wilnitsky.net
Click here for images free of watermark!
Click on images or on

to see larger pictures!