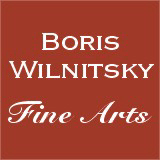 If you have a question about this item,
please contact us at: office@wilnitsky.net
# 40941
Alexander Pavlovich Bryullov "Portrait of a French diplomat (?)", important watercolor!!, 1825
Price: EUR
(please note additional 13% tax applies for transactions concluded within the European Union)
SOLD!!!

This portrait was painted in 1825, in Naples - the city where both the artist and the sitter (a middle-aged gentleman, possibly a French diplomat) were staying at the time. The latter bears on his chest a joint ribbon of three French royal awards: the Order of St. Louis, the "Decoration of the Lily" and the Order of the Legion of Honor. While it is known that the artist was living in Naples from the late 1824 to the early 1826, the sitter of this portrait could have been either sojourning in this city as part of his Grand Tour, or holding a permanent (French) diplomatic office there. This portrait is a typical work of one of Russia's best watercolor artists and brother of famous artist Karl Bryullov, Alexander Pavlovich Bryullov (see our image nr.7; CLICK HERE and HERE).
One of this portrait's previous owners, though aware of the sitter's identity (note the fleur-de-lis ornament on the back), had misinterpreted the signature "Bryulov", and indicated "Charles (Karl) Bryullov" as the author of this portrait (see our image nr.6).
Alexander Pavlovich Bryullov (Brulloff) was born on November 29, 1798, in St. Petersburg and died in the same city on January 9, 1877. Alexander Brullov was born into a family of French artists: his great grandfather, his grandfather, his father and his brothers (including Karl Brullov) were artists. His first teacher was his father. He attended the Imperial Academy of Arts architecture class from 1810 to 1820, and graduated with honors. Along with his brother, Karl, he was sent to Europe to study art and architecture with a stipend from the Society for the Promotion of Artists.
He spent eight years abroad, from 1822 to 1830, in Italy, Germany and France, studying architecture and art. He painted many watercolor portraits at that time and also did illustrations for books and magazines.
In 1831, after his return to Russia, he was appointed professor at the Imperial Academy of Arts and these were the years when he created his best architectural projects. Among others, he designed and supervised the construction of the following buildings in Saint Petersburg:

Mikhailovsky Theatre (now Maliy Theater, 1831-1833)
Lutheran Church of Saint Peter and Saint Paul on Nevsky Prospekt (1833-1838)
Pulkovo Observatory (1834-1839)
The Guard Corps Headquarters on Palace Square (1837-1843).

He was one of the principal architects for the reconstruction of the Winter Palace after the fire of 1837. He designed there many striking interiors, including the Pompei Hall, the Malachite Room, and the White Hall.
In 1844 he designed and built the Caravanserai in Orenburg.
His son Pavel also became a painter of some note.(©Wikipedia).
Our images nr.8-13 show several of this artist's other watercolor portraits that were offered at the international art auction market in the last years.

Provenance: private collection, Vienna / Austria

misept01ap16
Condition: good; in original frame
Creation Year: 1825
Measurements:UNFRAMED:18,5x14,3cm/7,3x5,6in FRAMED: 21,7x17,8cm/8,5x7,0in
Object Type:Framed watercolor
Style: Portrait Miniatures
Technique: watercolor on paper (rounded corners)
Inscription:signed and dated: A. Brulloff 1825; verso: erroneous legend
Creator: Alexander Pavlovich Bryullov
Creator Dates: 1798 St. Petersburg-1877 St. Petersburg
Nationality:Russian
SHIPPING COSTS UPON REQUEST:
office@wilnitsky.net
Click here for images free of watermark!
Click on images or on

to see larger pictures!