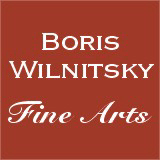 SALE!!! SAVE MONEY !! 1 EUR = 1 USD
# 40856
A. G. Venetsianov-School - Newly discovered portrait from "PUSHKINIANA"!!!, oil/canvas, ca.1840
8000 EUR
FINAL DISCOUNT PRICE= 8000 USD
( for EUR price see date rate )
Please note: Shipping and insurance costs are not included in this promotion, ONLY ITEM PRICES!
(please note additional 13% tax applies for transactions concluded within the European Union)
Acquired from a private German collection, this small oil painting turned out to be the only known portrait of Sofia Matveevna Velikopolskaya, nee Mudrova (1815-1897), wife of Ivan Yermolaevich Velikopolski, a retired military officer, estate owner and - most importantly (!) - a long-year friend of the great Russian poet Alexander Sergeevich Pushkin.
This portrait, painted around 1840 by a very good (unfortunately still unknown) Russian artist, bears on verso an authentic old label with a title written in Cyrillic by the sitter's daughter, Nadezhda Ivanovna Chaplina, nee Velikopolskaya.
This inscription reads as following (translated in English): "Sofia Matveevna /Velikopolskaya /nee Mudrova /My mother."

Sofia Matveevna was born in 1815 as daughter of the famous Russian physician and professor of Moscow University, Matvei Yakovlevich Mudrov (1776-1831) and his wife Sofia Kharitonovna Mudrova, nee Chebotariova (for a portrait of hers, see our image nr.7). Her father was also a family physician of a number of highly noble Russian families such as Golitsyns, Muraviovs, Chernyshevs, Trubetskois, Lopukhins, Obolenskis, Turgenevs and others. Apart from that, until 1811, Matvei Yakovlevich was treating A.S. Pushkin's mother, Nadezhda Osipovna and all her family.
M.Y. Mudrov and his wife had three children: two boys (sadly, both died shortly after birth) and daughter Sofia.
In 1831 - the year of her father's death - Sofia Matveevna became the wife of her father's friend - 18-year her senior owner of the estate Chukavino by Staritsa (Tver province) - Ivan Yermolaevich Velikopolski, who promised his dying friend to marry his only daughter.
For years, Ivan Yermolaevich Velikopolski (as we learn from various biographical materials - see our images nr.8-23) maintained friendly relation with Pushkin, until in 1830 (i.e. one year before he married Sofia Matveevna) they went their separate ways due to a serious quarrel.
In turn, Sofia Matveevna knew Pushkin long before that: as professor Mudrov's daughter, she was a frequent guest in the house of poet's mother. Moreover, in 1831, she received a miniature portrait of the poet in infant age from Nadezhda Osipovna Pushkina as a wedding present (see our images nr.24-25).
Sofia Matveevna lived with husband and their daughter by turns in Moscow and at her husband's estate Chukavino by Storitsa in Tver province. Both spouses have been buried there at the local's church cemetery (see our images nr.26-29 with photographs of their grave and the grave of their daughter, Nadezhda Ivanovna, married Chaplina).

Concerning the author of this portrait: we belive (this supposition was also confirmed by Moscow experts, who inspected this painting at London auction house "Bonhams" - see our image nr.30) he was one of pupils of great Russian artist Alexei Grigorievich Venetsianov at latter's private school of painting in village Safonkovo, Tver gubernia (existing there between 1820-1847; many its students became renown portraitists - CLICK HERE and HERE).
mijul0510
Condition: good; it is possible that the canvas was formerly cut out from the original stretcher
Creation Year: ca 1840
Measurements: UNFRAMED:28,5x22,5cm/11,2x8,9in FRAMED: 39,8x33,4cm/15,7x13,1in
Object Type: Framed oil painting
Style: 19th century Russian paintings
Technique: oil on canvas
Inscription: verso: old label with legend written by the sitter's daughter
Creator: A. G. Venetsianov-School
To see other works by this artist click on the name above!
Creator Dates: 1780-1847
Nationality: -
SHIPPING COSTS UPON REQUEST:
office@wilnitsky.net
Click here for images free of watermark!
Click on images or on

to see larger pictures!