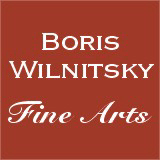 SALE!!! SAVE MONEY !! 1 EUR = 1 USD
# 40750
Ivan Y. Vishnyakov (1699-1761)-Attrib. "Russian noblewoman", oil, 1740/50s, interesting provenance!!
6500 EUR
FINAL DISCOUNT PRICE= 6500 USD
( for EUR price see date rate )
Please note: Shipping and insurance costs are not included in this promotion, ONLY ITEM PRICES!
(please note additional Austrian VAT tax applies for transactions concluded within the European Union)
This oil painting came from the estate of the late movie actor Pierre Brice, who was especially famous for his roles of "Winnetou", and was previously owned by the latter's friend (mistress? - see our images nr.11-12) certain Iréne Strozzi, (according to different legends, an "illegitimate daughter of the Tsar"). Apparently, she brought the painting with her (rolled and unframed) when she fled from St. Petersburg to Milan following the Revolution (our image nr.10 offers a photograph showing this painting in the interior of Pierre Brice's house).
In point of a fact, Iréne (in Russian - Irina) Strozzi was born in 1909 in Russia as daughter of an Italian nobleman, Marquis de Strozzi and certain N.K. Renn. Most likely, it was not her but her parents, who decided to take the painting with them, when they left Russia in the late 1910s.
We suppose that this last detail is not the only erroneous part of the legend, which was until today deemed valid. In addition, Irina's alleged descent from the Tsar bears a rather fairy-tale connotation: Iréne Strozzi (the name she called herself in Paris, where she was widely known in Russian émigré diaspora of the interwar period) must have created this legend in order to further her singing and dancing career (see our image nr.11). In any case, at some point, after she married her father's relative Prince Strozzi-Guicciardini, she called herself "Princess Iréne Alexandrovskaya de Stozzi".
Certainly, much more information about this woman could be provided by famous Moscow stage designer, art historian and costume collector, Alexander Vasiliev (CLICK HERE), who designed all costumes of his friend, Italian dancer Natalia Strozzi (likely, the granddaughter of "our" Iréne Strozzi).

How much is of what is told (concerning the provenance of this painting) by the heirs of Pierre Brice is true remains a puzzle. Neither Prierre Brice himself, nor his friend Iréne Strozzi could give us the details of the paintings journey from Russia to the West. What we do not doubt for a second is that it does have a Russian provenance (see also old Russian export stamp on verso). Moreover, we believe that it can be ascribed to only one Russian portraitist of the mid-18th century (we draw this chronological estimate based on the sitter's dress and hairstyle), namely Ivan Yakovlevich Vishnyakov (our comparison images nr.13-18 convincingly support this attribution).
Ivan Yakovlevich Vishnyakov (1699 Moscow - 1761 St. Petersburg) was briefly apprenticed to be a varnisher, then was sent to the Chancellory of Buildings in 1727, where he studied under Louis Caravaque, a French portrait painter living in Russia, and Andrey Matveyev. He qualified as a master painter in 1739 and became head of the Chancellory after Matveyev's early death. He painted murals in many of the palaces and churches of Saint Petersburg and its suburbs, including the Summer Palace, the Anichkov Palace and the Winter Palace. He also did portraits and icons, restored paintings and appraised the works of foreign artists. His portraits were among the first to depart from the flat, static style favored at the Imperial Court. Among his best-known students were Alexei Antropov, Alexei Ivanovich Belsky and Ivan Firsov.
In 1740, he attained the rank of Court Counselor (a civil ranking equal to lieutenant-colonel) and, in 1752, became a Collegiate Assessor, which entitled him to be addressed as "Your Excellency".
Works of Ivan Yakovlevich Vishnyakov are virtually never to be found at the current antique market, as there are no whatsoever auction records for this artist in the last thirty years.
mimai03ap16
Condition: fairly good; lined and set into a 20th-century frame; mounted onto a newer stretcher
Creation Year: 1740/50s
Measurements: UNFRAMED:91,0x72,7cm/35,8x28,6in FRAMED: 100,3x83,3cm/39,5x32,8in
Object Type: Framed oil painting
Style: Old Master paintings
Technique: oil on canvas
Inscription: -
Creator: Ivan Yakovlevich Vishnyakov
To see other works by this artist click on the name above!
Creator Dates: 1699 Moscow-1761 St. Petersburg
Nationality: Russian
SHIPPING COSTS UPON REQUEST:
office@wilnitsky.net
Click here for images free of watermark!
Click on images or on

to see larger pictures!