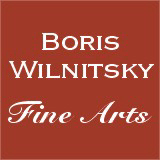 SALE!!! SAVE MONEY !! 1 EUR = 1 USD
# 40604
Ludwig Guttenbrunn-Attrib. "Gentleman with St. Anna Order of 2nd Class", Small Oil Painting, ca.1805
6000 EUR - 25% DISCOUNT = 4500,00 EUR
FINAL DISCOUNT PRICE= 4500,00 USD
( for EUR price see date rate )
Please note: Shipping and insurance costs are not included in this promotion, ONLY ITEM PRICES!
(please note additional 13% tax applies for transactions concluded within the European Union)
Portrait of a Russian gentleman wearing a dark green, black-collared frock-coat with buttons of an uniform of the St.Persburgskaya Gubernia and holding a tricorne hat (the latter has a white plume, what means his rank is not lower as that of "statski sovetnik" (state councillor)). He bears also the neck cross of Russian St-Anna Order of 2nd Class with diamonds.
His dress and hairstyle provide the date of painting - first years of 19th century. All stylistic criteria strongly resemble that of works of living from late 1795 to early 1806 in Russia (St.Petersburg and Moscow) Austrian portraitist Ludwig Guttenbrunn (see our comparison images nr.11-13).

P.S.1. 18th December 2011:
Upper text was written in April of 2009 (date of acquisition of this portrait). Two and half years later, in Moscow Collection Podstanitsky we discovered an author's own replica of our portrait (also oil on panel; see our image nr.10), with old French inscription on verso saying it is a portrait of Gavriil Petrovich Viollier (in Russian spelling "Viol'ye"; in 1798-1814 Director of Mariinski Institute), painted in 1797 (sic!) by living between 1795-1806 in St.Petersburg Austrian artist Ludwig Guttenbrunn (!!).

P.S.2. Uniformologist Dimitri Gorchkoff (Moscow), to whom we then applied for aid, completely confuted the above mentioned reverse inscription on Moscow variation - not Guttenbrunn, not Viollier!
Mr. Gorchkoff's arguments: our portrait is made after 1806 (sic - Guttenbrunn leaved Russia in early 1806!), and the sitter is not G. P. Viollier, but assistant director of St.Petersburg Post Office Ivan Ivanovich Ungebauer (also well-known translator, son of court physician I. A. Ungebauer).
According to Mr. Gorchkoff the sitter wears the so-called "pochtovy mundir" (uniform of Post Office officials) - dark-green frock-coat with black collar and cuffs which existed until 1808 (upper time border of this painting). Ivan Ivanovich Ungebauer was then (most important Gorshkov's argument!) only person in St.Petersburg Post Office possessing Order of St. Anna of 2nd Class (and not possessing any other one!).

P.S.3. 22nd January 2016: Unfortunately a large quantity of Mr. Gorchkoff's "attributions" were (especially in last few years) convincingly confuted by renowned Russian uniformologists. The same destiny fathomed his "Ungebauer story" - our image nr.15 shows email from the best expert in Russian civil uniforms, Moscow uniformologist Mr. Sergei A. Popov. His verdict: the siterr's uniform (model of period between 1805-1815) is not one of Post Office (what means "adieu Mr. Ungebauer!"...). So we come back to Ludwig Guttenbrunn and to still unknown identity of the sitter.
Ludwig Guttenbrunn (ca. 1750/55 Krems, Lower Austria - 1819 Frankfurt am Main) was probably a pupil of well-known Austrian religious painter Martin Johann Schmidt (called "Kremser-Schmidt"), who was living in Krems. In about 1770 Gutennbrunn worked in Vienna. There, he portrayed composer Joseph Haydn (he and the latter's wife had an affaire) and Prince Nicolaus I Esterhazy, who became the artist's first sponsor. In 1771/72 Guttenbrunn made decorations in Esterhazy's new residence Castle Esterhazy by Raab (Györ, Hungary). In 1772, on prince's scholarship, he went to Rome. Guttenbrunn remained in Rome until 1779. There, he established close acquaintances in Rome cultural circles, before all with Goethe (Gutennbrunn's chalk drawing "Goethe in Maskenzug" (English: "Goethe at carnival procession") was formerly housed in Leipzig Collection Friedrich Zarncke), but also with influential art agent Joahnn Friedrich Reiffenstein (he acquired many works for Catherine the Great) and famous German artist Anton Raphael Mengs. In 1779, in Florence, Guttenbrunn became the court artist of Peter Leopold, Grand Duke of Tuscany (and future Holy Roman Emperor Leopold II). In 1783, he was elected a member of the Florence Academy (for his painted in 1782 in Naples "Self-Portrait", now in Uffizi Gallery in Florence). In 1784-1787 he worked in Turin as a court artist of King of Savoya.
In 1787 his friend from Roman period Reiffenstein helped Guttenbrunn with landing a commission to execute encaustic paintings for Red Studio of Catherine II' residence in Tsarskoe Selo. In November of the same (1787) year he arrived to Paris. There, in 1788, he portrayed Marie Antoinette and Dauphin. In 1789 Guttenbrunn went to London, where he in 1790/1795 took part in exhibitions at the Royal Academy.
In 1795, he followed the advice of the Russian Chancelor and became a court artist in St. Petersburg. In 1800 he was elected there a Member of the Academy. Besides St. Petersburg, in his last "Russian" years, Guttenbrunn was also active in Moscow. Between 1804/05 (according to Saur's artist dictionary; other sources refer to 1806 as the year of his departure from Russia) he returned to Western Europe: one could spot him in Dresden, then again in Italy (according to Saur, by 1805 he was already in Rome), where he remained until 1810 (in 1809, in Rome, Guttenbrunn became a Member of the Accademia di S. Luca). From 1817 (and until his death there on January 15th 1819) he lived in Frankfurt am Main.
Today, works of Guttenbrunn can be viewed in most esteemed museums worldwide: Dresden Gallery, St. Petersburg Russian Museum and Hermitage, Moscow Tretyakov Gallery and Pushkin Museum, Castle Trianon in Versailles, museums of London, Dijon, Weimar, Grenoble, Frankfurt am Main, etc.
Provenance: private collection, Germany

We are very grateful to Sergei A. Popov for his generous help.

midec19ap11
Condition: good
Creation Year: 1805
Measurements: UNFRAMED:18,2x15,3cm/7,2x6,0in FRAMED: 28,3x26,0cm/11,1x10,2in
Object Type: Framed oil painting
Style: 19th century Russian paintings
Technique: oil on panel (oval)
Inscription:
Creator: Ludwig Guttenbrunn
To see other works by this artist click on the name above!
Creator Dates: ca. 1750/55 Krems-1819 Frankfurt am Main
Nationality: Austrian
SHIPPING COSTS UPON REQUEST:
office@wilnitsky.net
Click here for images free of watermark!
Click on images or on

to see larger pictures!